Rebecca Black Was Here
"I hope I feel like the choices I'm making now and in the years to come led to something, whatever it might be, that made me happy."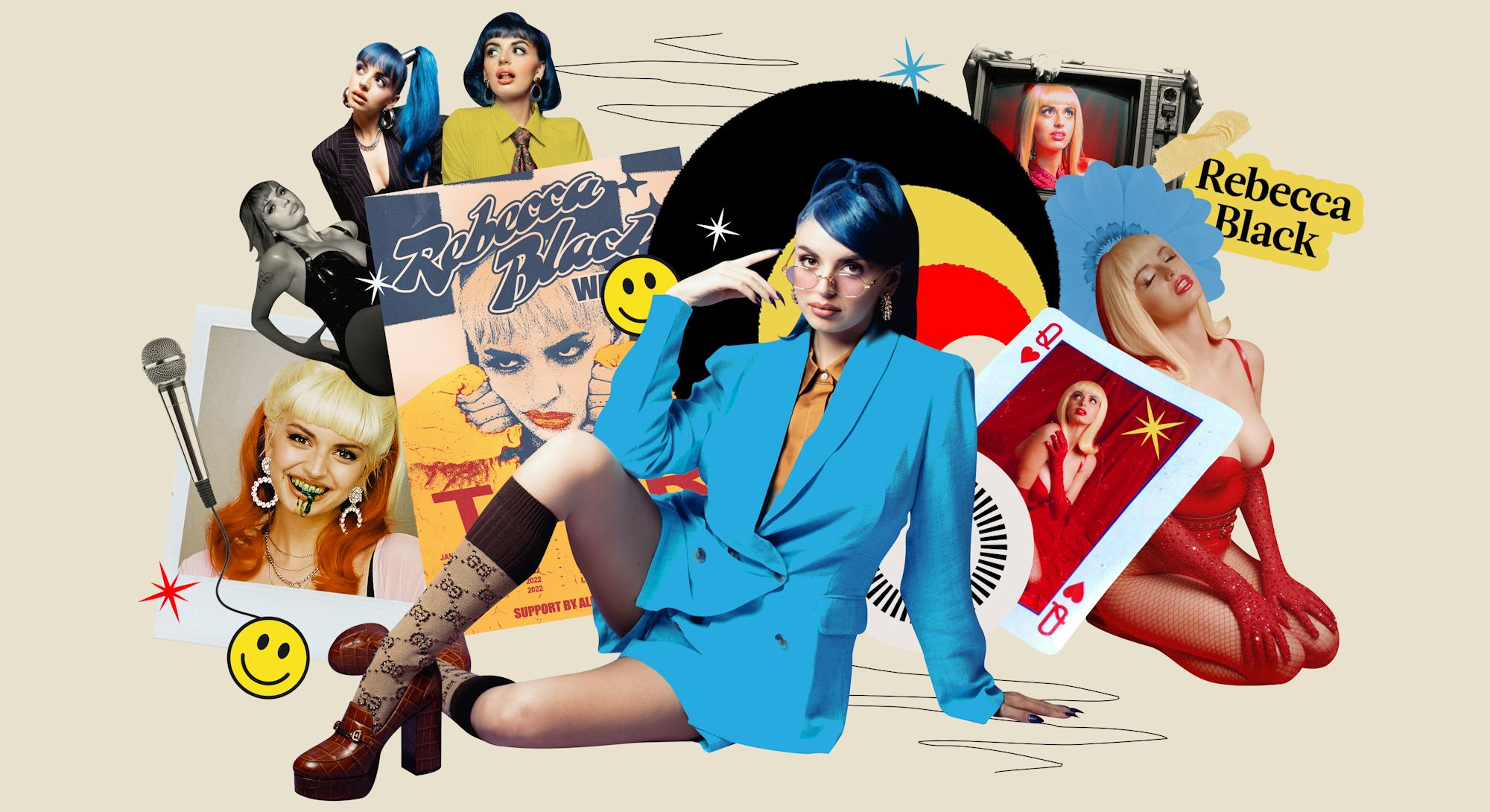 Since publicly coming out in April 2020, Rebecca Black has felt more freedom in her artistry than ever before, especially while crafting her new project Rebecca Black Was Here. A sonically eclectic, unabashedly honest retelling of her first significant relationship with another woman, she wrote candidly about the intimate experience — despite suggestions from people around her to change the lyrics' female pronouns in order to "fit a broader audience." Black confidently refused to conceal her identity in her work. "I stuck to my guns," she tells Bustle. "It feels so good to be able to create knowing that it can be as honest and blunt as I wanted it to be."
Black's viral smash "Friday" was released more than a decade ago, and since then she's spent her time healing from the unfair backlash she received as a teen and honing in on her musical craft by releasing covers and original songs written with the likes of Grammy-winning producer Finneas. But creating Rebecca Black Was Here marks the first time she truly felt she "knew what [she] was doing" — as she should, having successfully put together an ambitious set spanning hyper electro-dance production on project opener "Better In My Memory" to sugary, infectious pure pop on lead single "Girlfriend."
Last year was a very digital Pride ... but [this year] I'm happy that I can celebrate with queer people I haven't seen in a year, now that everybody is doing the whole thing, getting vaxed and getting waxed. ... I feel really excited to get to celebrate as an out person, officially, for the first time.
"I had enough time to really think everything through, [and] I felt really supported by my entire team into making something that would not only be really good, but something that felt like it had a chance to compete with everything else out there," she says. "It was no longer just like, 'Oh, here's this viral girl who's putting out music.'"
In order to achieve such authenticity in her work, she wrote each track on Rebecca Black Was Here in the moment its respective events were going down. "'Blue' was written the day before [the relationship] ended, and it was the day that I knew it was done," she details. "I struggle with talking about my problems as they're happening, and this project helped me do that in a somewhat safe way for myself."
Having devoted a year and a half to making the project, Black feels assured in its quality but has admittedly experienced anxiety over how the ultra-personal nature of its lyrics will be received by the public. "It is so vulnerable, especially [with] this music being so queer," she says. "[But] now I feel a lot less nervous about that, considering how supportive the queer community, my friends, and my fans have been." Now she's ready to take her new music on the road with an early 2022 tour of North American club venues, her first-ever string of headlining gigs. "I've spent a lot of time opening up for other people," she says. "I'm so excited to be out there and to curate the show exactly how I want to."
Rebecca Black Q&A
What advice would you give to your 16-year-old self?
I wish that my 16-year-old self could take a look at what my 23-year-old self even looks like and see what the possibilities are of the person that [she] could turn into. I spent a lot of my teenage years trying to morph myself into something that I thought people would like, and that never worked. It never made people like me. In fact, I think people are more intuitive than we sometimes think, and they see something that isn't you, or that is trying to emulate something else, and it doesn't sit right with people. I just wish that I could tell my 16-year-old self, "Find the things that make you different." Your unique experiences that might make you feel like an outsider are actually the greatest gift that you'll ever get. That is what's helped me become [the] much more confident and comfortable version of myself that I am now.
At 16, were you thinking about your queer identity yet?
I think it feels a lot clearer in hindsight, but at that point there was so much shit to get through. Looking back I think, "Hmm, that infatuation with that friend was so much more than infatuation," you know? I definitely always felt — even before "Friday" ever existed — something in myself that I couldn't really understand, and I wouldn't be able to understand until I was a little bit older.
Where do you see yourself 16 years from now?
I hope that we're still able to live on this planet, and we haven't killed it. I would be 39, I think. Goodness, I hope that I feel as creative and as fulfilled as I have these last couple of years, and I hope that I only become 300 times more sure of myself and confident in the choices that I make. I hope I'm a mother. My ideas of what my future will look like have changed every single year. Sixteen years is more than half of the life I've lived, so that is a lot of f*cking time. I hope I feel like the choices I'm making now and in the years to come led to something, whatever it might be, that made me happy.
What are your proudest moments as a member of the LGBTQ+ community?
Whether I was out or not, anytime that I've been able to participate in a Pride experience. I was a part of the GLAAD and ASOS float in 2019 at the LA Pride Parade. That was a huge honor because it has been a goal of my life ever since I was 13 — we all saw the NOH8 photos — to be a really good ally in the ways that I could. Even before my own sexuality was a part of the question I always had the utmost respect for the queer community. I feel so lucky to have only outwardly been a part of this community for a year now and be one of the LogoTV and Variety honoraries of the year. That has been so mind-blowing, to even be recognized when I still feel like such a baby in this community.
Where and how are you celebrating Pride in 2021?
I will be with my queers [and] my gays. Last year was a very digital Pride, and things are still changing everywhere in terms of COVID still. But I'm happy that I can celebrate with queer people I haven't seen in a year, now that everybody is doing the whole thing, getting vaxed and getting waxed. I am just so happy to [experience] that together feeling, and I hope that I can make it out to WeHo and feel safe. I feel really excited to get to celebrate as an out person, officially, for the first time.
I was just going to say, this is your first Pride as an out queer woman. That's so exciting.
Yeah! No longer do I have to be at The Abbey and give a good wink to anybody who's like, "What are you doing here?"
Who inspires you in the LGBTQ+ community?
Oh my god, so many people, so many artists. I've been very up front with how big of an icon and inspiration Sophie was in my artistry, and in the way that she presented herself, the eloquence that she had in her music, and her overall persona. Dorian Electra has been a huge inspiration to me ever since I've gotten to know them over the past year. There are so many upcoming trans artists, like an artist called Petal Supply that I'm so excited to work with and see grow into herself, and Quay Dash. I could list a hundred, but really I feel so lucky to be a part of a community of artists who share similar inspirations.
Which LGBTQ+ charity do you love and why?
I am a really big fan and supporter of all the Los Angeles LGBT Center. I don't know why I was surprised, but I was so surprised to see how much that resource in LA affected so many queer people in my life who needed healthcare, who needed insurance, who needed access to things like therapy. I can't imagine outside of a place like LA, which seems to be queer central, what it must be like to have no idea where to go, what to do, and I think [LGBT centers are] super important. I've also worked with organizations like GLAAD, The Trevor Project, and It Gets Better, and I still am a massive advocate for them.