An Exclusive First Look At Resort To Love, Netflix's New Alicia Keys-Produced Movie
Get a sneak peek at the rom-com starring Christina Milian.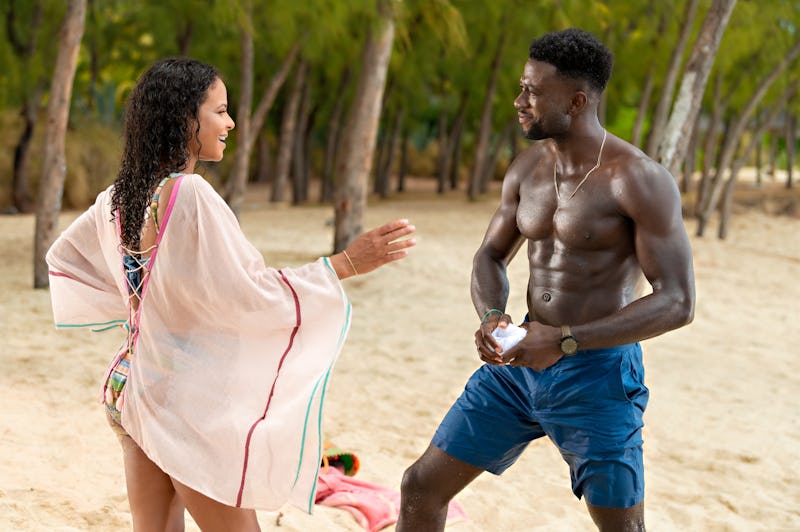 Courtesy of Netflix
With balmy weather fast approaching, Bustle is pleased to exclusively reveal first look images from a summery new romantic comedy: Netflix's Resort To Love, produced by Alicia Keys and directed by Life Size 2's Steven Tsuchida. Set on an island resort in East Africa, the lighthearted film stars singer and actress Christina Milian, Sinqua Walls, and former SNL cast member Jay Pharoah.
Described as "a vacation for the eyes, heart, and soul" by Tsuchida, Resort To Love follows Erica (Milian), an aspiring singer who lands a resident gig at a posh island resort and spa in Mauritius. Unbeknownst to Erica, her ex-fiancé Jason (Pharoah) is getting married at the same location, and Erica gets roped in to performing at the wedding. As she tries to keep her past relationship a secret from Beverly, the bride-to-be, Erica begins to fall for Jason once again, and Jason's brother Caleb (Walls) strives to prevent them from rekindling their romance. With Jason caught in the middle of a complicated and hysterical love triangle, who will meet him at the end of the aisle: Beverly or Erica?
Resort to Love was shot last summer on location, presumably working around the COVID-19 pandemic filming restrictions. When asked about shooting in Mauritius, Tsuchida adds that the island is "breathtaking," and that the whole cast and crew actually lived on the resort together during principal photography.
"When you look up in the dictionary, 'island paradise,' you might just see 'Mauritius'," Tsuchida tells Bustle. "Beyond the natural wonder, the most amazing part was that the entire production lived and worked on this breathtaking, ocean-front resort. Living and working all together on the resort offered a once in a lifetime opportunity to bond, create new friendships and experience life together."
Milian tells Bustle that while she "loved" the screenplay upon reading it, it's the diversity of the story that drew her to the project.
"It's funny, it has heart, and it's different from any rom-com that I've seen," says Milian. "It has such a diverse cast and showcases a place [Mauritius] that some people may have never even heard of."
She adds: "Life is about taking chances and I love that my character decides to take a chance. It's kind of her 'last resort.'"
Resort to Love will be released globally on Netflix on July 29, 2021.
Director: Steven Tsuchida
Screenplay by Tabi McCartney and Dana Schmalenberg
Story by Tabi McCartney
Producers: Alicia Keys, Maggie Malina, Jeremy Kipp Walker
Cast: Christina Milian, Jay Pharoah, Sinqua Walls