Rihanna & A$AP Rocky's Baby Name Has Finally Been Revealed
The "Work" singer has been secretly hinting at the moniker for months.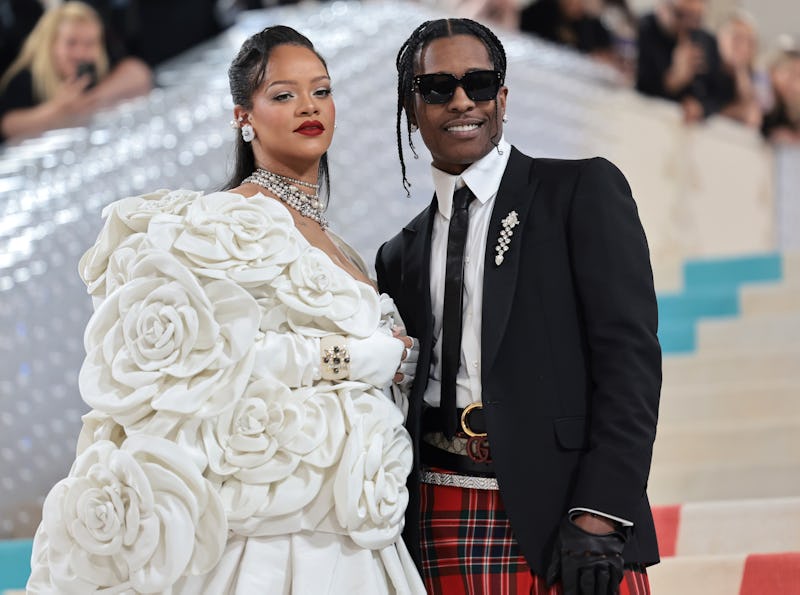 Jamie McCarthy/Getty Images Entertainment/Getty Images
After keeping it under wraps for almost a year, Rihanna and A$AP Rocky's baby name has finally been revealed. According to a copy of the youngster's birth certificate obtained by the Daily Mail, the couple's baby boy is named RZA Athelston Mayers. The moniker is thought to be inspired by the iconic producer and rapper RZA, the leader of the U.S. hip-hop collective Wu-Tang Clan. Meanwhile, the child's middle name is presumably inspired by his father A$AP Rocky, whose real name is Rakim Athelaston Mayers.
Although the couple never announced their son's name to the world, the "Umbrella" hitmaker has been spotted wearing Wu-Tang Clan and RZA t-shirts and merchandise over the past year, seemingly dropping hints.
Rihanna's pregnancy with RZA was first reported back in January 2022, after the singer was photographed with her baby bump on full display. The "Work" performer then confirmed her pregnancy with a subsequent Instagram post in February 2022, along with a caption that read: "How the gang pulled up to black history month." Rihanna and A$AP Rocky later welcomed their first child together on May 13, 2022, in Los Angeles.
In December 2022, the Oscar nominee gave fans the first glimpse of baby RZA in an adorable TikTok, during which the youngster is shown smiling at his superstar mother — who can be heard in the background asking: "You trying to get mommy's phone?"
A couple of months later, Rihanna shared the first official photos of her and A$AP Rocky's son in the March 2023 issue of British Vogue, which was revealed on Feb. 15, just days after she revealed they were expecting their second child during the Super Bowl Halftime Show.
Speaking to British Vogue in March 2020, the "We Found Love" hitmaker revealed that she wanted to be a mom to "three or four" children — with or without a partner by her side. "They diminish you as a mother if there's not a dad in your kids' lives," she said. "But the only thing that matters is happiness, that's the only healthy relationship between a parent and a child. That's the only thing that can raise a child truly, is love."