Rihanna Shares First Photos Of Her & A$AP Rocky's Son: "My Perfect Baby!"
The baby's debut in British Vogue comes just days after she revealed they're expecting a second baby.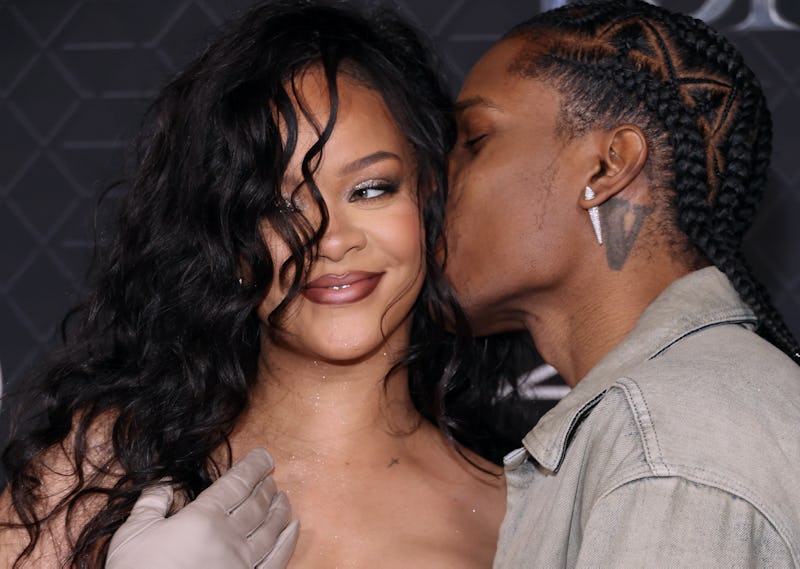 Amy Sussman/WireImage/Getty Images
Baby Fenty has made his official debut. Rihanna shared the first photos of her and A$AP Rocky's son in the March 2023 issue of British Vogue, which was revealed on Feb. 15, just days after she revealed they were expecting their second child during the Super Bowl Halftime Show. After welcoming their first child in May, she opened up about motherhood for the first time to the outlet, calling it "legendary" and "everything" in typical Rih fashion.
"I cannot believe it," she said. "Essentially, from one person I became two. You walk into the hospital as a couple and leave as a family of three. It's nuts." That's not to say that there hasn't been any challenges, as even Rihanna didn't get help from nannies or assistants for the first few months. "Oh my gosh, those first days are insane," she recalled. "You don't sleep. At all. Not even if you wanted to. We came home, cold turkey, had no one. It was just us as parents and our baby. Man, you're a zombie for the most part. You're just going through the motions, and even then you're so paranoid. Because you're like, 'They trusted us to come home with this baby? This new life? With us?' No doctors, no nurses, we're just … going home?"
She and Rocky have quickly settled in and started enjoying every moment of their son's growth. "I remember in the beginning I used to roll his bassinet into the bathroom and be showering and like wiping the fog off [the glass] just to peep at him," she said. "Those were always my favorite, his little wake-up face, seeing his face change, seeing his color come in, just all of these changes."
The couple is still refusing to share his name. In fact, the British Vogue writer joked that their teams were "so consistent in calling him 'baby' in my presence I do half wonder if his name might actually be Baby." It seems to be one way that the duo is keeping their son's life private while sharing him on their terms. Rihanna only decided to reveal her baby in her first TikTok video in December thanks to a paparazzo who tried to snap photos of the family during their British Vogue shoot, which was meant to be her son's photographic debut.
"We get to decide as parents when and how we do that. End of story," she said about the incident. "Do what you want with me, but he doesn't have a say in any of this. We've been protecting him thus far and you don't have any consent to be posting photos or selling photos of my child, a minor. Get the hell out of here with that."
When asked if she wanted more children, Rihanna gave a teasing "Well...," knowing what she would announce in a few weeks' time. But in the future, she remains open to anything regarding her expanding family. "My wish would be I would like to have more kids but whatever God wants for me, I'm here," she said. She doesn't even have a preference on gender, making a subtle yet powerful statement about non-binary people. "I'm open," Rih says. "Girl, boy. Whatever."