Rihanna Said Being A Mother Makes Her Feel More Powerful
The singer revealed she is expecting her second child during the Super Bowl halftime show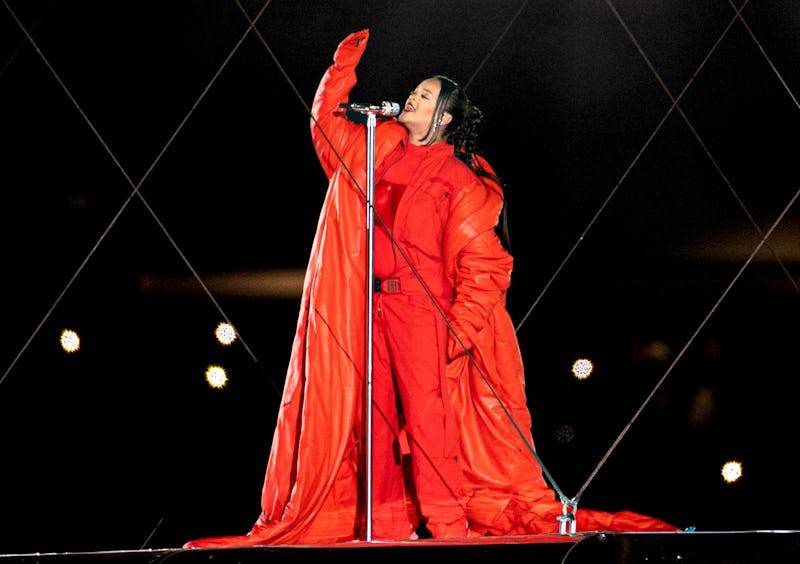 Christopher Polk/Variety/Getty Images
After a seven-year hiatus from live performances, Rihanna returned to the stage for the 2023 Super Bowl Halftime show on Sunday, Feb. 12, and surprised the millions watching around the world by revealing that she is pregnant with her second child.
Ahead of her much-awaited performance, the beauty mogul held a press conference with Apple Music on Feb. 9 where she was asked about work-life balance, and whether she's excited to perform on stage after welcoming her first child with A$AP Rocky in 2022. "It's very different," she said. "The balance is almost impossible, because no matter how much you at it, work is always something that's going to rob you of time with your child."
Rihanna further emphasised how important it is for her to take this into account every time she makes a work-related decision. "That's the currency now, and that's where it goes, the magnitude of how much it weighs. When you make decisions on what you're going to say yes to, it has to be worth it."
The singer also opened up about how it was difficult to make that decision a few months after giving birth. "I'm three months postpartum, should I be making decisions like this right now? I might regret this," she recalls thinking. But being a mother is what pushed her to take on the overwhelming challenge as well. She explained that when you become a mother it feels like "you could take on the world, you can do anything."
Finally, Rihanna underscored that the performance is a big step towards representation and she wants her son to grow up in a world where a Black woman headlining a big show is common.
This article was originally published on