All The Ways You Can Watch The Super Bowl In The UK
Plus the half-time show, headlined by Snoop Dogg, Mary J. Blige, Dr. Dre, Eminem, and Kendrick Lamar.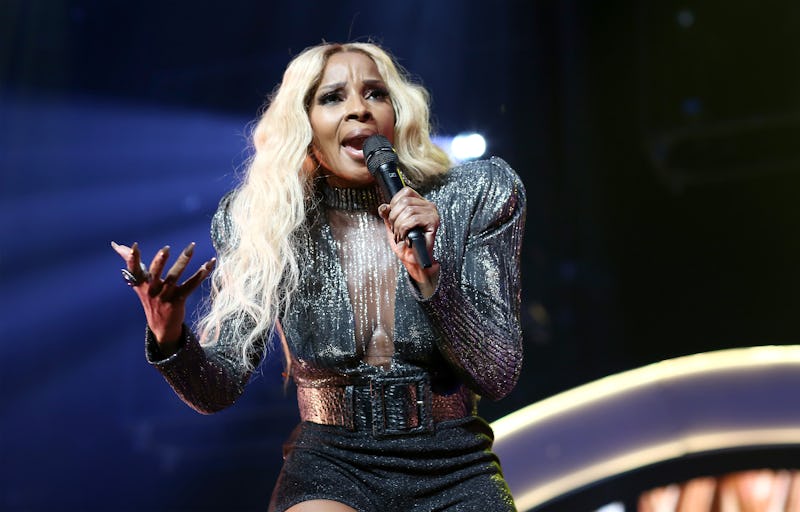 Ser Baffo/Getty Images Entertainment/Getty Images
It's that time of year where NFL lovers sit down for the event of the year, Super Bowl Sunday. And music lovers eagerly anticipate the spectacle that is the half-time show. Back for Super Bowl LVI (56), the Cincinnati Bengals are going up against the LA Rams, for the first Los-Angeles based Super Bowl in 30 years - at California's SoFi stadium. This year's Super Bowl includes their largest Samsung 4K HDR display ever and their most expensive venue.
Whilst the Bengals have never won the Super Bowl, the Rams have not fared much better, winning once in 1999, meaning the fight for the Vince Lombardi trophy is truly anyone's game. For sports (and entertainment) enthusiasts in the UK wondering how to watch the Super Bowl look no further.
When Is The Super Bowl 2022?
You'll probably want to drink a coffee to keep yourself awake because the time difference means the Super Bowl will begin on Feb. 13, 2022 at 11 p.m. GMT – and run over into the early hours of Monday, Feb. 14.
For those sticking around for the halftime show, that will air at approximately 1:00 a.m. GMT.
How Can You Watch The Super Bowl 2022 In The UK?
There are two options for watching the Super Bowl in the UK. For anyone with a TV licence, the BBC has you covered with thorough coverage throughout the night. Live coverage will begin on BBC Two at 11 pm.m GMT, before switching over to BBC One from 11:45 p.m. and will run until 3:30 a.m. GMT.
Alongside live match commentary on BBC Radio 5 Live Sports Extra, there will also be a BBC One NFL preview show hosted by Dan Walker, Osi Umenyiora, and Jason Bell on Feb. 12.
Sky will also be airing the Super Bowl 2022 over on Sky Sports. You will need to have Sky Sports in your package for that, though. Or you can stream Sky Sports through NOW's streaming service.
Who Is Performing In The Super Bowl LVI Half-Time Show?
Making itself a contender for one of the most memorable half-time shows ever, this year's Super Bowl will be hosting: Eminem, Dr Dre, Snoop Dogg, Kendrick Lamar, and Mary J Blige, for what promises to be quite the jam-packed 12 minutes.
Super Bowl LVI kicks off on Sunday, Feb. 11 at 11.30 p.m. in the UK.
This article was originally published on