Rupert Grint Just Shared A *Major* Update About Ron Weasley's Future
The actor isn't ready to close the chapter on Harry Potter just yet.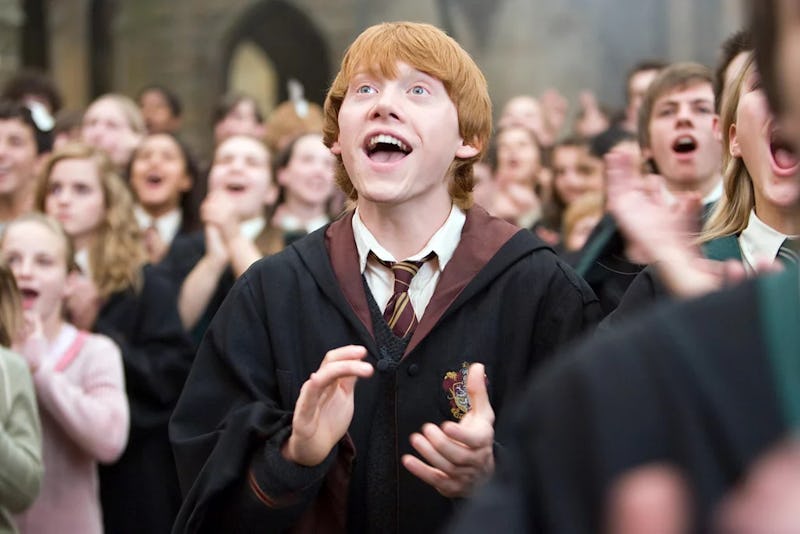 Warner Bros. Pictures
Wands at the ready, Harry Potter fans. Rupert Grint has said he would be up for reprising his most famous role as Ron Weasley in the popular film franchise. The actor told This Morning that he isn't ruling out playing the red-headed wizard again, saying that he would be interested in returning to the character if "the timing was right and everyone was coming back, I would definitely revisit it."
Now 34, Grint bagged the leading role when he was just 11-years-old, playing Harry Potter's best mate and fellow Gryffindor house member Ron. Appearing on the daytime show on Jan. 26, he admitted that he still feels "protective" over a role he played for so many years, and said that it has come to represent his "whole childhood." He explained: "It was a character that was important to me. We kind of became the same person."
Joking about his previous acting experience prior to playing Ron, he joked: "I was a fish in a school play before that!" Post-Potter, Grint went onto star in New York punk biopic CBGB, and crime-comedy Moonwalkers, as well as upcoming new thriller Knock at the Cabin.
Grint's comments echo the sentiments of Daniel Radcliffe, who played Harry Potter. Though he said a reunion is unlikely, he did concede: "It would depend on the script. The circumstances would have to be pretty extraordinary," he told Radio Times. "But then I am sure Harrison Ford said that with Han Solo and look what happened there! So I am saying 'No' for now, but leaving room to backtrack in the future."
Though beloved by an entire generation who grew up watching and reading the magical stories, Harry Potter's legacy has been marked by controversy as of late, on account of the views of author J.K. Rowling, who wrote the original novels. The writer has become associated with anti-trans politics in recent years.
In 2020, meanwhile, Grint, Radcliffe, and their co-star Emma Watson all made moves to distance themselves from the views. "I firmly stand with the trans community and echo the sentiments expressed by many of my peers," Grint wrote in a statement. "Trans women are women. Trans men are men. We should all be entitled to live with love and without judgement."