Everything To Know About Russian Doll Season 2 & Annie Murphy's Role
Love that time loop journey for her!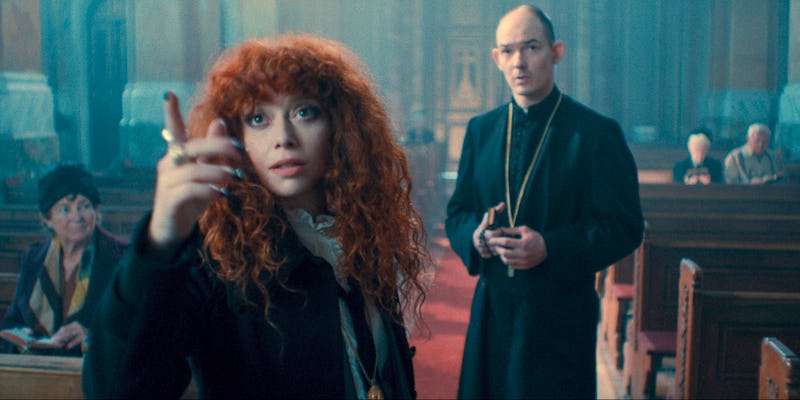 Netflix
A beloved Schitt's Creek alum will be stepping into the perplexing world of Russian Doll when the popular Netflix original returns for Season 2. Last year, TVLine reported that Annie Murphy had joined the cast for its upcoming season. Although no details about her character have been revealed yet, the creative possibilities will be fun to ponder as the premiere date inches closer — and to that end, Netflix just dropped some major clues (and new photos, too!) for the new season.
Here are the details on Russian Doll Season 2's plot, premiere date, cast, and everything else that has been announced so far:
Russian Doll Season 2 Plot
It's been three years since Russian Doll first premiered on Netflix, so if you haven't rewatched in a while, you may be wondering, what's going on again? The thing is, nothing much — or at least, we didn't leave Nadia (Natasha Lyonne) and Alan (Charlie Barnett) in the middle of any more timeline-hopping chaos. The first season wrapped on a triumphant note, with both characters having helped each other escape their doomed fates and grapple with the personal struggles that got them there.
It seems like the story wrapped up nicely, so it might have been a surprise to some viewers that there was more in store when Season 2 was announced in June 2019. However, it wasn't a shock for the series' creators, including Lyonne herself, who told The Hollywood Reporter, "I definitely have ideas ranging from the really kind of out-there anthology to staying on board with our friend Nadia."
According to a new synopsis released by Netflix Feb. 11, Season 2 takes place four years after Season 1, and will "continue to explore existential thematics through an often humorous and sci-fi lens." Specifically:
Discovering a fate even worse than endless death, this season finds Nadia and Alan delving deeper into their pasts through an unexpected time portal located in one of Manhattan's most notorious locations. At first they experience this as an ever-expanding, era-spanning, intergenerational adventure but they soon discover this extraordinary event might be more than they bargained for and, together, must search for a way out.
Russian Doll Season 2 Cast
Based on Murphy's new AMC series, Kevin Can F**k Himself, the actor seems to be just at-home in oddball environments as she was in the charming town of Schitt's Creek. That's great news for Russian Doll — because while her character arc remains a mystery at the moment, we can assume it'll be a bizarre one. In addition to Murphy, Carolyn Michelle Smith (House of Cards and How to Get Away with Murder) will have a role in Season 2 along with Sharlto Copley (District 9), Deadline reported.
Russian Doll Season 2 Release Date
On March 7, Netflix shared that the second season is coming *very* soon, with new episodes finally available for streaming on April 20. While there's no official trailer yet, the platform released a date announcement teaser featuring some of the first season's many accidents to tide you over until then.
This post will be updated with the trailer as well as additional plot and cast details as more information on Russian Doll Season 2 becomes available.
This article was originally published on