Bridgerton's Nicola Coughlan & Luke Newton Got Polin Fans In A Tizzy
Just look at that "main character energy."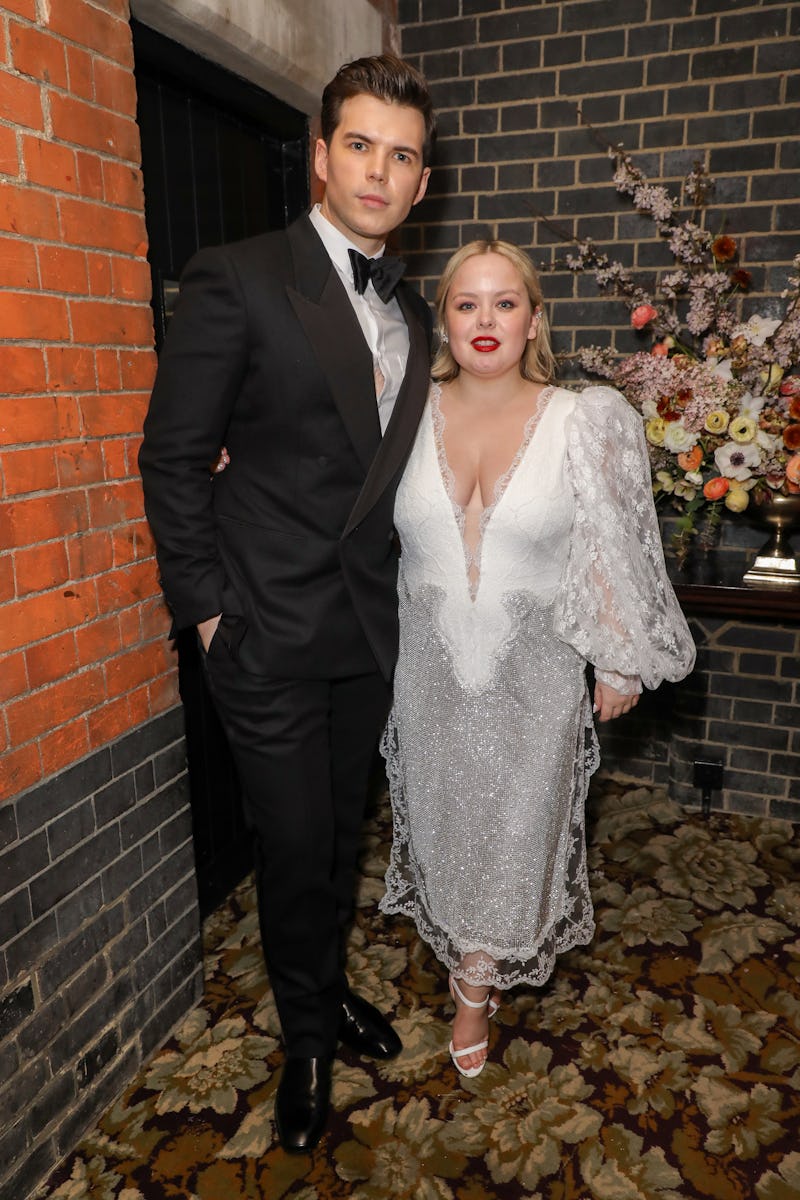 David M. Benett/Getty Images Entertainment/Getty Images
With "Polin" set to be the next Bridgerton couple to lead in Netflix's beloved regency drama, stars Nicola Coughlan and Luke Newton are showing off their "main character energy." The two actors, who play Penelope Featherington and Colin Bridgerton, respectively, shared photos worthy of a Lady Whistledown shoutout on Friday, June 17. In them, they pose together, with one picture also including Season 3 showrunner Jess Brownell. Newton even teased in his caption, "S3. You are not ready!"
The actors didn't provide any other details about their time together, but Coughlan did agree with Newton's caption in the comments. "You are correct x," she wrote. It was enough to send Polin fans in a tizzy. "I am sooooooo here for #polin. I am so ready," one fan replied. Another showed all-caps excitement, commenting, "I CAN'T WAIT FOR SEASON 3, POLIN SUPREMACY." Still another fan wrote, "I most certainly am ready. I cannot wait to see Penelope's and Colin's love story unfold. I'm so deliriously excited."
So far, there's no word of exactly when Bridgerton Season 3 will begin filming, but it could be anytime now. Coughlan told Women's Wear Daily in March that it would be "this summer." The fact that they're joined by Brownell seems like a good indication that they'll be back on set shortly, if they're not already.
Season 3 was originally expected to follow Benedict Bridgerton (Luke Thompson), given the order of Julia Quinn's Bridgerton romance series. His love story is told in Book 3, An Offer From a Gentleman, while Penelope and Colin's is told in Book 4, Romancing Mister Bridgerton. However, on May 15, Coughlan got to share the change-up with fans.
"Like Lady Whistledown I've been keeping quite a big secret for quite a long time… but I can finally tell you that @bridgertonnetflix Season Three is Colin and Penelope's Story," she wrote on Instagram.
The development was a shock to her when she learned about it from Brownell last year, as she told Netflix's Tudum in May. Still, she thinks "book fans are going to be happy." Given that fans have watched her character pine over Colin for two seasons already, she thought another might get to be too much. "I feel like if you see Penelope fawning over this boy for another season, you'll be like, 'Get it together! Come on, move on and get over it,'" the Derry Girls vet said.
Now that it's happening, the two stars have that "main character energy" Coughlan posted about in her recent Instagram caption, and yes, they're ready for the intimate scenes. She said on Variety's Awards Circuit Podcast that after "two seasons of build up," Polin's relationship will probably get more of the Season 1 steam-athon treatment than the slow burn of Season 2. Luckily, she has a great partner in Newton. Coughlan told Tudum they "used to joke" about the love scenes they'd eventually have to shoot, but shared that she has "such trust" in him and hopes he does in return.