Sarah Jessica Parker Marks 25 Years Of SATC With "Iconic" Necklace
Sex And The City premiered in June 1998.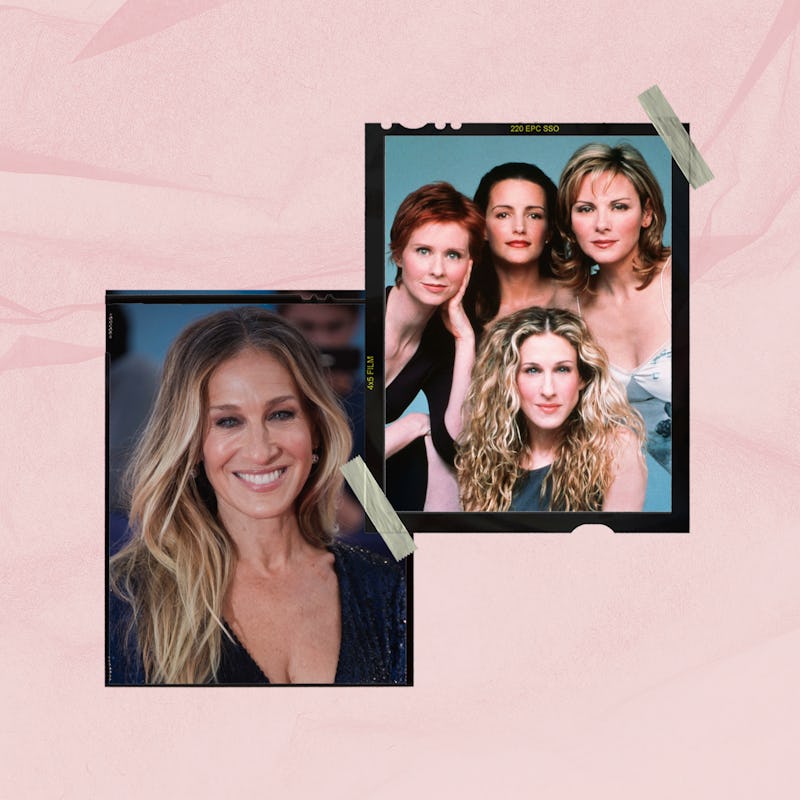 Francois G. Durand/WireImage / Patrick Demarchelier/Hbo/Darren Star Prods/Kobal/Shutterstock
It's been 25 years since Sex and the City first premiered on HBO, and Sarah Jessica Parker just marked the show's anniversary in the most Carrie Bradshaw way. The actor took to Instagram on Tuesday, June 6 with a photograph of her "Carrie" nameplate gold necklace, one that her character wore on many occasions throughout the show's six-season run.
"It's our silver anniversary but the memories will always be gold. X, SJ," Parker captioned the IG post, which naturally caught the attention of SATC fans online — many of whom began to reflect on the groundbreaking show's 25-year history.
"This is a powerful image to commemorate today," one fan commented under the post. "It's such an iconic piece of culture and symbol of the past of so many women. Thank you SJ for bringing Carrie to life and inspiring a generation or two in the process."
"25 years and the backdrop to so many key moments in my life! Thank you for all the fun, laughter, and memorable scenes," another fan wrote.
Meanwhile, Parker (who plays Bradshaw in the original show and its sequel series And Just Like That...) also shared an HBO promotional ad for Sex and the City to her Instagram Story on June 6, which originally aired ahead of the show's debut in 1998. As fans will recall, the HBO comedy-drama is based on Candace Bushnell's newspaper column of the same name and follows the lives of four friends in New York City as they navigate sex, dating, work, marriage, and everything in between.
Sex and the City ran for six seasons between 1998 and 2004 and went on to spawn not one, but two movies that were released in cinemas in 2008 and 2010. More than 17 years after the original show's conclusion, a SATC sequel series titled And Just Like That... premiered on HBO Max, and the spin-off's much-anticipated second season is scheduled to begin airing in June 2023.
This article was originally published on