Sean & Tanner's Bachelorette 2-On-1 Date Has Twitter Picking Sides
The outing didn't end well for either suitor.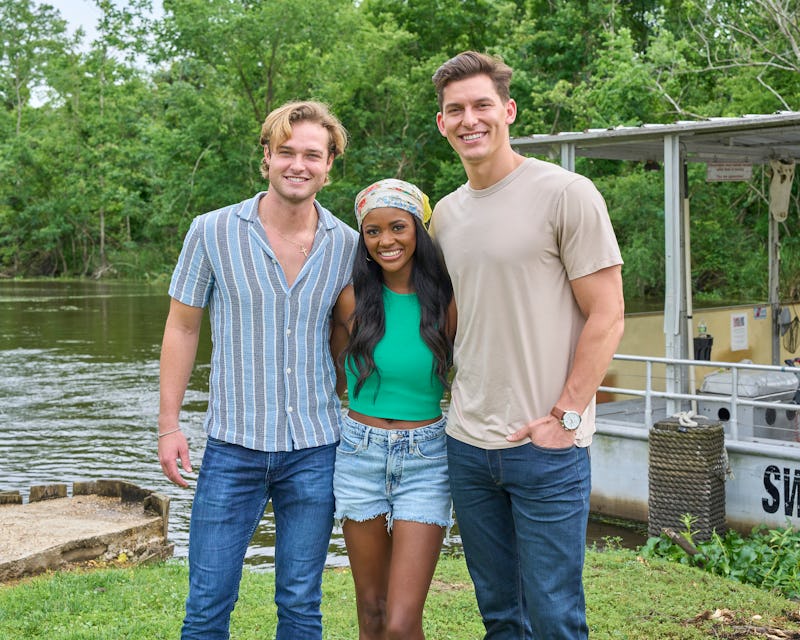 ABC/Craig Sjodin
The two-on-one date is a time-honored Bachelor/ette tradition: an opportunity for the lead to make a decision between two suitors, and often force them to confront any lingering conflict in the process. So when Charity Lawson opted to bring two contestants on a two-on-one during the July 24 Bachelorette episode, viewers at home knew it would be a good time — maybe not for the guys, but certainly for fans who crave all the drama and awkward moments. And there was plenty of both!
It all started when Dotun Olubeko read out the dreaded date card, letting Sean McLaughlin and Tanner Courtad know they'd be doubling up on a date with Charity. "Sean and Tanner, it's time to get clarity," the card read. "Meet me in the bayou. Love, Charity."
The expressions on the men's faces said it all — this was not good. As @bachelordata pointed out on Instagram, getting a two-on-one date historically means you won't win your season, even if you buy yourself some time by surviving the date. Former Bachelorette Ali Fedotowsky once shed light on this phenomenon, writing for E! that for her two-on-one, she knew "neither was right for [her]," and she even asked producers to pick which guy got to stay. "Think about it: Why would you ever bring two people that you really like, knowing you have to send one of them home? Makes no sense."
So the odds weren't really in either man's favor, but they still went on the date — which, Charity explained in a confessional, was a way to determine "someone who could be a boyfriend, versus someone who could be a husband."
After an alligator boat ride and crawfish boil, the trio had a dinner date where Sean and Tanner had to take turns waiting outside to give each other some solo time with Charity. She learned more about each suitor: Sean shared about his family, while Tanner opened up about being "ghosted" by his girlfriend of three years. However, Charity still needed some time to decide and opted not to give out a rose just yet.
This led to Sean meeting with Charity the next day and urging her to make a decision — which, sadly, was a no. She decided to send Tanner home, too, meeting with him privately to say it was "not fair" to him (or his family) to go on a hometown date when their relationship simply wasn't far along enough.
Naturally, Twitter had thoughts about the two-on-one — and those ensuing breakups.
While the prospect of a two-on-one is always fun, some fans were left wanting more drama — especially because, well, Sean and Tanner didn't really have beef with each other.
But there were still several awkward moments to go around.
While both men ultimately went home after the two-on-one date, many viewers on Twitter seemed to have a preference for who "won" the outing. As user @assenavmarie put it, "Sean is pressed he didn't get a rose while Tanner was considering Charity's feelings."
While two-on-one dates don't always result in both suitors going home in the same week, it's clear that the double elimination gave Charity the clarity needed going into hometowns — and the end of the season, which is approaching fast.