Selling Tampa Star Alexis Williams Is Married To A Former NFL Player
Meanwhile, she plays the game of real estate.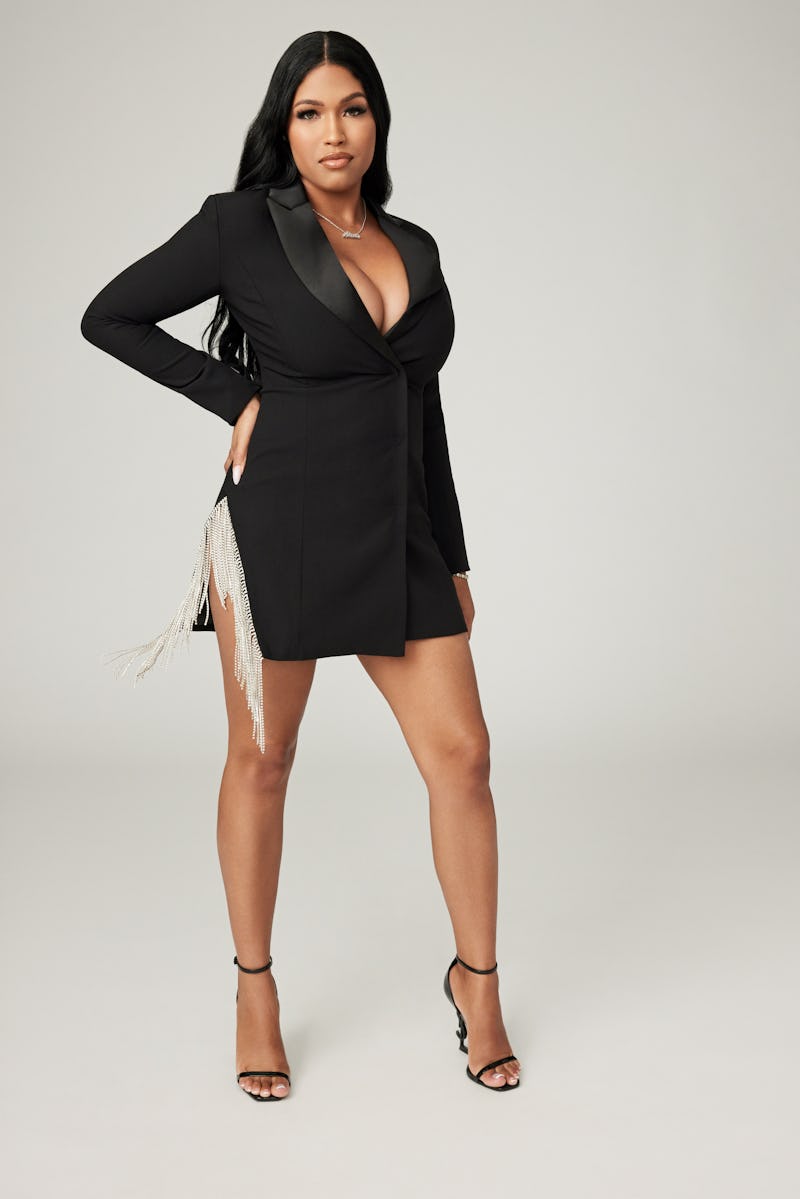 Nino Muñoz/ Netflix
Netflix's Selling series is headed from the glam of Southern California to the sunny gulf of Florida with Selling Sunset spinoff Selling Tampa. The show follows the drama and professional triumphs of Allure Realty in West Florida — Sharelle Rosado's all-Black, all-women real estate agency operating out of Tampa. One agent who makes up Rosado's team of luxury relators is Alexis Williams, a 30-year-old Florida native who prides herself in striking a balance between work and play. Here's everything to know about her.
Alexis' Instagram Is About Business & Fun
"I like to party, which you might see a little bit on the show, but I am still about my business," Williams told House Beautiful ahead of the show's premiere. Her Instagram is definitely indicative of that assertion, especially given Alexis' variety of photos featuring her stoically standing near Allure's front desk in addition to photos of her standing in front of massive balloons to celebrate her 30th birthday. As of late, most of her photos have to do with Selling Tampa, ranging from Allure group photos, to trailers for the show, to Times Square promos.
Alexis' Husband Is A Former NFL Player
Whether it has to do with business or pleasure, Alexis never seems too far from her partner, former NFL running back Mike Gillislee. She posted a birthday tribute to him featuring a photo of the couple kissing, with the caption, "I'm so lucky to have you. We inspire each other on a daily basis & I'm so thankful we get to share these memories together." Gillislee is from Florida as well, where he played football at the collegiate level for the University of Florida. He spent four years as a Gator, before taking his talents to the NFL, bouncing around the league from 2013 to 2018.
Does Alexis Still Work At Allure Realty?
While Alexis still describes herself as a luxury realtor on her Instagram — without mentioning Allure by name — by the end of Season 1 of Selling Tampa, her future at the agency appears to be in jeopardy. Sharelle sits her down and tells her she needs to "take some time for herself," effectively firing her, though she does leave the door open for Alexis to return in the months to come, should she decide she will fully commit herself to a career in real estate. But by the end of the season, it seems unlikely that Alexis will take her up on that offer after being dismissed, especially when she acknowledges she had been underperforming at work.
As for if Alexis still works at Allure or if she's returned to the company after the show finished filming, it's unclear. There are still photos of Alexis working at Allure on her Instagram that were posted in October 2021 — before the show debuted in December — though it's possible that the show was still filming then and she hadn't yet been let go from the company at that time. Meanwhile, Alexis' LinkedIn page lists Allure Realty as her current employer, and Allure's website also lists Alexis as one of its agents.
In an interview with Entertainment Tonight after Selling Tampa's premiere, Sharelle alluded to the situation. "If they're not performing, and they're not meeting the Allure standards, then you have to go. You get cut. I love you from afar. I just have to take my hands off of you until you can come back," she said. When asked by ET if she was back on the Allure team, Alexis kept things cordial without saying anything in the affirmative. "It's definitely still family," she said. "They're always going to be a big part of my heart. A big part of who I am today. I definitely would like to come back, but we'll just have to see what happens."
This article was originally published on