Everything To Know About Selling Sunset Season 4
The Netflix show returned on Nov. 24, but don't expect to see Chrishell & Jason's new relationship.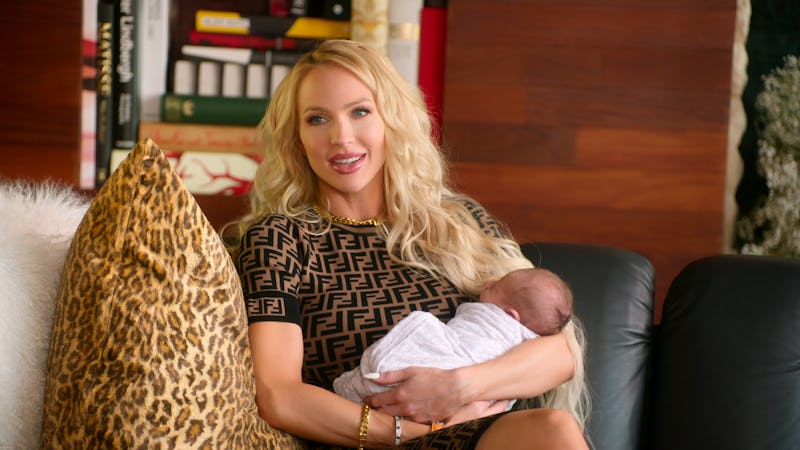 Ready for more lavish Hollywood homes and catty real estate drama? The Oppenheim Group is back on your screen after Netflix renewed Selling Sunset for two more seasons in March. The hit reality series returned Nov. 24 with Season 4. A lot has changed since viewers last checked in with the agents, including a new baby, a new marriage, and a new relationship in the office.
All of your favorite agents — Chrishell Stause, Christine Quinn, and Mary Fitzgerald — are set to return for the next two seasons, and they'll be joined by some fresh faces. In a video posted by E! News in March, Christine promised viewers bigger houses and bigger drama. Her co-worker and longtime frenemy Chrishell, meanwhile, is bracing herself for more tension. "It's time to get to work," she said. "We're gonna probably burn a little sage, say a prayer. But let's do this!"
The Season 4 trailer released in November lives up to their promise. Viewers will get to see Christine as she navigates being a new mom and losing listings at work to a new agent — who happens to be the ex-fianceé of her ex-fiancé. However, one thing viewers won't see this season is the budding romance between Chrishell and her boss Jason Oppenheim — at least not yet. Here's everything you need to know about the new season of Selling Sunset.
Selling Sunset Season 4 Premiere Date
Selling Sunset Season 4 premiered on Nov. 24 after months of teasing. The entire fourth season dropped all at once, so fans can marathon all 10 episodes during the holidays.
Selling Sunset Season 4 Trailer
On Nov. 10, Netflix finally unveiled the Selling Sunset Season 4 trailer, which introduced the two new agents. Vanessa comes in as Davina's replacement after she left the Oppenheim Group, and just like Davina, she seems to be caught between Christine and the rest of the women. Meanwhile, Emma is brought in to take on some of Christine's listings as she takes care of her new baby, but some "high school drama" occurs when the group discovers that Emma used to date Christine's ex-fiancé, which only makes her taking Christine's desk feel like revenge.
Selling Sunset Season 4 Cast
Netflix confirmed current cast members Maya Vander, Mary Fitzgerald, Heather Rae Young, Amanza Smith, and Davina Potratz will all return for show's fourth season, alongside Christine, Chrishell, and their bosses Jason and Brett Oppenheim. The news comes despite speculation that Davina and Brett would leave the show, considering they no longer work at The Oppenheim Group.
In October 2020, Davina joined rival agency Douglas Elliman to work in their development division. She never sold that $75 million house before leaving by the way, as it's still an active listing. Meanwhile, earlier that year, Brett quietly separated from The Oppenheim Group to start his own luxury brokerage — albeit one with a similar name: Oppenheim Real Estate.
On May 26, Netflix also announced two new agents will join the cast for Seasons 4 and 5, including Vanessa Villela, an award-winning Mexican-American actor who played Emiliana in El Señor de los Cielos and Sara in Una Maid en Manhattan. According to her Netflix bio, "Vanessa's transition from successful television actress to successful real estate agent was a very personal, spiritual, and emotional journey for her. Vanessa has decided to start a new chapter in her life and is ready to find her way in the competitive LA real estate market."
The second agent joining the group is Emma Hernan, a quadruple threat who works as an entrepreneur, angel investor, CEO of Emma-Leigh & Co, and of course, a luxury real estate agent. According to her Netflix bio, she's a "self-made millionaire with impressive clients and a big heart."
Selling Sunset Season 4 Storylines
When the cast last filmed together, coronavirus was not a global threat — and in the time since, a lot has changed in each of their lives. The Selling Sunset Season 3 finale featured Christine's gothic wedding to retired tech millionaire Christian Richard. The couple has since welcomed a son, Christian Georges Dumontet, and in an interview with Entertainment Tonight, Christine promised that viewers will get to experience the journey of motherhood with her. She's also already started to fan the flames of drama, posting a TikTok that calls out castmates Chrishell, Mary, and Heather for not "liking" her pregnancy announcement on Instagram.
In addition, fans will likely see Chrishell reflect on her Dancing With the Stars experience and breakup with professional dancer Keo Motsepe following her divorce from Justin Hartley last season. Heather is currently planning her wedding to TLC star Tarek El Moussa, while Mary is living the newlywed life after her Season 2 wedding to Romain Bonnet. As for the real estate side of things, viewers will assumedly find out what happened between the Oppenheim twins that led Brett to start his own real estate brokerage, and how the brothers are doing now.
However, something fans won't get to see this season is Chrishell and Jason's relationship. On July 28, the two went Instagram official when Chrishell shared multiple photos of herself with Amanza, Brett, Mary, Romain, and model Tina Louise while visiting the island of Capri. In one of the photos, she kisses the top of Jason's head and in another, he nuzzles her neck.
That same day, Jason confirmed their relationship in an interview with PEOPLE. "Chrishell and I became close friends and it has developed into an amazing relationship," he said. "I care about her deeply and we are very happy together." However, as their castmate Mary told Metro on Oct. 5, fans won't see them as a couple during Season 4 because they only went public after filming wrapped. "I think Jason and Chrishell came out with their relationship in between season four and five," she explained, confirming that the couple's blossoming romance will be highlighted on the show's fifth season.
It's unclear when exactly Chrishell and Jason began dating, but it seems relatively recent. During an interview with Page Six in May, Jason discussed his previous relationship with Mary and said that dating another costar "probably wouldn't be an epic idea." He added, "It's not that I've taken a step back from dating — it's not on my priority list to be honest. And no, that wouldn't be a priority for me. I think that would be complicated."
We do know that by July 21, the two were together. As Chrishell told Bustle in October, their relationship was "unexpected" for the both of them. "He's always been a very proud bachelor," she explains. "That's the opposite of what I'm looking for. He always dated these young blonde models. We just were not each other's types." However, their established connection as friends began to grow naturally. "I became best friends with someone platonically before it started to become romantic, so I just think that over time we both were surprised by it," she says.
After making her relationship with Jason public, Chrishell revealed that he was the person who sent her a large display of flowers and balloons she posted about on her 41st birthday. She edited the caption of her birthday post from the day, tagging Jason and writing, "Annnnd now that you guys know... thank you SO much @jasonoppenheim 🥰🥰🥰."
This article was originally published on