The Top 10 Steamiest Jamie & Claire Outlander Moments Are NSFW
Bookmark this list and the episode numbers for later.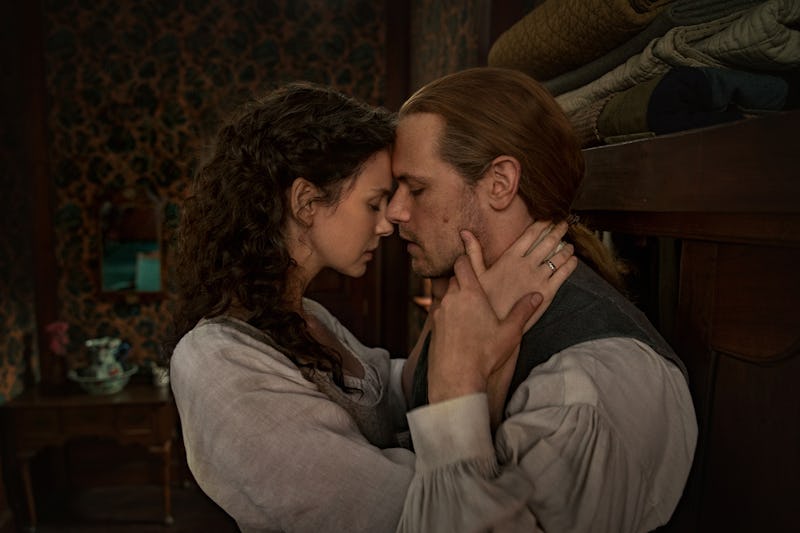 Starz
Though many have tried, no television show comes close to the steamy, sensual, and frankly explicit sex scenes of Outlander. The Starz series starring Sam Heughan and Caitriona Balfe as lovers from different time periods is wrapping up its sixth season and has long been hailed for its portrayal of thoughtful, intimate sex.
Based on the novel series of the same name by Diana Gabaldon, Outlander follows Balfe's Claire Randall — a World War II nurse — who is transported back to the 18th century, where she falls in love with Heughan's Jamie Fraser, a warrior. Claire travels between the 1940s and the 1780s often throughout the series, juggling her burgeoning relationship with Jamie with that of her husband Frank. Told primarily from Claire's point of view, Outlander embodies a female gaze in all things, including (and especially) the sex, which has made it a massive hit amongst female audiences.
It's the hot relationship between Jamie and Claire that has fans rewinding their TVs, fueled by the palpable onscreen chemistry between Heughan and Balfe. For most of the series' run, Heughan and Balfe had to rely on each other for support during filming. But before Season 6, Heughan used his executive producer credit to advocate for an intimacy coordinator. "We sort of found our way through it together, and we've supported each other through it," Heughan said of filming those scenes with Balfe in the first five seasons. "But actually bringing someone on board means we're all more supported. We can find new ways to be more intimate and to add more to those scenes." Knowing that the actors are being taken care of in these vulnerable onscreen moments somehow makes the sexy scenes feel less voyeuristic.
Click ahead to see 10 of the steamiest moments from Outlander's six seasons.
Outlander wraps up Season 6 on Sunday, May 1, 2022. The steamy time-traveling series will return for Season 7 on Starz, though the premiere date has not been announced yet.