The Sneaky Reason Why 'Outlander's Sex Is More Satisfying Than Any Other Sex On TV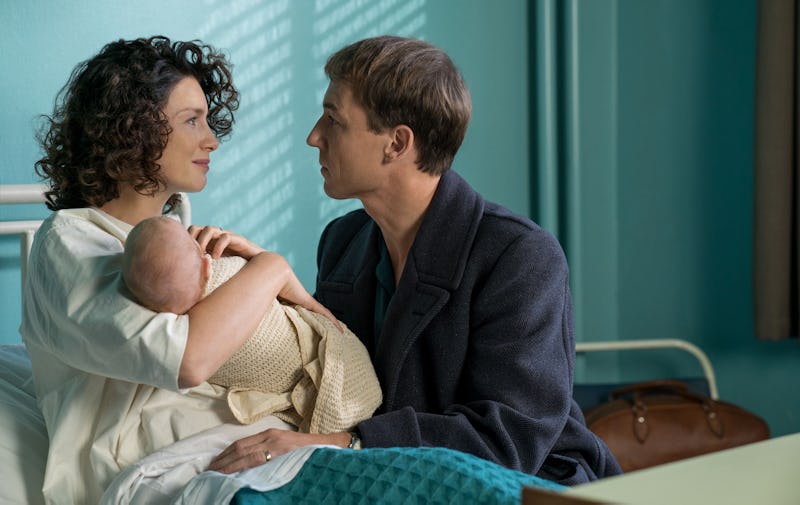 Starz
Outlander has one of the best representations of sex on TV. While the scenes can be graphic, they never feel gratuitous or objectifying, as they have in other premium cable shows, like Game Of Thrones. The consensual sex scenes on Outlander focus on the wants, desires, and pleasure of both male and female partners, which is, unfortunately, something that's rarely seen in the media. Yet, with this joy also come the other complicated emotions that may accompany sex, and the second episode of Outlander Season 3 doesn't shy away from those either when it comes to its female characters and — more notably — its male characters. Outlander explores men's emotional relationship with sex, and both Jamie and Frank's stories in "Surrender" are the perfect examples of that. Spoilers!
While the male gaze dominates how sex scenes are shot for TV, Outlander intentionally shows sex from the female perspective, as the cast and crew have told Vulture. But that doesn't mean the Starz series doesn't also give a realistic representation of how sex affects men. Viewers have seen how Jamie was traumatized by Black Jack Randall raping him in Season 1 and it wasn't just the physical aspect of it — Outlander followed the emotional toll that Black Jack's manipulation took on Jamie, with Jamie having feelings of guilt for giving into his abuser. While women being raped is too often portrayed in movies and TV, it's rarely handled with as much nuance as Jamie's rape was handled by Outlander. Perhaps that says something about how much more culturally accepted rape against females is, but it's also a testament to Outlander since if Claire had been the victim, the show would have surely handled it just as sensitively.
In "Surrender," six years have passed since fans last saw Jamie. He now has a beard and long hair befitting his status as a fugitive living in the woods. But his disheveled appearance also reflects how he has no will to live since Claire has gone. His sister Jenny calls him out on not being himself anymore and suggests he sleep with Mary MacNab, an idea that initially angers him. Yet, after he decides to turn himself in to the British army and Mary offers herself to him, he chooses to sleep with her. Because, as she says, it's not to make him forget about Claire, but rather "something we both need, something to keep us whole."
This idea that two consenting adults can take what they need from a sexual exchange and nothing more is so mature, as well as being something fans can get behind. If you had heard Jamie slept with someone else before you saw how it went down, you may have balked at the betrayal (even if it is completely hypocritical), but the way Outlander handles Jamie's complex emotions makes it so easy to understand — and sympathize with — where Jamie is coming from. He's about to be captured and who knows when, or if, he'll be free again. Why shouldn't he be able to experience one of the simplest joys of being a human one last time? Even better, he's able to share this moment with a fellow compassionate and empathetic human. Sure, he may not love Mary, but he is allowed to engage in sexual intercourse with her without having to feel guilty about it. He's still pining for Claire, but Mary helps him recognize that he is allowed to move on in some aspects of his life and feel like a human again — even if this revelation comes sadly right before he will be imprisoned.
As for Frank, Outlander examines how sex impacts him emotionally as well. While it seems that Claire and Frank's sex life is improving — even with her dreaming of Jamie in bed — with Claire initiating sex and telling Frank how she misses her husband, their second sex scene proves otherwise. Although Claire is the one to initiate it again (yet another thing I love about Outlander's portrayal of sex), she doesn't look at Frank during it. He pleads for her to open her eyes, knowing that she is probably thinking of Jamie, and she ignores him. Frank's vulnerability and feelings of rejection are on full display here and he explains it when he says, "Claire, when I'm with you, I'm with you. But you're with him." As men are often portrayed in media as wanting sex regardless of the circumstances, Frank stopping this encounter shows that the emotions behind sex significantly matter to men too.
Sex is often used for many things other than to express feelings of love, and Jamie has experienced the gamut of that. His relationship to sex will always be complicated, since he has experienced the purest form and the most tainted form. "Surrender" — aptly-named for his literal surrender to the British and for his surrender to his completely normal human instincts — gives another example. But even better than that is the fact that the episode (which was written and directed by women ... just sayin') debunks the harmful stereotype that men aren't as emotionally invested in sex as women are. Whether the feelings are good or bad, sex impacts all genders from an emotional standpoint and Outlander is the one show willing to address that potentially "unsexy" topic of male vulnerability when it comes to sexuality head-on.