Sofia Richie & Elliot Grainge's Relationship Timeline Includes Two Famous Fathers
The couple just got married in the South of France after two years of dating.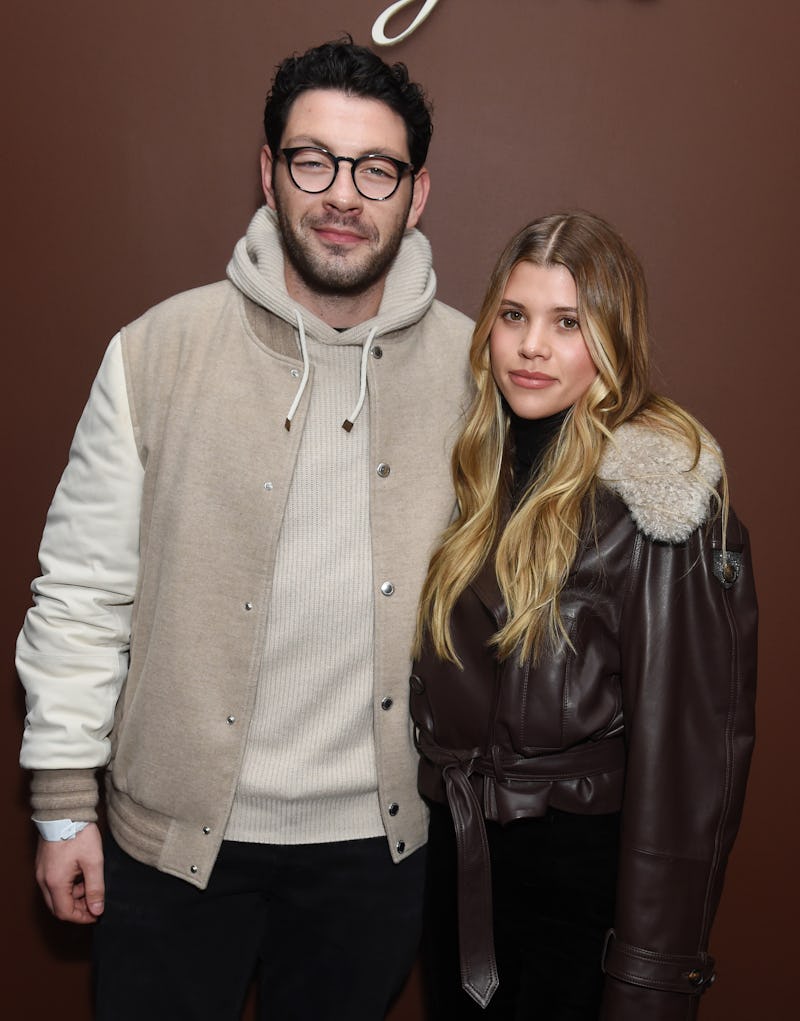 Gilbert Flores/WWD/Getty Images
Sofia Richie is married — and her famous dad didn't even have to vet him out in advance. On April 22, the 24-year-old model, who is the daughter of music icon Lionel Richie and sister of Nicole Richie, tied the knot to Elliot Grainge after two years of dating. The couple announced their engagement in April 2022, which just so happened to take place a year after going public with their relationship in 2021.
It turns out that Richie and her new husband both have famous fathers in common. Grainge is the son of Universal Music Group CEO and chairman Sir Lucian Grainge, who's worked with everyone from Elton John to Rihanna over his illustrious career. But the 29-year-old mogul has branched out as a music executive in his own right, founding independent record label 10K Projects and signing up-and-coming artists like Ice Spice and Iann Dior.
Graigne has the approval of Richie's father Lionel before they even started dating, as the "Hello" singer has frequently worked with his father. "I love Elliot, I've known him since he was 12," he told Access Hollywood after his daughter announced the engagement. "It was one of those things where I don't have to go back and check out the kid. I know who it is."
Unlike his model wife, Graigne is a lot more private on social media, with his Instagram page formerly having only four posts before he deleted them altogether. However, Richie posts enough content on her Instagram for the both of them, announcing their biggest milestones on her page.
Here's a look at Richie and Grainge's full relationship timeline.
March 2021: Sofia Soft-Launches Her Relationship
On March 26, 2021, Richie posted the first photo of her and Grainge on her Instagram account, sharing a masked-up elevator selfie, captioned with just a sunflower emoji. It was not a confirmation of their romance, but it was the first sign.
April 2021: Sofia & Elliot Go Instagram-Official
More than a week later, the couple went Instagram-official when Richie shared a photo of her kissing Grainge as part of a slideshow, which just about said it all.
August 2021: Sofia & Elliot Buy Their First Home
According to The Dirt, Richie and Grainge moved into their first home together in August, just months after they started dating. The couple moved into a $17 million Beverly Hills mansion located on "Music Row," which is also home to Rihanna and Paul McCartney, but a year later, they made a profit after selling the home for $22 million.
March 2022: Their Red Carpet Debut
Nearly a year after going public with their relationship, Richie and Grainge made their first public appearance together by attending Elton John's annual Oscars party in March 2022, holding hands on the red carpet.
April 2022: Sofia & Elliot Get Engaged
On April 20, Richie announced that she was engaged to Grainge by posting photos from his romantic proposal, including a snapshot of the two kissing with her new engagement ring in full view. Grainge popped the question on a balcony overlooking the ocean, atop a bed of flower petals surrounded by endless candles. "Forever isn't long enough," she captioned the post.
A few days later, Richie's father Lionel opened up about the engagement to Access Hollywood, revealing that Grainge asked for permission to propose to his daughter — and was a "nervous wreck" while doing so. "I thought he was going to pass out, but he survived it," he said. "I was going to rib him a little bit, but I didn't want to play, he was going to faint. It was wonderful. … They're deeply in love, so all I can say is, that's what you really want as a dad."
October 2022: Sofia's Bachelorette Party
In October, Richie held a multiday bachelorette party in none other than Paris, the city of love. The model shared a slideshow of photos from the festivities, including a photo of her guests donning masks with Grainge's face. Guests included her big sister Nicole Richie as well as several close friends.
November 2022: Elliot's Birthday
On Nov. 6, Richie celebrated Grainge's 29th birthday by sharing a cozy selfie of them lying in bed to Instagram. "Happy birthday to my heart!" she wrote. "I hope 29 is electric, you are the greatest thing to ever happen to me. ILY @elliot."
December 2022: New Year's Gratitude
On New Year's Eve, Richie shared more photos from Grainge's proposal to cap off 2022, writing, "thanks for the most special moment of my life" (at least until her wedding).
April 2023: Sofia & Elliot Get Married
Just days before his wedding, Grainge told the Los Angeles Times that his favorite thing to do is simply spend time with Richie at home. "My happy place is with my girl on the couch binging a TV series where we argue about which episode we're on," he said.
The big day happened on April 22, when Richie and Grainge tied the knot at the Hotel du Cap-Eden-Roc in Antibes, France. According to PEOPLE, their reception took place at poolside restaurant Eden Roc, where a full jazz band entertained guests. As seen in wedding photos shared with Vogue, the couple's parents stood behind them as they exchanged vows.
Other famous guests included Richie's sister Nicole, brother-in-law Joel Madden, Benji Madden, Cameron Diaz, and Paris Hilton.