The Succession Cast Singing Weezer's "Say It Ain't So" Is Going Viral
"This should be our national anthem."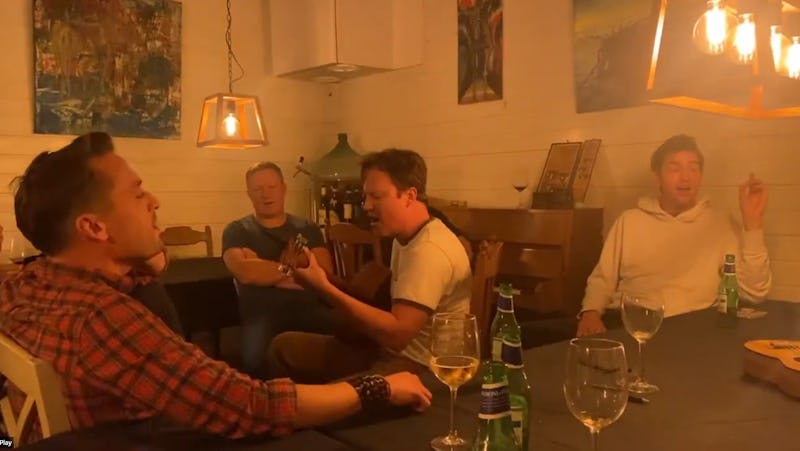 On May 28, fans bid farewell to HBO's Succession with the intense Season 4 finale, during which Waystar RoyCo's new CEO was revealed and the Roy siblings appeared to burn their last bridges with one another. Away from the show's drama, however, the cast of Succession appears to be having a ball behind the scenes, and in a new viral video, the likes of Jeremy Strong, Kieran Culkin, and Sarah Snook are shown belting out the Weezer hit "Say It Ain't So."
In the 30-second clip, the cast is shown sitting in what appears to be a bar or restaurant, enthusiastically singing an acoustic version of the 1995 track among beer bottles and wine glasses. In the wake of the shocking Succession finale, the video in question has been doing the rounds on social media — and fans are very much here for it.
"This should be our national anthem," one fan joked on Twitter. "I love this so much!" another viewer gushed, while one fan also noted: "I feel like they're in character here with Jeremy Strong in the corner not really participating." Meanwhile, Weezer themselves got in on the action, writing on Twitter: "Succession is over Say It Ain't So!"
This isn't the first time the show's cast has enjoyed a sing-along in recent months. Back in March, following the Season 4 premiere in New York City, castmembers including Snook, Culkin, Brian Cox, Justine Lupe, and Alexander Skarsgård were filmed getting down to Carly Rae Jepsen's 2012 hit "Call Me Maybe" on the dancefloor, to the delight of many fans.
Following Succession's last-ever episode, behind-the-scenes snaps of the cast and crew were also shared among fans online, with one photograph showing Snook (aka Siobhan "Shiv" Roy) going for a daytime swim with the show's crew in Barbados — where they had filmed some of the drama's pivotal scenes.