Succession Fans Noticed A Sneaky Clue In The Finale Title
It reportedly follows a major Succession tradition.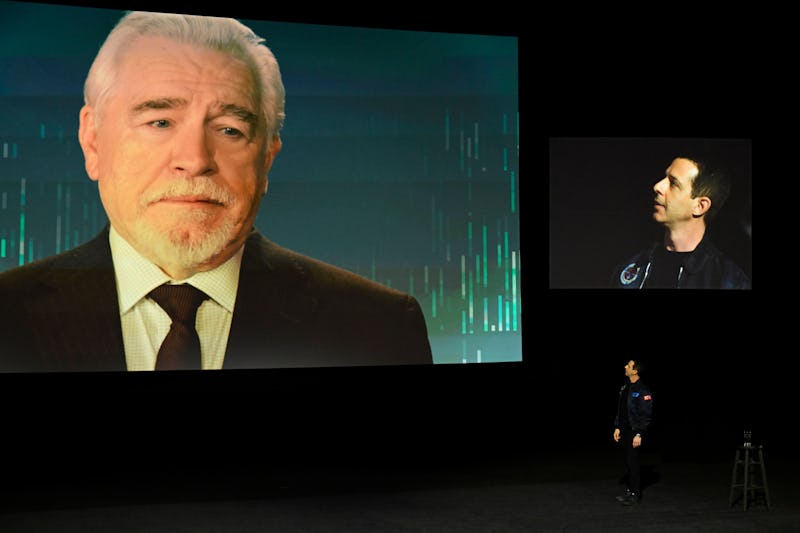 David Russell/HBO
The Succession series finale is rapidly approaching, which means it's time for a last call on fan theories. Some popular ones were proven true after weeks of speculation (like Shiv's pregnancy), while others only made sense in hindsight (like Logan's final plane ride lurking in the Season 4 poster). But for many viewers, a surprising source of theory fuel can be found in the title of Succession's very last episode. The feature-length finale is reportedly titled "With Open Eyes" — which, if true, would be in keeping with Succession's practice of naming each season finale after a line from John Berryman's poem, "Dream Song 29."
The poem is about a man, Henry, who's extremely troubled and fraught with guilt over the false belief that he killed somebody. But what does that have to do with Succession?
When asked about it by Vulture in 2019, creator Jesse Armstrong said he's averse to over-analyzing and "want[s] people to have their own reaction to the show." But he did concede that the poem shared the "terrifying sense of that feeling Kendall has at the end of [Season 1], wondering if something could have happened." Armstrong was referring to the car crash with the wedding waiter, though something definitely did happen in that case: the young man died.
For a while, Kendall was very broken up about that, and Logan's casual treatment of the event ("No real person involved," he said in Season 2) is what caused Kendall to turn on his dad. However, he's not so troubled anymore. "I can't point to the moment when it happened, but it became 'No real person involved' for Kendall," Jeremy Strong recently told Vulture. "You will see, as this season progresses, that there is more. It's that slow leakage of his humanity that is very Michael Corleone."
The reported episode title, "With Open Eyes," could definitely suggest truth coming to light — i.e., maybe Kendall's accident will catch up to him in an unexpected way.
Christopher Benfey, an English professor at Mount Holyoke, told GQ that the line the reported title comes from — "With open eyes, he attends, blind" — could connect to blindness in Oedipus Rex and King Lear. As GQ's Esther Zuckerman points out in the article, both works "involve major daddy issues."
Interestingly, several viewers previously predicted "With Open Eyes" as a potential title for the upcoming finale.
Whatever happens, the Succession poem connection has fans embracing their literary side. Redditor u/Butterfreepimp suggested that the poem, as a whole, could suggest "that Kendall's ultimate fate will revolve around his guilt from the events of [Season 1]. He might never recover."