4 Survivor Players Who Might Win Season 44 Based On These "Winner's Edit" Clues
The winner of Survivor 44 is...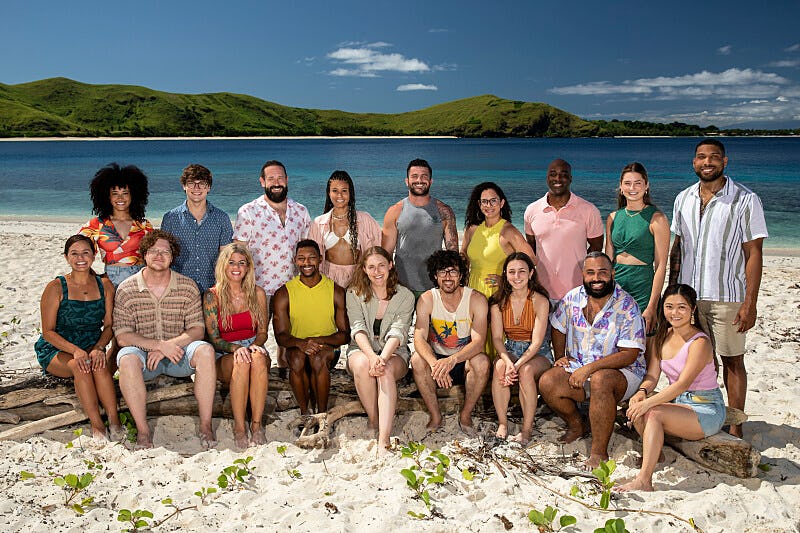 Robert Voets/CBS
To quote Survivor host Jeff Probst, "Come on in!" It's prediction time. Predicting the winner of Survivor has become the ultimate guessing game for fans ever since the reality competition premiered in 2000. For 44 seasons, viewers have converged on Reddit, YouTube, and other social media sites to discuss potential Sole Survivors. Some fans even compete in fantasy leagues.
With Survivor Season 44 upon us, super fans have noticed patterns over the course of 23 years to help them make an informed choice on the likely winner out of the 18 new castaways. In the past, producers have edited seasons for certain players — from the premiere to the merge to the finale — in a way to make the final outcome make sense. Fans have dubbed this the "winner's edit," meaning they've spotted certain trends from past seasons that clue them into who might win.
Below, based on the March 1 premiere episode of Season 44, Bustle has picked four players who have potentially received this season's winner's edit — or maybe the decoy winner's edit.
1. Yamil "Yam Yam" Arocho
Producers named this premiere episode after a quote from Yam Yam ("I Can't Wait To See Jeff"), subtly indicating that this 36-year-old beauty salon owner could be a frontrunner, the narrator of the season, or the most meme-able player. "I can't wait to see Jeff, I can't wait to not eat, not shower, not brush my teeth, poop in the ocean," Yam Yam quipped early on. "Bring it!"
A major clue pointing to a winner's edit is when a player mentions winning during the first episode (think Season 1 winner Richard Hatch and Season 21 winner Fabio). Perhaps foreshadowing his potential win, Yam Yam is the first player Probst fired a question off to after the castaways arrived. After Probsts asked what he wants to see from his tribemates, Yam Yam answered like a winner: "We're here to win, and we need each other. If you have to puke out everything you have inside, if you have to sweat every tear … I'll grab your puke bag, I'll wipe away your tears."
Additionally, Yam Yam successfully ignited his tribe's fire on Day 1 and namedropped the show's first-ever winner from 2000. "I remember watching Richard Hatch. I was 13, and I kept watching it ever since," he said. "I love it, I love it, I love it." Viewers will quickly fall in love with him.
2. Carson Garrett
Survivor producers love a super fan of the show, and sometimes that type of player ends up becoming the Sole Survivor (think Season 15 winner Todd Herzog, Season 23 winner John Cochran, and Season 33 winner Adam Klein).
After the Survivor intro, as the speedboats are rushing the castaways to meet Jeff Probst, 20-year-old Carson is the first player producers picked to give a confessional. "I've got spreadsheets and spreadsheets of Survivor data that I've taken," the NASA engineering student said. "I've 3D-printed a ton of puzzles. I'm just so ready to see all of my hard work pay off." As Carson had hoped, his pre-show preparation did pay off in the premiere episode as he proved his puzzle prowess twice for his Tika tribe — first with Yam Yam by being the first tribe to finish the puzzle in the reward challenge (though they fell short of winning the overall challenge) and then again with Helen by figuring out a timed brain teaser to earn their tribe valuable camp supplies.
Another clue hinting that he's receiving the winner's edit is producers showing he's already formed an alliance, with Helen and Sarah, that could take them far in the competition. He's also well-liked by his tribemates. After describing himself as "the quirky little nerd" who has never dated anyone, Carolyn compared him to a Marvel superhero: "Tom Holland, Spider-Man over here."
3. Heidi Lagares-Greenblatt
In another bit of foreshadowing that could predict the winner, Heidi proclaimed, "There's a lot more coming. I'm tiny but mighty." After her Soka tribe won the reward challenge and went to camp to set up, the 43-year-old volunteered to make fire. "When people see [me] — Latina, short, kind of small — they underestimate me from the get-go," she confessed.
A clue pointing to past winners' edits is when their job is heavily highlighted in the premiere (think Season 35 winner Ben Driebergen, whose Marine background and humbleness about serving America endeared him to other players). Similarly, the Season 44 premiere certainly called attention to Heidi's career. "I am an electrical engineer working in the steel-making business. Engineering is about finding solutions when there's a problem. I think that's exactly what Survivor is all about. Nobody on my tribe showed up to make the fire, so I just did it myself."
Heidi's fire-making abilities earned quite the praise from her tribe. Seemingly surprised, they cheered loudly, with one even saying, "OK, queen." Speaking of queens, Heidi is a fan of two-time Survivor winner Sandra Diaz-Twine, whose famous catchphrase is "The Queen Stays Queen." Might we have another Survivor queen in our midst?
4. Matthew Grinstead-Mayle
Last on this list, but not least, is Matthew, who just like Yam Yam left his husband at home to play Survivor in Fiji. Producers appear to have given Matthew the most amount of screentime during the premiere to set up his potential victory — though it could also be a brilliant decoy winner's edit to throw viewers off. The 43-year-old and tribemate Brandon participated in a four-hour, coconut-infused challenge that tested their physical limits. With time running out, the pair completed the mission and earned the Ratu tribe much-needed camp supplies. "That challenge is just the appetizer of what's coming," he said. "I know if I could succeed there. I could succeed anywhere."
A clue often pinpointing a winner's edit is when a player's relationship building is front and center in the premiere. At camp, players showered him with praise: "Matthew, you're like the ultimate provider," one said, while another added, "We'd be sort of lost without him." Even more telling is how producers showed him building a brief but notable connection with another tribe's player. When he and Soka player Claire sat out the immunity challenge for their respective tribes, they stealthily strategized on the bench while the other players were competing away from earshot.
Producers also gave Matthew a four-minute segment, in which they highlighted his mom's influence, his husband, his son, and his yearslong fitness journey to prepare for Survivor. "As I enter into this new era of my life, my 40s, I'm supposed to have a midlife crisis, but I said, 'No, I want a midlife challenge.' … I came out here for the journey and for the experience. But back home, I left my 4-year-old son, Jasper, and my husband, Dale. I need to show them that every day is an adventure. I just want to do everything." Everything might include a Survivor win.