Everything To Know About Sweet Magnolias Season 4
Netflix has yet to renew or cancel the romantic dramedy.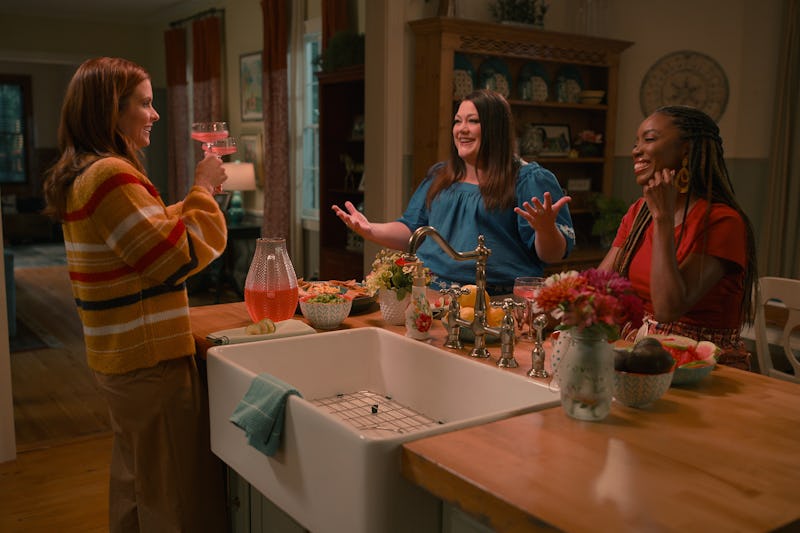 Courtesy Of Netflix
When Sweet Magnolias returned for Season 3 on July 20, the Netflix romantic dramedy picked up immediately after the finale brawl at Sullivan's. Throughout the latest 10 episodes, the core best friends — Maddie, Helen, and Dana Sue — continued to navigate life, love, and friendship in the fictional small town of Serenity, South Carolina with warmth, humor — and plenty of margaritas. Though Netflix has yet to renew Sweet Magnolias for Season 4, actor JoAnna Garcia Swisher, who stars as Maddie Townsend, is hopeful that she and her onscreen besties will be back for another round.
"It was really a fun season and it's setting up, I think, for what I'm just gonna manifest is Season 4 because the story has to continue," she told Parade in February, acknowledging the series' "torturous" cliffhangers. Still, Season 3 ends "in a very hopeful new beginning kind of feel," Swisher teased. "You had a lot of chaos to start the show, and the dust is kind of settling and then you really build towards these solid relationships and I think that you really start to feel like there's new beginnings and it's an exciting future for Serenity and everyone that's inside of it."
Based on the romance novel series by Sherryl Woods — which consists of 11 books and counting — there's certainly no shortage of source material to draw inspiration from. While you await an official announcement from Netflix either way, here's everything to know about a potential Sweet Magnolias Season 4.
The Sweet Magnolias Season 4 Cast
Though Netflix has also yet to reveal any new casting announcements, the other main actors joining Swisher for Season 3 were: Brooke Elliott (Dana Sue Sullivan), Heather Headley (Helen Decatur), Chris Klein (Bill Townsend), Jamie Lynn Spears (Noreen Fitzgibbons), Justin Bruening (Cal Maddox), Carson Rowland (Tyler Townsend), Logan Allen (Kyle Townsend), Anneliese Judge (Annie Sullivan), Brandon Quinn (Ronnie Sullivan), and Dion Johnstone (Erik Whitley).
In Season 3, Sweet Magnolias recast Maddie and Bill's daughter, with Ella Grace Helton taking over the role from Bianca Berry Tarantino, who had conflicts with filming the Apple TV+'s Lady In the Lake. Actor Janet Hubert, aka the original Aunt Vivian Banks from NBC's The Fresh Prince of Bel-Air, guest-starred as Helen's mother, Bev Decatur.
The Sweet Magnolias Season 4 Potential Premiere Date
Sweet Magnolias Season 3 began filming in Covington, Georgia in July 2022 and wrapped about three months later, ahead of a July 2023 premiere. Though a potential fourth season could follow a similar timetable, production would already be behind schedule, given the ongoing WGA and SAG-AFTRA strikes. In fact, the Sweet Magnolias team planned to mark premiere weekend with a July 21 picket outside Amazon, co-sponsored by Anderson and Woods. "Celebrate all the work the amazing writers, actors, and crew have given to Serenity over the years," the showrunner tweeted, using the "Union Strong" hashtag and adding, "Ready to literally stand beside you until we get what we deserve."
As of now, a mid-to-late 2024 Sweet Magnolias return is still within the realm of possibility, but there's no telling when the strikes will end.
This post will be updated as more Sweet Magnolias Season 4 details become available.