Daddy-To-Be Tan France's Advice To His Teenage Self: Don't Hide Your Feminine Traits
"If I could go back in time, I would tell myself to continue to be as effeminate as I want to be ... and stop focusing on what I'll be like in my 30s."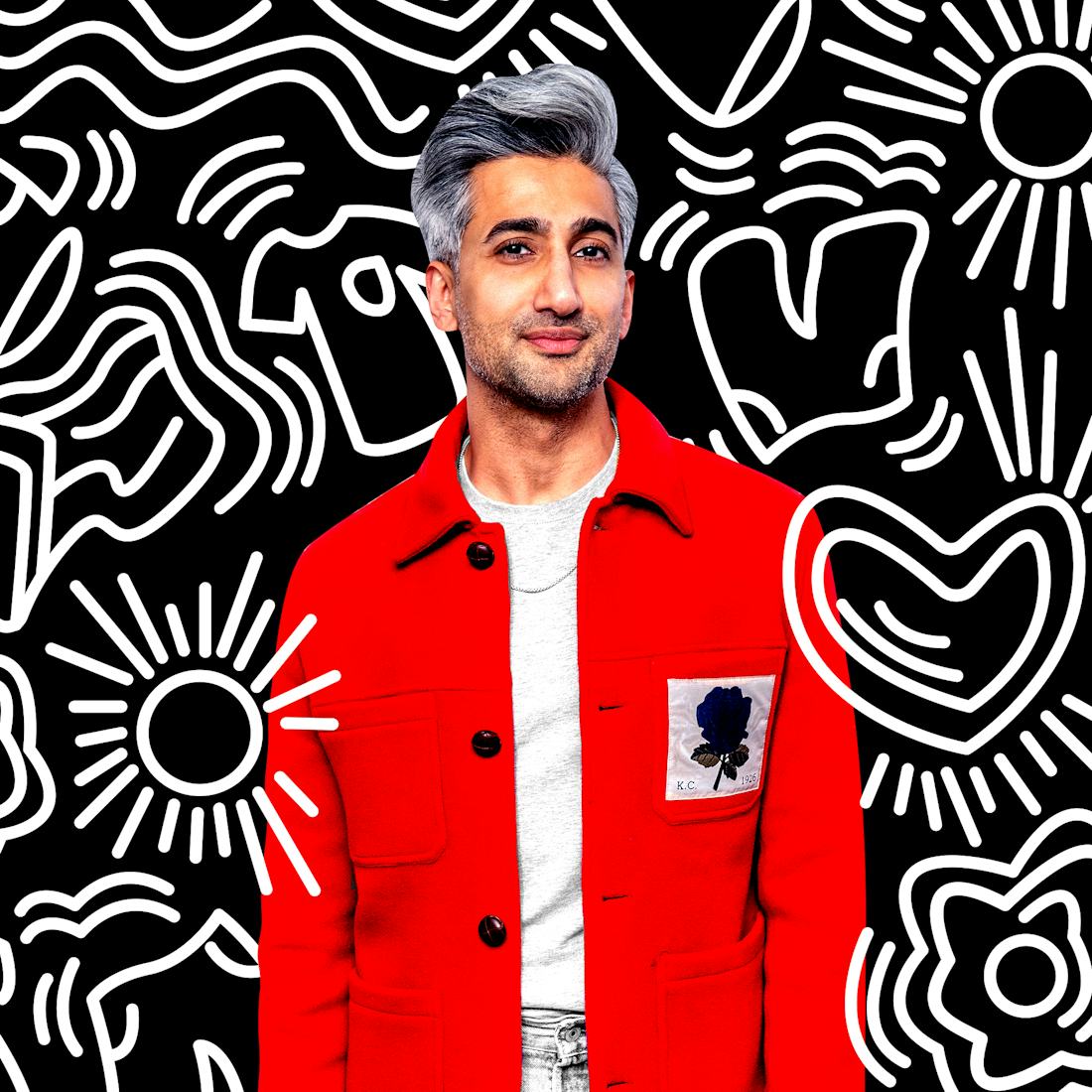 Roy Rochlin/Getty Images
Tan France is waiting. The 38-year-old British fashion expert — known for his style prowess on Netflix's Queer Eye, Next In Fashion, and Dressing Funny — is biding his time in Texas before welcoming his first child, via surrogacy, this summer with longtime husband Rob France. "We're just waiting for the baby to come," France tells Bustle from Austin, where he's spending June filming Season 6 of Queer Eye. "Thankfully, things are great, and the baby boy is doing really well."
Once the baby is born and he returns to his homes in Utah and Hollywood, France will be one step closer to his dream of becoming a stay-at-home dad, a goal that was put on hold when Netflix called him five years ago to reboot the Queer Eye franchise, which has since gone on to win eight Emmys since 2018 and opened other career opportunities for him.
I don't see other gay Muslims on TV or many gay people of color, even now, and I've been on TV three and a half years. It's not changing. It's not getting better for our community. I just think that this is nowhere near where it needs to be.
While the daddy-to-be has his eyes set on retiring to focus on family, he's well aware of the global impact he's had in the LGBTQ+ community as an openly gay Muslim man on TV. "It's something that I didn't see at all growing up," France says. "The fact that I'm still one of the very few is telling. I don't see other gay Muslims on TV or many gay people of color, even now, and I've been on TV three and a half years. It's not changing. It's not getting better for our community. I just think that this is nowhere near where it needs to be."
Before becoming a household name and eventually guest starring in Taylor Swift's Equality Act-supporting music video for "You Need To Calm Down," France launched several fashion brands before selling them in his early 30s ahead of his planned early retirement. Though no longer owner or CEO of those brands, France has still been busy partnering with brands such as MasterClass, where he teaches about style, and Etsy, where he has designed a home collection. For his latest partnership, known coffee lover France is the face of Starbucks' new "Stir It Up" campaign for premium instant coffee — a sign of France's star power and a testament to major brands' continued efforts toward diverse representation. "A lot of my priorities are changing," France admits, hinting at his desire to streamline all aspects of his day, "so it's nice to be in a position to be able to work with a company that really understands the importance of time."
Coffee, protein bars ("the Costco ones to keep it simple"), and pistachios ("the chili pistachio nuts are incredible") are France's go-to fuel-up items on any set, including the Queer Eye set in Austin, where he and fellow experts Bobby Berk, Karamo Brown, Antoni Porowski, and Jonathan Van Ness, will spend June making over Texas locals.
"The thing that's special about this season is that we're getting to hear what people have been up to the last year and a half and how the COVID-19 pandemic has affected their lives so greatly," France teases. "We have the likes of frontline workers or people who have been truly affected by the pandemic. This season's a really special one."
Tan France Q&A
What advice would you give to your 16-year-old self?
If I could go back in time, I would tell myself to continue to be as effeminate as I want to be, and naturally am, without having to hide my feminine traits to appease the greater world, because that's bull. I would tell myself to just have more fun and stop focusing on what I'll be like in my 30s and just actually live in the moment. I was so stifled by all my grand plans for my life that I don't think I ever took enough time to just smell the roses.
Where do you see yourself 16 years from now?
Ah, I see myself completely retired. I was meant to retire before Queer Eye and then I got this job and my retirement was over. So, I will be, hopefully, completely retired, a stay-at-home dad, hopefully vacationing regularly with my husband and children. It really is the dream. I wanted it so badly, and I got there. By 33, I had retired and we were going to start the surrogacy process and then literally less than five days later, just under five days later, I got a call saying, "Will you be on a show called Queer Eye?" If it wasn't for me selling my companies, I wouldn't have been available to do the show. So, it definitely was meant to be.
What special skill or secret talent do you have?
I bake rather well. It's no secret, as I won The Great British Celebrity Bake Off, but it's a skill I've worked on since I was 13.
What's your favorite thing you purchased recently?
Oh, easy. Gucci Boots. I got them about two months ago and have worn them at least 30 to 40 times since. I'm in love!
What's your favorite overused movie quote?
"It's, like, a totally important designer" from Clueless.
What are your proudest moments as a member of the LGBTQ+ community?
Being visible and sharing my story authentically. I get to be on Queer Eye. I've been in one of the most privileged positions where I get to be one of the very few representatives of the brown gay immigrant Muslim people on TV. I think that's nuts. I never thought that would happen in my lifetime where there'd be somebody like me on a global platform. I'm so grateful for it.
Where and how are you celebrating Pride in 2021?
It's difficult now that we're shooting. I mean, I'm very grateful to be shooting. I'm grateful to be with my castmates. But when we shoot, we are so engrossed in the show. So, we don't really get to celebrate or do anything outside of work. ... I guess that is the best way to celebrate — putting out another season of Queer Eye that we feel so proud of that represents our community.
If you had to be on a reality TV show (other than Queer Eye), what would it be?
Keeping Up with the Kardashians. It's truly the only reality show I watch and have watched pretty much since the first season. I would want a scene with Khloe!
What was your favorite cartoon as a kid?
Care Bears. I loved them. I just loved that they were trying to bring joy to people and help each other. I thought it was so cute.
What's a TV show you're obsessed with?
I was and have been obsessed with The Golden Girls for so many years now. I legit watch it every single day, to this day.
Who is your celebrity idol?
Chloe x Halle. I've been obsessed over the last couple of years. I love how incredibly talented they are and how active they have been within the activism space.
I love your hair. What products do you use?
Thank you. It's very easy. I use a mousse when my hair's wet — it's just TRESemmé extra hold. Just a little bit of that and then I blow dry my hair. Then all I use is argan oil, a pea-size bit of oil, and a pomade called Firsthand Supply. That's it. That's all I use.
Who inspires you in the LGBTQ+ community?
So many people inspire me within our community and have done so for a long time. The likes of Elton John, I mean, the fact that he could just be himself unabashedly, but has philanthropic endeavors, like the Elton John AIDS Foundation, I think is incredible. The work that they've been doing for many, many years is so impressive. RuPaul was around since before I was born. Just seeing somebody who is so powerful and Black and living life the way they see as right and appropriate for them, it's really inspiring.
What LGBTQ+ charity do you love?
I love The Trevor Project. I think the work that they do is incredible. I think the work they do with the youth is great. Any project that focuses on youth in our country — LGBTQ youth — I think is doing great work. I mean, I love GLAAD for the fact that they champion success of everyone within the LGBTQ or queer world in general. They work closely with us on making sure that what we, some of the representatives of culture, put out there for the world is the right messaging.
What's something that's inspiring you lately?
I feel inspired by the push for great diversity in all fields. So many people across social media are highlighting the importance of it, and I'm so happy to see it.