Taylor Simone Ledward Is Upholding Chadwick Boseman's Legacy
The late actor's wife has accepted numerous trophies on his behalf.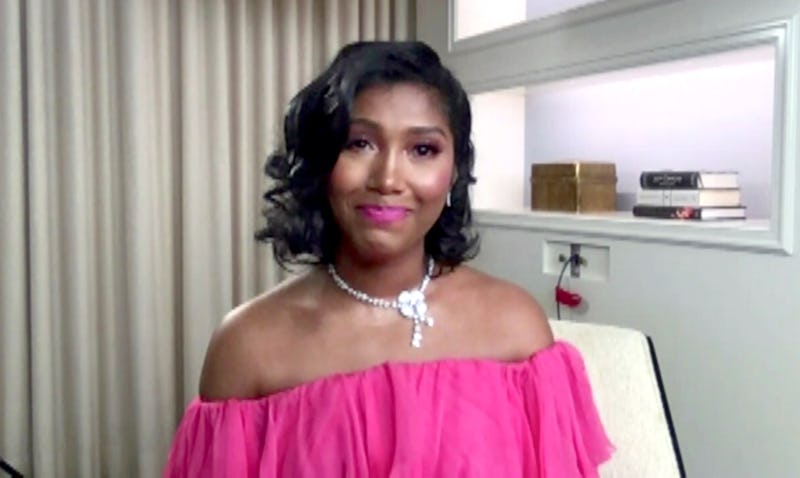 Getty Images/Getty Images Entertainment/Getty Images
Predictions for this year's Academy Award winners are more-or-less set in stone, and the late Chadwick Boseman is the favorite to win Best Actor for his performance in Ma Rainey's Black Bottom this Sunday.
Boseman has already picked up the same prize at the Golden Globes, the Screen Actors Guild Awards, the NAACP Image Awards, and the Critics' Choice Movie Awards, and more. Accepting his awards on his behalf is his longtime partner and wife, Taylor Simone Ledward, who married Boseman in the months before he passed. Boseman was diagnosed with Stage III colon cancer in 2016, and battled the illness in secret for four years until his death in August 2020.
Ledward has been active in honoring Boseman throughout awards season, most notably through her touching acceptance speeches — though not much is known about Boseman's longtime partner. The couple was very private, and both worked to keep a low profile; Boseman himself even kept his cancer diagnosis a secret from most people around him. Ledward, however, was by his side the entire time.
So who is the woman who's been making waves this awards season? Below, an overview of Ledward's life with Boseman.
Ledward sang in her college's jazz ensemble.
Ledward is a Los Angeles native, and graduated from California State Polytechnic University, Pomona in 2014 with a bachelor's degree in music industry studies. She was also a singer for the school's jazz ensemble.
Boseman first acknowledged their relationship publicly in 2019, but they started dating much earlier.
Ledward and Boseman began dating sometime in 2015, but both were very private about it. They were first spotted together that same year in a paparazzi photo at Los Angeles International Airport. However, their relationship wasn't publicly confirmed until April 2018, when Ledward's grandmother opened up to In Touch Weekly about her granddaughter's relationship.
"They respect each other," said Ledward's grandmother. "She's very happy, and he is, too."
Their first red carpet appearance together wasn't until 2019, at the 25th Screen Actors Guild Awards. Boseman first spoke publicly about their relationship the NAACP Awards later that year, when Boseman won Best Actor for Black Panther.
"Simone, you're with me every day," Boseman said in that night's acceptance speech. "I have to acknowledge you right now. Love you."
Denzel Washington admired the way Ledward cared for Boseman.
In an interview for CBS Sunday Morning, Ma Rainey's Black Bottom producer Denzel Washington shared his memories of Boseman and Ledward on set, specifically the way she tended to him when no one else knew of his cancer diagnosis.
"I used to watch how she took care of him, and I actually said to him: 'Man, you need to put a ring on that finger,'" said Washington. "She kept her eye on him and she watched him. I'm like: 'Man, she loves that guy.' But I didn't know what we know now."
She's upheld Boseman's legacy in her acceptance speeches.
Ledward has been an active figure in sustaining Boseman's impact. At the 78th Golden Globes, where Boseman won one of his first trophies for Ma Rainey's Black Bottom, Ledward gave an emotional speech on his behalf: "He would say something beautiful, something inspiring, something that would amplify that little voice inside of all of us that tells you you can, that tells you to keep going, that calls you back to what you're meant to be doing at this moment in history."
When Ledward accepted the Screen Actors Guild Award for Best Actor, she ended her speech with words from her late husband: "If you see the world unbalanced, be a crusader that pushes heavily on the seesaw of the mind."
For her speech at the NAACP Image Awards, for which Boseman won both Outstanding Lead Actor and Outstanding Supporting Actor (for Da 5 Bloods), she urged people — specifically the Black community — to schedule routine cancer screenings and take charge of their health.
"Black people in this country are 20% more likely to be diagnosed with colon cancer and 40% more likely to die from it," Ledward said through tears. "The age for routine screenings has recently been lowered to 45, if you are 45 years of age or older, please get screened."
She added: "This disease is beatable if you catch it in the early stages and don't have any time to waste even if you have no family history. Even if you think nothing is wrong, and if you are younger than 45, please be proactive about your health. Know the signs, and know your body."
She'll most likely appear at the Oscars on his behalf.
Unlike other virtual awards shows this year, the 93rd Academy Awards will be held in person. It's unknown if Ledward will appear on Boseman's behalf, though based on her track record, it's highly speculated that she'll pick up the Best Actor trophy for her late husband, should he win.