The Differences Between Taylor Swift's Eras Tour Merch Online Vs. In Person
From online-only merch to fading tees, buying Eras swag is almost as complicated as getting tickets.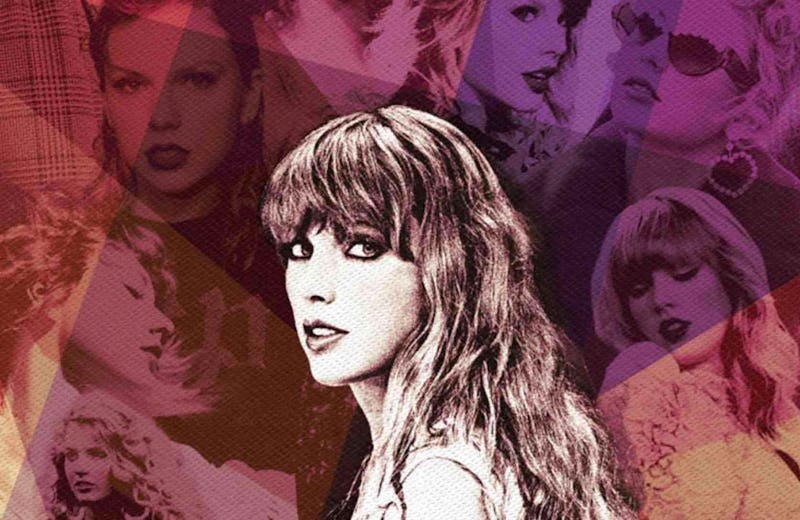 Taylorswift.com
Buying tickets to Taylor Swift's Eras Tour was so difficult that it spawned lawsuits that could very well change Ticketmaster as we know it. But believe it or not, there's one thing that's almost just as much of a hassle to obtain (and apparently maintain): Eras Tour merch because of extensively long lines, ranges of online-exclusive merch, and reports of certain items fading after just one wash. If you play your cards right though, it is possible to snatch up Swift's merch with ease – and perhaps even nab some items no one else at the concert will get.
Swift has made merch accessible for fans who couldn't get their hands on Eras Tour tickets by opening up her dedicated merch truck to the public in every Eras Tour city the day before each show. However, it's taken some fans almost as long to buy merch as it did to buy their tickets in November, with lines stretching out to more than six hours long. Some people have also been camping out and buying literal cases of merch to resell online, leading Swift's team to place limits on how many items can be bought per person.
If you have tickets to the show, merch lines aren't quite as long once you enter the stadium, but you need to plan your day in advance if you're after something specific. And if you don't want to wait in line at all for Eras Tour merch, you're in luck, but only to an extent. Swift's online store carries a few of the items sold at the show, as well as a wide array of clothing, accessories, and other themed gadgets that are available exclusively online for the time being. However, a significant amount of pieces are only sold at the physical merch stands, making for some confusion on what to get.
Here's your guide to Swift's Eras Tour merch, including the whole fading issue.
What To Buy At The Eras Tour Merch Stand
Swift sells a variety of T-shirts, sweaters, and hoodies at the Eras Tour, most of which use the tour poster design and come in various colors, with the exception of a long-sleeve T-shirt that only has the image representing Midnights. Some of the most sought-after pieces, including the half-zip sweatshirt, a navy blue logo crewneck sweater, and a beige hoodie with a black-and-white tour poster on the back, are only sold at the merch truck, not at any of the merch stands inside the venue. If these are what you have your eye on, make sure to buy before heading into the stadium.
Most of the accessories sold at the show are only available in person, including the Eras Tour tote bag, canvas tapestry, water bottle, and glow baton. The only accessory that you can currently buy online is the "Bejeweled" bracelet, which has been sold on Swift's online store since October. Each tour stop also has a personalized poster with the city's name on it, which is also made available on the online store for a limited time after the shows.
What To Buy On The Eras Tour Online Store
Before the Eras Tour even began, Swift released a range of Eras Tour merch that fans can buy in advance and wear to their show. Many pieces are similar to those available at the merch stand, but there are slight differences between what's sold online and in person. For example, the beige T-shirt sold at the stand has a black-and-white tour poster print, while the online shirt is in color, and the navy blue crewneck is sold as a very similar hoodie online. The only T-shirt that's identical both online and at the venue is the black tour poster T-shirt.
The amount of merch available online is vast compared to what's been sold at shows thus far. Currently, Swift's store carries individual Eras Tour shirts for each era, from her 2006 debut to 2022's Midnights, as well as outerwear with new designs not sold at the show, including an Eras Tour poncho in case you want to prepare for a rain show, which Swift famously loves.
Swifties aren't the only ones taking advantage of this exclusive merch. After attending Swift's show in Arlington, Texas, on April 1, her close friend Selena Gomez donned a pair of Eras Tour sweatpants, which are only available online for now.
Swift is also selling a huge variety of fun accessories not available at tour venues, including AirPods cases, a special Eras blanket, coasters shaped like guitar picks, actual guitar picks, and even a phone case with interchangeable frames for each era. Speaking from experience, it's very easy to spend more money on merch than you did for your actual ticket, so be sure to plan wisely.
Will Your Eras Tour Merch Fade?
After the first shows of the Eras Tour, merch-buyers complained that their T-shirts drastically faded after just one wash. In a statement on Swift's online store, the merch team explained that the "slight fade" is intentional for "the product's distressed, vintage look" and is a result of the "particular ink curing process" that was used on the shirts. "Please also note it is important to follow product care instructions as listed on the product label when washing and drying your items, to best protect and maintain the product's look and feel," they wrote.
However, Swift's team is offering exchanges if buyers notice a "dramatic loss of pigment or ink bleeding" on their shirts, simply asking them to contact taylorswift@umgstores.com to see if their case would fall under the exchange policy.