5 Times Taylor Swift Has Proven She's A True Football Fan
The singer's favorite NFL team has been hiding in plain sight. And it's not the Kansas City Chiefs.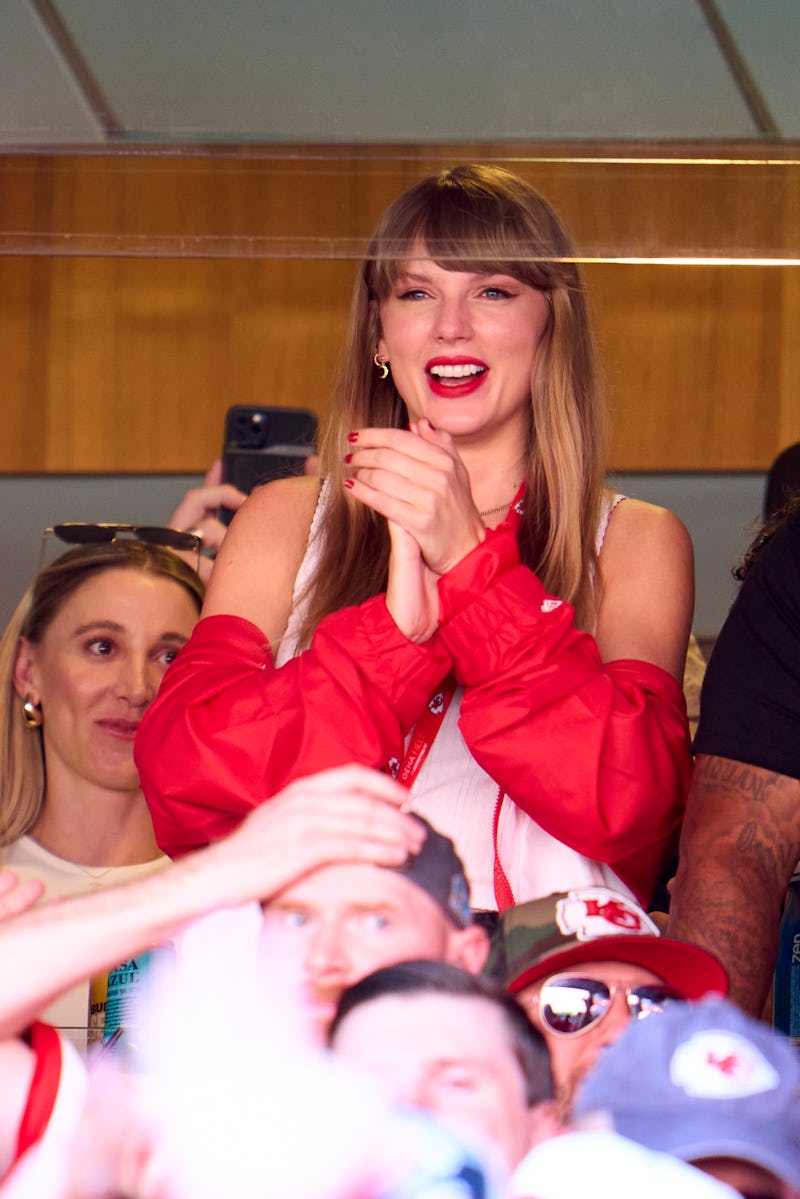 Cooper Neill/Getty Images Sport/Getty Images
For weeks, the internet has been abuzz with rumors that Taylor Swift is dating NFL player Travis Kelce. Speculation reached new heights when she attended a Kansas City Chiefs game on Sept. 24, the team for which Kelce plays. Swift sat in a suite with Kelce's mom, Donna, and cheered whenever he scored a touchdown against the Chicago Bears. For some fans, the most surprising thing about this development is that the singer is an NFL fan — but true Swifties already knew this.
The Grammy winner hasn't made football a running motif in her musical repertoire, but there are some lyrical references, which pop up in music-video imagery as well. One line even reveals which NFL team she actually supports (sorry, Chiefs).
Ahead of the Sept. 24 game, news spread among players about their A-list guest. "Yeah I heard she was in the house," Chiefs quarterback Patrick Mahomes told Fox Sports, adding that he wanted to make his teammate look good. "I felt a little bit of pressure so I knew I had to get it to Trav."
Now that she's publicly associated with Kelce, some particularly sports-averse Swifties are learning how football works, but many eagle-eyed fans have been preparing for this moment for years.
Below, five things that prove Swift is a certified football fan. Is a future Super Bowl Halftime performance inevitable? (We hope!)
Swift Performed The National Anthem At A Football Game
While Swift now sells out football stadiums faster than most actual football teams, her first time performing at such an enormous venue was for a 2006 NFL game. She sang the "Star-Spangled Banner" at a Thanksgiving face-off between the Detroit Lions and the Miami Dolphins, performing a stripped-down country version with her trusty acoustic guitar.
The "You Belong With Me" Music Video
The heartthrob at the center of Swift's "You Belong With Me" video (Lucas Till) is a star football player, who dates a brunette cheerleader before realizing that Swift's character, a blonde marching band player, is actually his soulmate.
The Football Helmet In "Stay Stay Stay"
In her 2012 Red deep cut "Stay Stay Stay," Swift mentions a football helmet, saying it saved her relationship the morning after a major argument. "I read you should never leave a fight unresolved," she sings. "That's when you came in wearing a football helmet, and said, 'Okay, let's talk.'"
The Eagles T-Shirt In "Gold Rush"
On her 2020 Evermore song "gold rush," Swift dreamily sings about "an Eagles T-shirt hanging by the door," which she lists as one of many great qualities about her lover. Fans debated for years whether she was referring to the band or the NFL team, but at her May 12 Eras Tour show, Swift confirmed that it was a nod to the Philadelphia Eagles.
"I love the band the Eagles," she clarified before playing the song for her hometown crowd. "But guys, like come on. I'm from Philly. Of course it's the team." Naturally, the crowd gave her loud applause for this admission.
Swift Attends Kelce's Game
It's pretty evident that Swift went to the Chiefs game to support Kelce. (They left the stadium together after his team won and shut down a restaurant for an after-party.) The public appearance reportedly happened after a series of private hang-outs between Swift and Kelce. But she supposedly accepted his invite purely for fun.
"Taylor is very focused on work right now and hanging out with her girlfriends," a source told Page Six of the outing. "She just thought it was a fantastic way to spend Sunday."