Every Song That Taylor Swift Reportedly Wrote About Joe Alwyn
"With every guitar string scar on my hand, I take this magnetic force of a man to be my lover."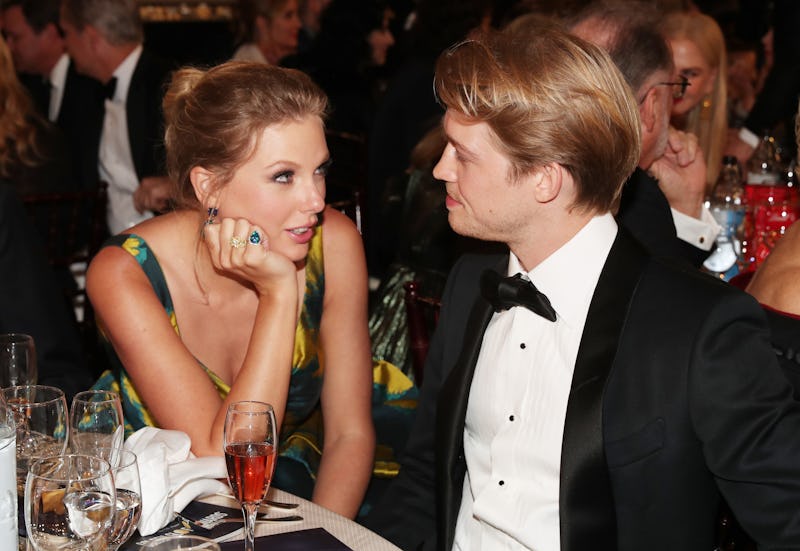 Christopher Polk/NBC/NBCUniversal/Getty Images
There are few things that have impacted Swifties more than Taylor Swift's reported split from Joe Alwyn, even her surprise album releases, and that's due to just one thing: her music. The 12-time Grammy winner started writing about her relationship with the British actor before fans even knew who he was. As they continued dating over the next six years, Swifties used her intricate, lovestruck lyrics to connect the dots back to Alwyn and form the relationship timeline in their heads, only making them more invested in Taywyn. Naturally, when the couple broke up, Swift's love songs hit in ways that fans had never hoped to experience.
Swift's 2017 album Reputation, which came after her longest gap between album releases to date and a second controversy involving Kanye West, tracks the secret start of her relationship while navigating a newly shattered reputation. 2019's Lover sees her fully in love and not afraid to show it, even hinting at potential marriage in the future. Her Grammy Album of the Year-winning folklore and its sister album evermore are more inspired by fictional narratives, but Swift still incorporates details from her own life with Alwyn, getting more personal than ever on some songs. Her most recent album Midnights was also conceptual, telling the stories of "13 sleepless nights scattered throughout my life," but if fans' theories are correct, some of those late nights just happened to involve Alwyn.
To make their ending even sadder for Taywyn shippers, Swift and Alwyn's partnership turned creative in 2020, with him co-writing several songs across folklore, evermore, and Midnights under the penname William Bowery. The couple tended not to write about their relationship, with one glaring exception, but their chemistry still came through.
If you need a good cry to mourn the (reported) loss of Taywyn, a compilation of every song Swift reportedly wrote about their relationship is in order. Granted, she's rarely commented on the people that have inspired her songwriting, so some of these songs could be up for interpretation. But given the small but significant details worked into the lyrics, alluding to stories of how they met and what they went through, it's not hard to see what each song's truly about. Below, listen to the songs that make up Swift and Alwyn's love story.
"...Ready For It?"
Standout lyric: "Some boys are tryin' too hard, he don't try at all though / Younger than my exes, but he act like such a man, so"
When Swift said "Baby, let the games begin," she truly meant it.
"End Game"
Standout lyric: "And I can't let you go, your handprints on my soul / It's like your eyes are liquor, it's like your body is gold"
"End Game" is the moment on Reputation where Swift proudly boasts her fame and has fun with her "big reputation," but her fear of letting it affect her new romance with Alwyn still comes through.
"Don't Blame Me"
Standout lyric: "Lord, save me, my drug is my baby, I'll be usin' for the rest of my life"
Swift makes fun of her "crazy" persona across Reputation, but fully embraces it in "Don't Blame Me," comparing her new lover to a drug and using her newfound addiction to excuse literally everything.
"Delicate"
Standout lyric: "My reputation's never been worse, so you must like me for me"
"Delicate" is often considered the song where Taywyn first started, with Swift detailing their secret dive bar first date, which would go on to be referenced in several songs while voicing her worries about her reputation turning him off. Clearly, it didn't.
"So It Goes..."
Standout lyric: "I'm yours to keep, and I'm yours to lose"
There are no direct references to Alwyn in this steamy little deep cut, but who else would she have been getting steamy with?
"Gorgeous"
Standout lyric: "If you've got a girlfriend, I'm jealous of her, but if you're single that's honestly worse"
"Gorgeous" technically redates Taywyn, given how Swift herself says she already had a boyfriend (who's older than either of them), but is just too drawn into Alwyn's "ocean blue eyes" to look away.
"King of My Heart"
Standout lyric: "We met a few weeks ago / Now you try on callin' me 'baby' like tryin' on clothes"
This song has become Taywyn's first declaration of love among Swifties, with Swift even performing it at a fan's engagement party.
"Dancing With Our Hands Tied"
Standout lyric: "I, I loved you in spite of deep fears that the world would divide us"
Swift managed to keep her blooming relationship with Alwyn a secret until just a couple of months before announcing Reputation, and this song captures that experience of having to hide in plain sight.
"Dress"
Standout lyric: "Flashback when you met me, your buzzcut and my hair bleached / Even in my worst times, you could see the best in me"
Swift and Alwyn reportedly first met at the 2016 Met Gala, where she famously donned her Bleachella hairstyle, and yes, his hair was buzzed. Case closed.
"Call It What You Want"
Standout lyric: "I want to wear his initial on a chain 'round my neck / Not because he owns me, but 'cause he really knows me"
In the chorus, Swift sings "My baby's fit like a daydream," using "fit" as the British slang term meaning "hot" and "extremely good-looking." Clearly, Swift was brushing up on her cultural vocabulary.
"New Year's Day"
Standout lyric: "You squeeze my hand three times in the back of the taxi / I can tell that it's gonna be a long road"
Perhaps Swift's most succinct yet sentimental love song to date, "New Year's Day" sees her telling her lover that she wants "your midnights," a recurring theme in her career, and promising to clean up the bottles with him the next day. If that's not love, I don't know what is.
"Lover"
Standout lyric: "With every guitar string scar on my hand, I take this magnetic force of a man to be my lover"
"Lover" was the first time Swift had ever hinted at marriage in one of her songs, making it clear how serious she was getting with Alwyn using her version of literal wedding vows. Naturally, it was used as many couples' wedding song, putting Ed Sheeran's "Thinking Out Loud" out of business.
"I Think He Knows"
Standout lyric: "I am an architect, I'm drawing up the plans / He's so obsessed with me and, boy, I understand"
Aside from being one of her most underrated bops, "I Think He Knows" is one of the few love songs where Swift gives herself a little credit as well simply for being herself, and it's well-deserved.
"Paper Rings"
Standout lyric: "I hate accidents except when we went from friends to this"
In the second song on Lover that hints at a possible marriage to Alwyn one day, Swift admits to watching her lover sleep in a way that's somehow not creepy at all.
"Cornelia Street"
Standout lyric: "I hope I never lose you, hope it never ends, I'd never walk Cornelia Street again"
"Cornelia Street" was literally written about Swift's fear of losing Alwyn one day, set at her former West Village home where they made memories. Naturally, when that day came, Swifties flocked to that Cornelia Street apartment to mourn, signifying the song's true impact.
"London Boy"
Standout lyric: "They say home is where the heart is, but God, I love the English"
Swift became so familiar with London thanks to Alwyn that she decided to put together a nice travel itinerary for Swifties. Her generosity knows no bounds.
"False God"
Standout lyric: "I know heaven's a thing, I go there when you touch me, honey / Hell is when I fight with you"
Swift once again nods to her Cornelia Street place by calling Alwyn himself "the West Village" in "False God," on which she promises to get through any problem with him.
"Afterglow"
Standout lyric: "Tell me that you're still mine / Tell me that we'll be just fine / Even when I lose my mind"
"Afterglow" plays out like Swift's apology for the intense emotions and issues they were dealing with in "False God," asking for forgiveness and reconciliation no matter what.
"Daylight"
Standout lyric: "I once believed love would be burning red, but it's golden"
"Daylight" is just as much about Swift's relationship as it is about her own growth, detailing how Alwyn has changed her outlook on love using a metaphor that harkens back to her 2012 Red.
"invisible string"
Standout lyric: "A string that pulled me out of all the wrong arms, right into that dive bar"
Swift gives more insight about her connection to Alwyn than ever on "invisible string," nodding to Alwyn's former job at a frozen yogurt shop and their trips to England's Lake District, ending right back at that "Delicate" dive bar. She even shouts out her ex-boyfriend Joe Jonas by singing about how she sent his first child presents. Now that's growth.
"peace"
Standout lyric: "Give you my wild, give you a child / Give you the silence that only comes when two people understand each other / Family that I chose, now that I see your brother as my brother"
"Peace" might just be Swift's most searingly vulnerable song in her catalog, which is saying something considering Folklore is primarily fictional. Swift spells out her fears that she'll never be able to give her lover the calmness of a domestic life due to her fame, even if she's willing to have a child for him, and even nods to Alwyn's family by mentioning his brother, bringing anyone with a pulse to tears.
"the lakes"
Standout lyric: "I'm setting off, but not without my muse"
Swift and Alwyn reportedly took trips to the Lake District, the history of which inspired her folklore bonus track, and she sweetly won't run away there without him.
"willow"
Standout lyric: "I'm begging for you to take my hand, wreck my plans, that's my man"
There's no direct reference to Alwyn in "willow," but it's just so whimsical and romantic that it's hard not to imagine him as said "man."
"gold rush"
Standout lyric: "At dinner parties, I call you out on your contrarian sh*t / And the coastal town we wandered 'round had nеver seen a love as pure as it"
Swift has previously used the color "gold" to describe her love of Alwyn, but she turns that into a downside on "gold rush," pondering how jealous she may feel if other people go after her lover all the while romanticizing their love story even more than she ever has.
"long story short"
Standout lyric: "When I dropped my sword, I threw it in the bushes and knocked on your door / And we live in peace, but if someone comes at us, this time, I'm ready"
On one of the more self-referential songs on folklore and evermore, Swift recalls her journey from before Reputation to when she safely landed into the arms of Alwyn, promising to protect their peace when necessary.
"Lavender Haze"
Standout lyric: "All they keep askin' me is if I'm gonna be your bride"
Swift herself confirmed that "Lavender Haze" was partially inspired by her relationship with Alwyn, using the phrase from Mad Men as a metaphor for protecting her romance from the public eye. "My relationship for six years we've had to dodge weird rumors, tabloid stuff, and we just ignore it," she said. "So this song is about the act of ignoring that stuff to protect the real stuff."
"Snow on the Beach" (feat. Lana Del Rey)
Standout lyric: "But your eyes are flying saucers from another planet / Now I'm all for you like Janet"
According to Swift, "Snow on the Beach" is about "falling in love with someone at the same time as they're falling in love with you — sort of in this cataclysmic, fated moment where you realize someone feels exactly the same way that you feel." If Swift and Alwyn didn't have this, she sure fooled us.
"Labyrinth"
Standout lyric: "You would break your back to make me break a smile"
"Labyrinth" sees Swift hesitantly but shamelessly falling back in love after years of heartbreak and relationships went awry, something she's attributed Alwyn for in previous songs.
"Sweet Nothing"
Standout lyric: "All that you ever wanted from me was sweet nothin'"
The only song on this list co-written by both Swift and Alwyn (or nay, Bowery), "Sweet Nothing" seems to give insight into their day-to-day life, full of nothing but humming in the kitchen, her writing poetry and him complimenting her on it. Ah, the good ol' days.
"Mastermind"
Standout lyric: "I laid the groundwork, and then saw a wide smirk on your face / You knew the entire time"
Swift has made it clear in previous songs that she was attracted to Alwyn long before they ever started dating, so it comes as no surprise to find out that she may have plotted their romance from the very beginnings, with the plot twist proving that she knew exactly what she was doing.
"Paris"
Standout lyric: "Privacy sign on the door, and on my page and on the whole world / Romance is not dead if you keep it just yours"
Swift once called Paris the city of Lover, so it's only natural that she uses the city as a metaphor for being in blinding, all-consuming love, which she was presumed to be in with Alwyn at this point.
"Glitch"
Standout lyric: "But it's been two-thousand one-hundred ninety days of our love blackout"
Swift somehow incorporated the exact number of days that she and Alwyn had been dating into "Glitch," from 2016 to the Midnights release date of Oct. 21, 2022. That's the mind of a mastermind.