The Challenge: All Stars Expertly Tricked The Contestants Into Joining This Season
Jonna Mannion and Beth Stolarczyk had no clue what they were walking into.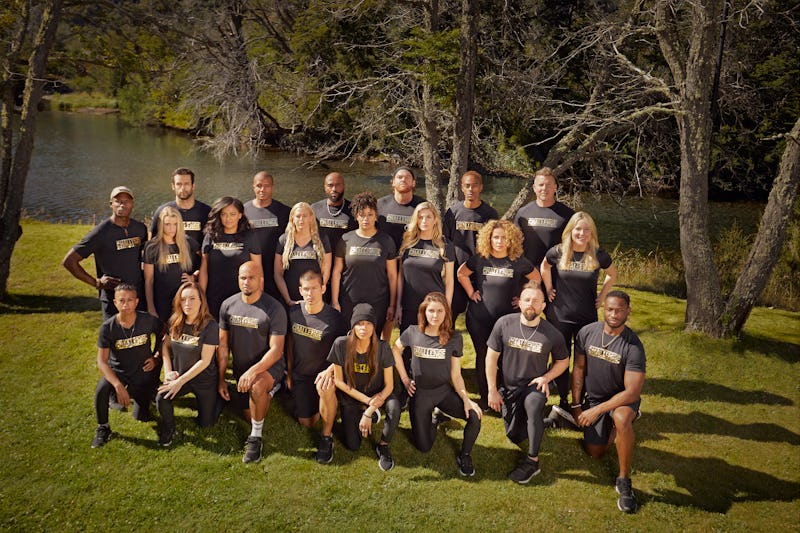 MTV's The Challenge franchise is heading into uncharted waters with a new spinoff show titled The Challenge: All Stars. Twenty-two OG contestants, some of whom fans haven't seen on TV in at least a decade, signed up to compete on the nine-episode reality series to win $500,000 and the "Greatest of All Time" Challenge title. After three dozen seasons, fans and Challenge stars alike are no stranger to witnessing shocking twists and turns throughout a season. But for All Stars contestant Jonna Mannion, 32, one of the biggest surprises she faced was finding out that the show was completely different than what she initially signed up for and just as intense as other Challenge seasons.
"Some people who were on the show, they told me that these were going to be backyard games," she told Bustle, recalling how she thought, "This will be easy." But Jonna soon realized that The Challenge: All Stars was indeed "like a real Challenge" and described feeling completely shocked when she saw legendary Challenge host TJ Lavin on set. Though she had imagined that someone from "back in the day" would helm the inaugural All Stars season, the Real World: Cancun alum admitted having the popular personality there felt like "home." "It was really cool to see him. I was excited that he was the one that hosted it. It'd be weird if it was someone else," she professed.
Jonna wasn't the only OG to recall feeling bamboozled, hoodwinked, and led astray upon first arriving at the All Stars compound in Argentina. One of the most seasoned vets of the cast, Beth Stolarczyk, 52, told Bustle that she too was told about the supposed "fun backyard games" element of the series but threw away her previous notions upon seeing the host. "When I saw TJ, I knew this was gonna be the real deal, and I said, 'Wow, thank God I had been training.' It was quite a surprise." The former Real World: Los Angeles cast member added, "It was quite shocking. It was a little scary to see TJ there."
While speaking about the new season, Jonna also noted how the show's look and production value changed since her last Challenge appearance on Battle of the Exes II in 2015. "Everything is so cool — it's cinematic. It wasn't like that back when I was on it. Since [All Stars] is a spinoff show, [I thought] 'It's probably not going to be as cool.'" But for the Arizona native, perhaps the best part of returning and competing against Challenge alums was seeing how the other contestants reacted to everything. "What was really funny to me was watching the older people... you should have seen the look on some of these people. For them, they were like, 'This is so futuristic.' Just the camera effects, the drones, everything. It was crazy," she explained.
Even with All Stars introducing a number of physically taxing challenges, Jonna praised how the spinoff was "such a good one" to participate in and said she'd absolutely join another season of the spinoff. Beth, however, would take a little more convincing. "I guess it depends who would be going," she began. "I'm definitely still training, and I'm prepared."
New episodes of The Challenge: All Stars drop every Thursday on Paramount+.