Tom Holland's The Crowded Room Character Is Loosely Based On Billy Milligan
The Apple TV+ series reflects real-life history — but there are some key differences.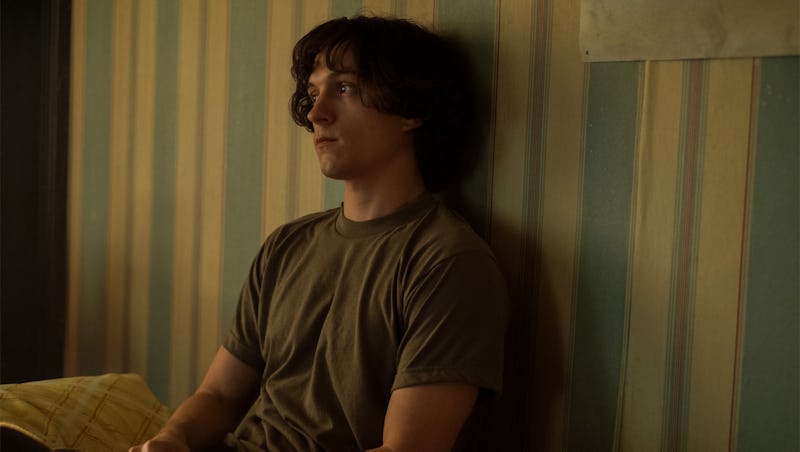 Apple TV+
Between Spider-Man: No Way Home and Uncharted, Tom Holland's latest roles have been fictional adventures — but his new series The Crowded Room is rooted in real-life history. As Deadline explained when the show was first announced, it's inspired by the nonfiction book The Minds of Billy Milligan. In 1977, the titular Milligan was arrested on multiple kidnapping, robbery, and rape charges in Columbus, Ohio, per The Columbus Dispatch.
During the trial for those crimes, Milligan's defense argued that his diagnosis of multiple personality disorder (known today as dissociative identity disorder) meant he didn't commit them himself. It was a successful defense. As Esquire points out, Milligan was the first person to be found not guilty of a crime by reason of insanity due to the disorder.
Over the next decade, Milligan escaped from a psychiatric institution and was even a suspect in his roommate's disappearance — though he was never convicted of a crime in that case. According to the Los Angeles Times, "Doctors said the many personalities fused into one harmless one after therapy," and "Milligan was released from a hospital in 1988 and underwent outpatient mental treatment before getting his final release in August 1991."
According to local station WBNS, Milligan led a "quiet life" in his final years, and died in Columbus in 2014.
With all that being said, Holland isn't technically playing Billy Milligan. In The Crowded Room, his character's name is Danny Sullivan — and the specific details of his life and crimes differ, too. "We just felt like it was a more appropriate story to tell from a fictional point of view," Holland, who also serves as executive producer, told Entertainment Weekly. Series creator Akiva Goldsman added, "For me, it was about really creating empathy — to create a character that you would really ally with. That you would feel connected to and so his journey would become the audience's journey."
Though Holland isn't depicting a beat-for-beat true story, playing Danny felt extremely real for the Marvel star. He researched by reading Milligan's book, he told Screen Rant, but soon felt the role encroaching on his own psyche. "I was seeing myself in him, but in my personal life," Holland told EW. "I remember having a bit of a meltdown at home and thinking, like, 'I'm going to shave my head. I need to shave my head because I need to get rid of this character.'" While he decided against that, Holland did opt to take a year off acting following The Crowded Room — which, he told Extra, "is a result of how difficult this show was."
If you or someone you know is seeking help for mental health concerns, visit the National Alliance on Mental Illness (NAMI) website, or call 1-800-950-NAMI (6264). For confidential treatment referrals, visit the Substance Abuse and Mental Health Services Administration (SAMHSA) website, or call the National Helpline at 1-800-662-HELP (4357). In an emergency, contact the 988 Suicide & Crisis Lifeline by calling or texting 988, or call 911.