13 Spider-Man: No Way Home Easter Eggs You Probably Missed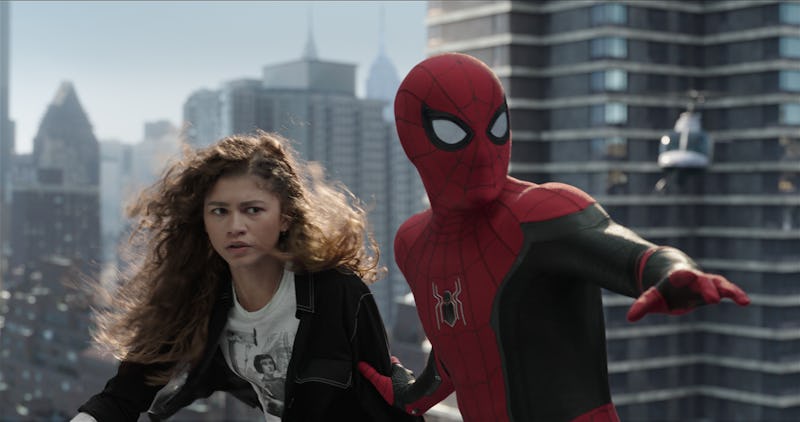 Courtesy of Sony Pictures
Spoilers ahead for Spider-Man: No Way Home. It wouldn't be a new Marvel movie without countless Easter eggs to analyze on your first, second, or third viewing — and true to form, Spider-Man: No Way Home features a multitude of references to both Spidey lore and the larger Marvel Cinematic Universe (MCU).
Marvel's third Spider-Man film didn't just wink at past movies, though: Its plot centered around quite literally bringing back past iterations of Peter Parker, and all of his foes, too. Andrew Garfield, who played the web-slinger onscreen from 2012 to 2014, and Tobey Maguire, who donned the iconic superhero suit from 2002 to 2007, joined current Spidey Tom Holland for an unprecedented onscreen reunion — and the party was only partially soured by the reappearance of Big Bads like Doc Ock (Alfred Molina) and the Green Goblin (Willem Dafoe).
The references in No Way Home aren't just callbacks to previous films, though. Many of the movie's most memorable moments cite memes that have been circulating in the Marvel fandom, or point to possible future events in the MCU.
You probably didn't need a reason to watch the film all over again. But just in case you did, here's a major one: There are still plenty of references that you may have missed! Below, are some of the top Easter eggs from Spider-Man: No Way Home.