Linda Ronstadt's "Long Long Time" Plays A Pivotal Role In The Last Of Us
The 1970 song kicks off Bill and Frank's poignant romance.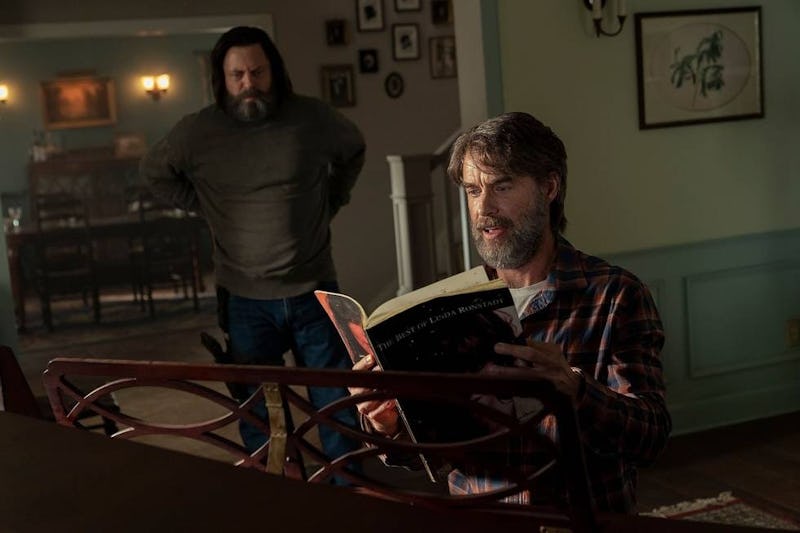 Liane Hentscher/HBO
Perhaps the most pivotal scene in the third episode of HBO's The Last of Us takes place around an antique piano. Loner survivalist Bill (Nick Offerman) had just reluctantly welcomed Frank (Murray Bartlett), an uninfected stranger, into his fortified Boston-area home for a shower and decadent meal of rabbit and Beaujolais. Afterward, Frank admitted he couldn't stop staring at his host's 1948 piano nearby and began rifling through sheet music for Beethoven's "Für Elise" and Offenbach's "Tales of Hoffmann" before landing on the winner. "This is you," he told Bill before pulling out The Best of Linda Ronstadt and flipping through the pages to his "favorite" song: 1970's "Long Long Time."
After Frank, who admitted he was "not a professional," began clumsily playing and singing a jaunty version of the song, Bill stepped in with his own rendition. "Love will abide, take things in stride," he sang in his gruff yet tender voice. "Sounds like good advice, but there's no one at my side. And time washes clean, love's wounds unseen. That's what someone told me, but I don't know what it means. 'Cause I've done everything I know to try and make you mine, and I think I'm gonna love you for a long, long time."
Visibly moved, Frank asked Bill who the girl was he was singing about, to gauge his sexuality, and moments later, the duo shared a passionate kiss. The moment was so crucial to the story of Bill and Frank's epic gay romance to follow that the episode was even titled "Long Long Time." Something Ronstadt fans might have taken note of, though, is that The Last of Us creative team was selective about which portion of the Gary White-penned track they used, as later lyrics depict a "love that never was." One fan on Twitter even referred to "Long Long Time" as the "best song ever about unrequited love."
Episode 3, which dropped on Jan. 29, has the biggest first-day viewership of the series so far — 6.4 million viewers tuned in on Sunday night per a Variety report. And it seems like a chunk of those fans headed straight to streaming platforms to listen to Ronstadt's hit following the poignant episode's release.
The episode, which lasted over an hour, dropped on the platform at 9 p.m. ET, and by midnight, Ronstadt had already seen a huge streaming boost. Spotify took to Twitter the following day to share that "Long Long Time" got more than a 4,900% increase in U.S. streams. "Oh, so all our hearts were breaking last night...," Spotify wrote.
Many also took to Twitter following the episode to share their love for the artist. Actor Lynda Carter even chimed in on the Ronstadt renaissance. "Linda Ronstadt is a national treasure. No shame in discovering great music through TV... Listen and savor," she wrote.
Some couldn't help but get emotional after hearing the song again. One user wrote, "Watched The Last of Us last night, and sobbed like a baby. Added Linda Ronstadt's 'Long, Long Time' to my Spotify favorites before bed, woke up to see that song and immediately started crying all over again."
Meanwhile, other viewers were simply moved by Offerman's poignant performance of the song. "Nick Offerman singing Linda Ronstadt is an astonishingly lovely example of why sometimes an unpolished, unprofessional voice singing earnestly is much more impactful than a conventionally good one," another fan tweeted.
Others joked how the HBO episode would likely lead to a major boost in Ronstadt's Spotify numbers, with some even correctly predicting that the musician was sure to replicate the mega-success Kate Bush had when Netflix's Stranger Things heavily featured 1985's "Running Up That Hill (A Deal with God)" in Season 4.
After the episode aired on Jan. 29, writer and series co-creator Craig Mazin explained that he knew he needed an "incredibly sad song about yearning for love, and never getting love, and just making your peace with the fact that you will always be alone," but that it couldn't "be on the nose" or a "song that we all know." So he texted his friend, SiriusXM On Broadway host Seth Rudetsky, who suggested the Grammy-nominated track from Ronstadt's Silk Purse album. "The intention was to show the arc of commitment," he told IndieWire of his approach to the Bill and Frank episode. "The whole idea was to hit the highlights of moments in your life where love means something different."
Moving forward, Bill's unexpectedly emotional arc will likely most closely mirror Joel's (Pedro Pascal) internal journey — something that the creators also likely used the song to convey. At the end of the episode after Bill and Frank's fate is revealed, Ellie (Bella Ramsey) found a tape marked "mix for Bill" and slid it into his truck's cassette player. Though Joel initially resisted her move, hearing "Long Long Time" play seemed to soften him. "Oh no, wait," he told the teen as Ronstadt's voice began pouring through the speakers in a full-circle moment. "Leave it, this is good, this is Linda Ronstadt."
This article was originally published on