Why Stephen Bonnet Is The Most Dangerous Outlander Villain Yet
"People are going to hate him."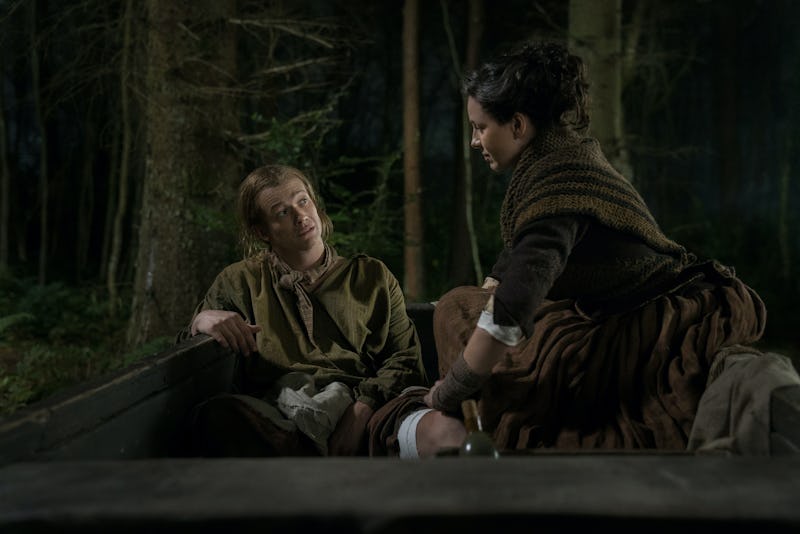 Starz
Spoilers ahead for the Outlander Season 4 premiere. After a storm stranded them on the shores of America in the Season 3 finale, Jamie and Claire happily decide to settle in the New World during the Outlander Season 4 premiere. However, as evidenced by Stephen Bonnet's attack on Jamie and Claire, their new life won't be any less fraught with danger. Early in the episode, the Frasers help Bonnet in an act of compassion, only to have him later violently raid their boat. And if this betrayal is any indication, Bonnet is only getting started.
Season 4 starts four months after Jamie and Claire land in the U.S. colonies. They're reunited with their sailing companions from Season 3 — Fergus, Marsali, Ian, Gavin Hayes, and Lesley — but unfortunately, Hayes has been sentenced to death by hanging for murder. Bonnet is also supposed to meet his fate at the gallows, but after Lesley causes a scene during the execution, he flees and hides in Jamie and Claire's wagon. They eventually discover Bonnet, but agree to help him escape the authorities.
"I won't bother you again. You have my word," Bonnet tells them. And Claire seems charmed by the charismatic smuggler. Yet, Bonnet reveals by the end of the episode how little his word means. While traveling by ship to the River Run plantation owned by Jamie's aunt Jocasta, they're invaded by pirates led by none other than Bonnet. He slits Lesley's throat and steals the wedding ring given to Claire by Jamie, as well as the jewels they'd just earned from selling her ruby.
Bonnet lets Claire, Jamie, and Ian live. But he clearly targeted these people who had so kindly — and naively — saved him from death, and he'll be a continued threat throughout the show. "It's hard to top Black Jack but we have with Bonnet. Ed Speleers committed to this. People are going to hate him," Sam Heughan, who plays Jamie, told The Hollywood Reporter in March. "He's so charming, so you kind of like him, but you find out later down the line that he does some really terrible things. He's a great new villain."