The Summer I Turned Pretty Book Ending Is An Emotional Rollercoaster
Grab some tissues before you read Jenny Han's trilogy.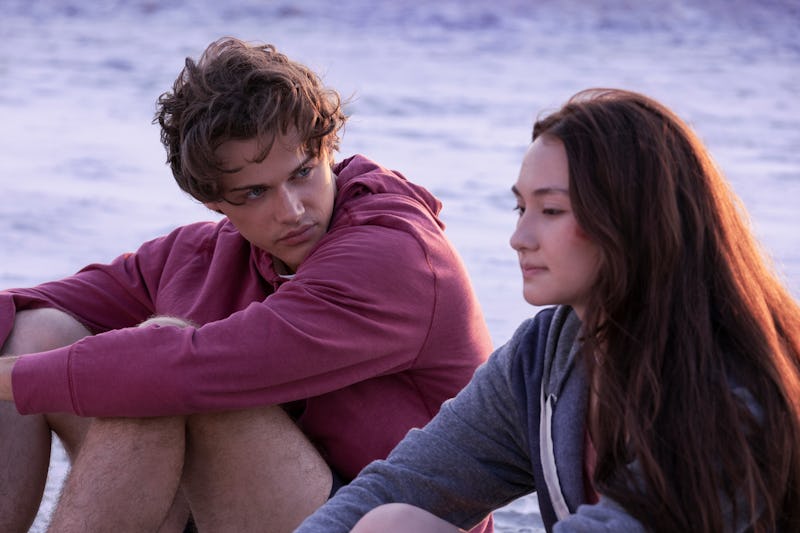 Dana Hawley/Prime Video
Heads up, To All the Boys fans! The author of that beloved YA novel, Jenny Han, has a new series out now. It's based on The Summer I Turned Pretty, the first book in Han's trilogy of the same name, and it's streaming now on Prime Video. Run, don't walk, to watch — but if you need a quick refresh on the books first, never fear! Check out a summary of the trilogy below, and remind yourself how The Summer I Turned Pretty ends. Major spoilers for The Summer I Turned Pretty follow.
How Does The Summer I Turned Pretty Book End?
The Summer I Turned Pretty centers on Isabel "Belly" Conklin (Lola Tung), a teenager who spends three fateful summers at Cousins Beach, accompanied by her mom, Laurel (Jackie Chung), and older brother, Steven (Sean Kaufman). At Cousins, the Conklins vacation with Laurel's best friend, Susannah Fisher (Rachel Blanchard), and her sons, Conrad (Christopher Briney) and Jeremiah (Gavin Casalegno) in their beach house. Belly's spent years pining for Conrad, but he and Jeremiah both view her as Steven's little sister, rather than a potential romantic partner. That is, until the summer Belly turns 16 and suddenly catches both brothers' attention.
That summer, Steven forgoes the beach to tour potential colleges, leaving his sister and Susannah's sons to entertain themselves without him. Conrad and Jeremiah immediately notice how much Belly has grown up, as does another vacationer, Cam (David Iacono).
After Cam becomes the first boy ever to tell Belly that's she's beautiful, the two strike up a summer romance, much to the Fisher brothers' chagrin. Every time Belly and Cam have a chance at a romantic interlude, Conrad and Jeremiah crash their good time — and throw in some teasing, to boot. Eventually, Cam realizes that he's more into Belly than Belly is into him. He breaks up with her, leaving Belly free to pursue her crush on Conrad once more.
Something isn't right with Conrad, however. He's been moody all summer, and not just teenage-boy moody, either. Conrad's behavior gives Jeremiah an opening to tell Belly how he feels: Jeremiah tries to convince her that he'd make a better boyfriend than his older brother, but his boldness only drives Belly toward Conrad.
But when she finally confesses her feelings for Conrad, he rejects Belly, and Jeremiah confronts him, resulting in a fight between the two brothers.
After Laurel breaks up the fight, we learn why Conrad has been acting funny all summer. As it turns out, Laurel and Susannah have spent the last few weeks sheltering their kids from a devastating secret: Susannah has cancer, and it's probably fatal. Conrad and Jeremiah already figured it out, but no one's told Belly until this climactic moment. The two little families spend their remaining weeks in the Fishers' beach house trying to make the best of what could be their last summer together, and the book ends on a high note as Belly and Conrad get cozy through the winter.
What Happens In It's Not Summer Without You?
The sequel picks up with the Fishers and Conklins a few months after the events of The Summer I Turned Pretty. Belly and Conrad broke up after he reluctantly escorted her to prom — more for Susannah than for Belly herself. Things got even rockier after Susannah died in the late spring and her vacation home at Cousins Beach became a reception hall for her mourning family and friends. In the midst of this sad affair, Belly discovered Conrad in the beach house basement with another girl — his ex, Aubrey — lying in his lap, leading to an explosive argument.
But Belly hasn't seen the last of the Fisher boys. In July, Jeremiah contacts her with some disturbing news: Conrad is missing, and Jeremiah wants Belly to come on a summer road trip to find him. She makes up a cover story to tell her mom and rides off to Conrad's college campus with Jeremiah.
Once on campus, they learn that Conrad has jeopardized his academic career by going to the beach house ahead of his summer-term exams. With only a few days to get Conrad back to school, Belly and Jeremiah race to Cousins Beach to find him.
Conrad isn't thrilled to see them, and he resists their attempts to persuade him into going back to school, but he has a good reason: His father intends to sell the beach house, and Conrad isn't letting it go without a fight. He sends away the real-estate agent in charge of the sale, prompting a visit from his father, who refuses to budge on his plans to sell.
With Conrad and Mr. Fisher at an impasse, Jeremiah throws a party to make their last night in his mother's vacation home a memorable one. He and Belly start drinking, and Conrad steps in to stop them when they try to go swimming late at night. A fight ensues, after which Belly apologizes to Conrad for their heated argument at Susannah's funeral. He accepts her apology, but when he doesn't try to rekindle their relationship, Belly is left drunk and heartbroken.
For his part, Jeremiah is still wrestling with his feelings for Belly — including his growing resentment that she would choose his older brother over him. He confronts Conrad, demanding to know if he still likes Belly, and reaffirming his own attraction to her. Hearing this, Conrad tells his brother that he never would have attended Belly's prom if she hadn't asked him to go.
Unbeknownst to the brothers, Belly has called Laurel and told her everything about Mr. Fisher's plan to sell the beach house. When Laurel arrives in Cousins the morning after the party, she's angry with Belly for lying about her road trip with Jeremiah, and mother and daughter begin to argue. Belly tells Laurel, rather cruelly, that she wishes she'd been Susannah's daughter instead, and Laurel slaps her in response. She apologizes immediately, and agrees to do what she can to convince Mr. Fisher not to sell Susannah's vacation home.
The boys' father agrees to back out of the sale on one condition: Conrad must return to school and ace his exams. Belly and Jeremiah get him back to campus just in time, and everything seems to be back to normal — until Conrad finds the two of them kissing.
He storms off, but refuses to admit that he still has feelings for Belly, even after she confronts him. Instead, Conrad tells her that she should be with his brother instead, saying, "Go to Jeremiah. He's the one who wants you.... I don't. I never did."
Later, when the three of them share a motel room before the drive back to Belly's house, Conrad admits that he lied, presumably because he thinks Belly isn't awake to hear him. She's excited by what the confession might mean — Conrad! Admitting his true feelings! — but in the morning, when the elder Fisher brother goes back to the beach house with a friend, Belly realizes that Conrad is never going to be the man she needs him to be. From the novel:
I couldn't even be mad at him, because this was who he was. This was who he'd always been. He'd never lied about that. He gave and then he took away. I felt it in the pit of my stomach, the familiar ache, that lost, regretful feeling only he could give me. I never wanted to feel it again. Never, ever.
...
I release you. I evict you from my heart. Because if I don't do it now, I never will.
The novel closes as Jeremiah drives Belly home. She takes his hand, and he doesn't let go.
What Happens In We'll Always Have Summer?
If you thought It's Not Summer Without You was an emotional roller coaster, wait until you hear about the final novel in the trilogy, We'll Always Have Summer.
This time around, Belly's just finished up her first year of college. She and Jeremiah have been together for two years, ever since the end of It's Not Summer Without You — but their relationship isn't as happy as you might think. Belly and Jeremiah had a fight and broke up temporarily just before Spring Break; they got back together as soon as the break ended, but things don't go smoothly for long.
Belly finds out that Jeremiah slept with someone else while they were broken up, which she says counts as cheating. It's a classic "We were on a break!" moment, and Belly tells Jeremiah it's over between them. Unbeknownst to either of the Fishers, she's been keeping her own secret: She's still in love with Conrad. She doesn't have a chance to tell him, though, before Jeremiah springs a surprise proposal on her — diamond ring and all. After making him promise never to hurt her again, Belly pushes her feelings for his brother aside and agrees to marry Jeremiah.
After announcing their engagement doesn't go as planned, Belly moves out of her mom's place and into the house at Cousins Beach... where Conrad happens to be staying for the summer. He fixes up the house while she plans her wedding, and even helps her run errands related to the upcoming nuptials. He also works behind the scenes to help Belly patch things up with Laurel, who still opposes her decision to marry Jeremiah. All the while, Belly's fiancé grows increasingly jealous about the time she's spending with his brother.
Conrad hasn't let on to Belly that he still has feelings for her, but as the wedding draws nearer, keeping his cool becomes increasingly difficult. The last straw finally comes when he catches wind of Jeremiah's Spring Break fling. He tells Belly about Jeremiah's infidelity, and, when he learns that she already knows, he confesses that he's still in love with her. As it turns out, Conrad has kept his distance only because he thought Jeremiah would be a loyal partner to Belly, one capable of showing her more affection and giving her everything she needs. Now, knowing that his brother has been unfaithful, Conrad's asking her to call off the wedding.
It's too little, too late for Belly, who has spent weeks planning to marry one brother while dreaming of the other. Although she refuses to break things off with Jeremiah, and even tells him about his brother's confession, Belly finds herself continually plagued by thoughts of Conrad. She agonizes over her position, because marrying either of the Fishers means doing irreparable damage to her relationship with the other.
When the big day finally arrives, no one can find Jeremiah, who is still trying to reconcile his feelings for Belly with her feelings for his brother. Conrad goes after him. Their encounter ends in a brawl, and Jeremiah effectively banishes Conrad from his and Belly's lives.
Back at the wedding venue, Belly knows that Jeremiah has gone AWOL. Conrad comes to say his goodbyes, telling her: "I need you to know that no matter what happens, it was worth it to me. Being with you, loving you. It was all worth it." He leaves, and Belly realizes that knowing he's let her go feels like grieving.
When Jeremiah returns, he refuses to say why he left in the first place. He tells Belly that he's always felt like he was her second choice, and asks her, point-blank, if she's still in love with Conrad. From the novel:
I wanted to tell him no. I opened my mouth. Why wouldn't the words come out? Why couldn't I say what he needed to hear? It would be so easy to just say it. One word and this would all go away. He wanted to forgive and forget it all. I could see it in his face: all he needed was for me to tell him no. He would still marry me. If I would just say the word. One word.
"Yes."
They call off the wedding. A bitter Jeremiah moves back into his frat house, and Belly gets an apartment with a friend. She spends her junior year in Spain, where she begins receiving letters from Conrad; after corresponding for some time, they get back together.
Belly is almost 24 years old when the novel ends with her and Conrad's wedding. Between "I do" and their first dance — to "Stay" by Maurice Williams and the Zodiacs — she and Conrad drive to the shore. They wade into the ocean, the same one they grew up playing in. Back at the reception hall, Jeremiah waits to toast the happy couple, his own date on his arm.