7 Things I Noticed Rewatching Footballer's Wives in 2021
Arguably the most chaotic show of the '00s.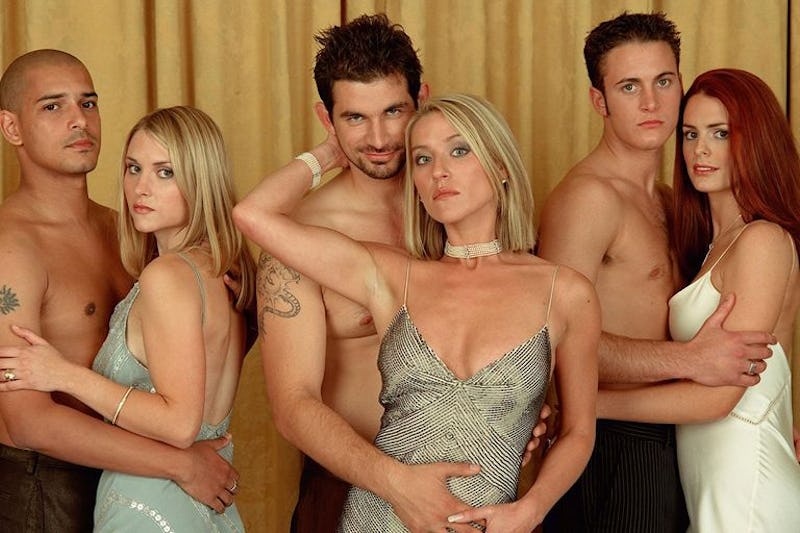 Warner Bros. Television Productions UK
As a long-time devotee of the actor Zöe Lucker – national treasure, camp icon and master of melodrama – I'll freely admit that I'm a complete disgrace for having never seen her big breakthrough show. Years before swanning down to Albert Square in a pristine white skirt suit and ransacking an entire flat while screaming her infamous catchphrase – "BUBBLY'S IN THE FRIDGE!!!!" – Lucker played Tanya Turner, the champagne-swigging, coke-hoovering villain meddling away at the core of Footballer's Wives. When the show finally made its return to BritBox, there was no question; I would be pouring myself a glass of Cristal and tuning in.
A parade of low-cut bootcut jeans, zebra-print pool loungers, dodgy pop art portraits and Peter Andre cameos, Footballer's Wives first aired in 2002 – the same year that staff at the swanky Jumeirah Beach Club in Dubai started using the acronym "WAG" to refer to footballers' wives and girlfriends. As celebrity paparazzi culture turned into a '00s feeding frenzy, the partners of high-profile premiership footballers found themselves plastered across the tabloids, who followed the likes of Cheryl Tweedy (then, Cole) Victoria Beckham, and Coleen Rooney's every move – and the fictional women at the heart of Footballer's Wives navigate a similar world. The danger of being splashed across the papers is a constant threat looming over every single ridiculous plot-swerve.
And I truly mean constant, because looking back over the giddying experience of watching Footballer's Wives, trying to comprehend every last preposterous thing that goes on during its five seasons gives me minor motion sickness. Buckle up.