The This Is Us Finale Featured An Adorable Season 1 Jack & Rebecca Easter Egg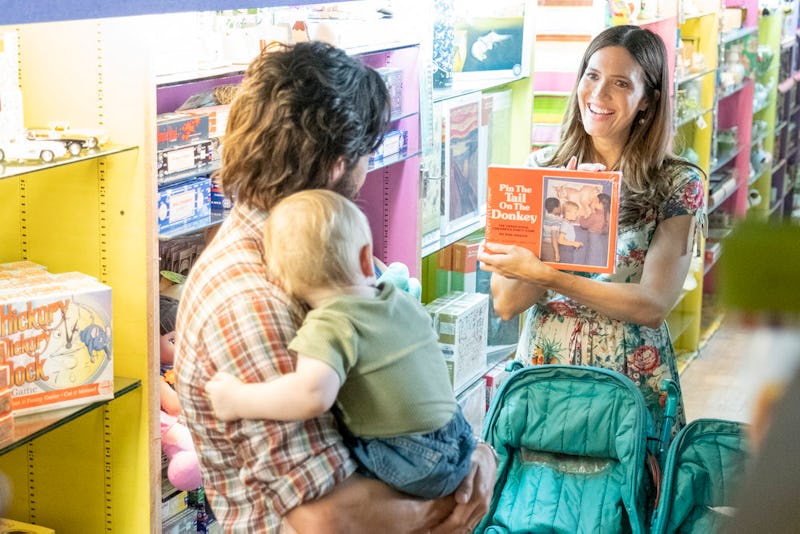 Ron Batzdorff/NBC
Spoilers ahead for the series finale of This Is Us. After six years of hopping from decade to decade of the Pearson saga, it shouldn't be surprising when This Is Us references minute details from the past — but somehow, it is? In the This Is Us series finale on May 24, another Jack and Rebecca Easter egg delivered an especially emotional full-circle moment.
During last week's heartbreaking "The Train" episode, Rebecca could be seen wearing a moon pendant necklace — a detail you might have missed if you were crying too hard, which, same. But the finale placed special focus on the necklace, when Jack and Rebecca wake up together in a flashback. Why? There's a lot of sentimental stuff to keep track of on This Is Us, so if you're drawing a blank, revisit Season 1, Episode 2. Here, after a particularly rough stretch with the kids, Jack gives Rebecca the necklace as a symbol of his commitment to the family. "I'm never gonna take it off," Rebecca says. And to her credit, she did, indeed, bring it to the afterlife with her!
But that's only half the Easter egg. During that same early episode, Rebecca and Jack have a serious conversation about their parenting skills. "Hey, how do you think we're doing so far? At parenting," Rebecca asks. "Because I think we're at a six — on a sliding scale of one through 10, I think we're at a six. And I think we're being generous."
Later, as he's gifting the necklace, Jack says he's ready to step it up. "From here on out, I'm gonna be an 11 for you, baby. Screw that — I'm gonna be a 12 for you, from here out. I'll be an 11 for the kids, but you get a 12."
Flash forward six seasons later, Rebecca revisits the rating conversation — and Jack passes with flying colors this time around. "Remember sitting here a few years ago, right on this couch? You turned out to be a 10, Jack," she says. "I mean, I would go higher, but I hate when people say 'on a scale of one to 10,' and then someone answers '12,' you know? There are rules."
Jack tells Rebecca she's a 12 anyway. "Thank you," she says. "I'm glad that you acknowledged that."
And of course, the whole crescent moon symbolism? Well, Rebecca was singing Cat Stevens' "Moonshadow" when Jack saw her for the first time — a moment that, of course, is referenced again in the finale. "Quite a thing, isn't it? Us finding each other in the bar that night," Rebecca says in the episode's literal last minute. Nope, you're crying!