American Idol Crowned Its 20th Winner & Twitter Was Very Mixed About The Results
"We need change to change American Idol to Country Music Idol. This is ridiculous."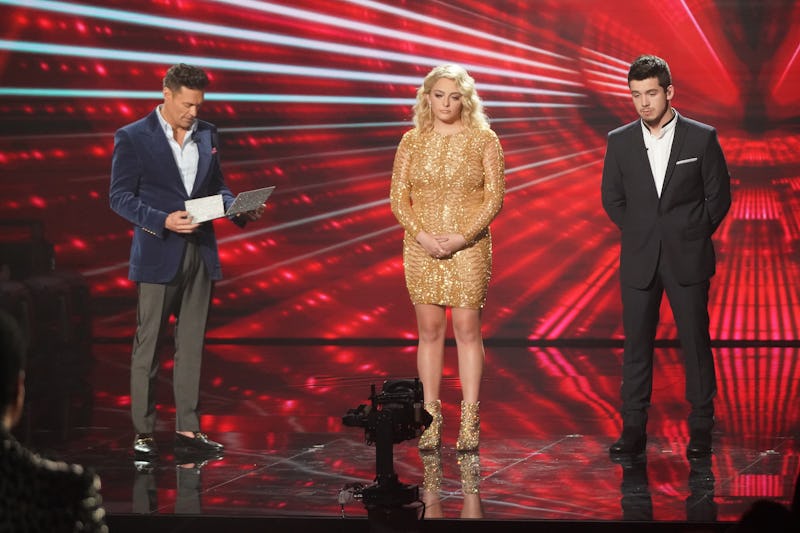 ABC/Eric McCandless
On May 22, American Idol crowned its 20th winner (yes, it's been 20 years since Kelly Clarkson won). In traditional Idol fashion, the Season 20 finale featured heartwarming duets between contestants and music legends, emotional final performances from the Top 3 contestants, and host Ryan Seacrest's dramatic reveal of the Season 20 winner, because American Idol wouldn't be complete without Seacrest saying "dim the lights, here we go."
The finale featured performances from Flo Rida, Melissa Etheridge, Sara Bareilles, Michael Bublé, Ben Platt, Thomas Rhett, Earth, Wind & Fire, and Season 16 contestant Gabby Barrett. Judges Katy Perry, Luke Bryan, and Lionel Richie took to the stage at least once, with the rest of Season 20's Top 10 contestants also making their return. Season 4 winner Carrie Underwood, who mentored the Top 5 contestants this season, was also scheduled to perform on the finale but dropped out due to COVID-19 exposure.
All eyes were on the Final 3, HunterGirl, Leah Marlene, and Noah Thompson. For their final night in the competition, the contestants sang classic hits from Bruce Springsteen and original songs, with the Final 2 asked to reprise their favorite performance from the season. All of them made an impact on judges and viewers, but only one joined the ranks of iconic winners like Underwood, Kelly Clarkson, and Jordin Sparks.
Katy & Leah Light Up Like A "Firework"
Every season, the American Idol contestants who make it to the finale are lucky enough to duet with music legends on their biggest hits, oftentimes their idols. It turns out that Top 3 finalist Leah Marlene's duet partner has been right in front of her the entire season. Judge Katy Perry performed her classic hit "Firework" with Marlene, who covered the 2010 No. 1 hit as a young girl. Footage of her 2011 performance was shown before Marlene's voice kicked in and Perry joined her onstage to belt it out, staying true to Marlene's stripped-back rendition. It was a full-circle moment for the Top 3 contestant.
Noah Performs Rihanna's "Stay"... Again
In April, Thompson performed Rihanna's 2012 ballad "Stay," an unexpected choice for a decidedly country-leaning singer, but one that captured the judges and America's hearts, advancing him to the season's live shows. "This isn't a song I would usually do but it reminds me of being back home because it is a song me and my girlfriend Angel would sing together," he explained at the time. Not only was "Stay" the first cover that he ever posted on TikTok, but it's also what Thompson selected as his favorite performance of the season, reprising his rendition once again on the Season 20 finale and bringing his Idol journey full-circle.
The Final Elimination
Toward the beginning of the 3-hour finale, the Top 2 contestants were revealed. Leah Marlene was eliminated from the competition at the last hurdle, meaning this season's country crooners Thompson and HunterGirl were the Final 2. And as usual, Twitter felt some type of way about it.
And The Winner Is ...
After doing his classic "dim the lights, here we go," Seacrest announced that 16 million votes were cast nationwide before finally revealing that America crowned Thompson as the winner of Season 20. Thompson, who only auditioned because his friend signed him up without asking, was stunned by the news. "Oh my God ... my heart is beating out of my chest, this is crazy," he said.
Twitter had mixed reactions to Thompson's victory, with some fans being ecstatic for the winner and others thinking contestants like HunterGirl and Nicolina were more deserving.