Tyler Cameron Only Had $200 When He Dated Gigi Hadid
The Bachelorette alum opened up about having "no money" while dating a world-famous supermodel.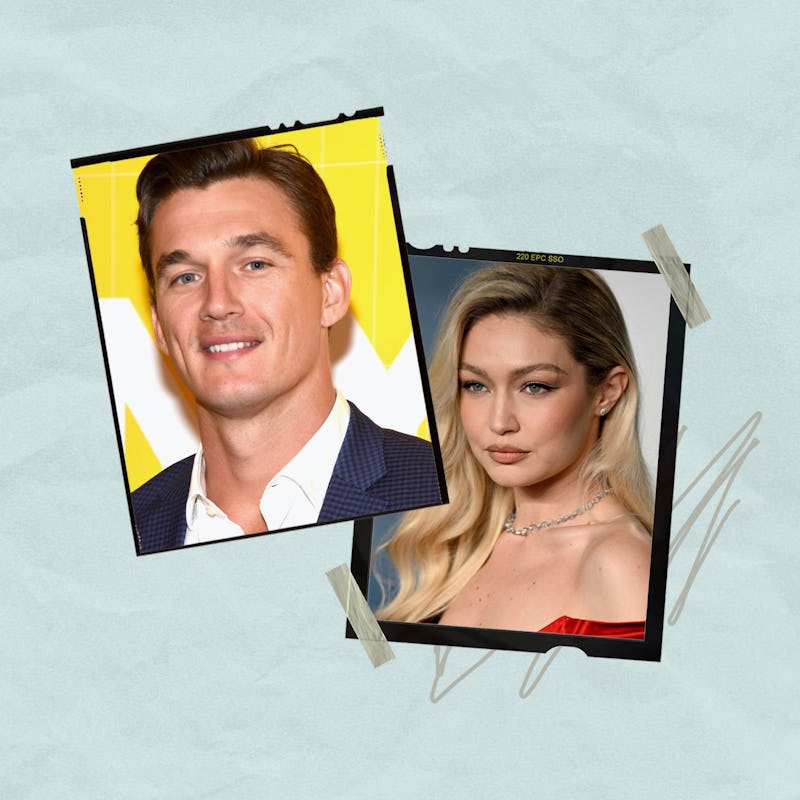 Gary Gershoff/Getty Images Entertainment/Getty Images & Lionel Hahn/Getty Images Entertainment/Getty Images
Going far on a show as big as The Bachelor/ette may seem like a glamorous step into showbiz — but financial security is never guaranteed. Hannah Brown's runner-up Tyler Cameron proved that firsthand during a recent appearance on Jason Tartick's podcast, Trading Secrets.
Jason recalled hanging out with Tyler and a pre-Bachelor Matt James in 2019, and asking Tyler about his plans for the future. "He goes to me, 'Dude, I don't know what the f*ck I'm doing,'" Jason recalled. "'I got $5,000 in my bank account. I don't know what my next job is. And I'm dating Gigi Hadid.'"
"Not even $5,000," Tyler said. "I had, like, $200."
Tyler said he lived on Matt's bean bag at the time and had "no money" after The Bachelorette. "But I'm the happiest I've ever been because it's like, the world is wide open to me in New York City," he continued. "I can do whatever I want. And I remember I'd be going on dates — like, calling pops up in the bathroom. Like, 'Pops, I don't think my credit card's going to go through. I need you to send me some money right now.'"
Fortunately, Tyler's dad was happy to help. "He's like, 'You got it, son. Go get it.' And he'd send me some money, and I'd cover dinner, and whatnot," Tyler said. "But I remember there were some touch-and-go points there, where I was like, Hopefully my card swipes. I'm over here swiping with my eyes shut, like, Please go through. Please go through."
It's not the first time Tyler has discussed his relationship with the supermodel — or how it could feel like foreign territory. Shortly after their reported split in October 2019, Tyler told Us Weekly, "it was just a different world," which he had never navigated before.
While Tyler and Gigi's time together was short-lived, Tyler used the anecdote to touch on a bigger point about life after The Bachelor/ette. "You can't make no money after the show," Tyler said, citing contract conflicts with his modeling career. One gig in particular, he claimed, took advantage of him.
"It was like a $2,500 day — not even, probably like a $1,500 day," he said. "[I] did the job, and then the next thing you know, I'm their biggest ad campaign. Because I started blowing up on the show, so they started using my face and putting it everywhere. But when it was only supposed to be used for just their online [shop]."
While Tyler once had to sneak away to solve his cash shortage on dates, he's not shy about money (or how he makes it) today. "People are like, 'You're a sellout, you're posting an ad,'" Tyler told Bustle in 2021. "Man, f*ck you. I'm going to make my money. I'm not going to just do stupid stuff all the time, but selectively, because guess what? Now that money that I made from doing this has allowed me to buy land here, to build this, and to grow this and create a big career for myself. It's opened doors for me to do a lot of great things."