A Viral Vanderpump Rules Fan Theory Claims "Scandoval" Is Fake
Producers and cast members have addressed the claims.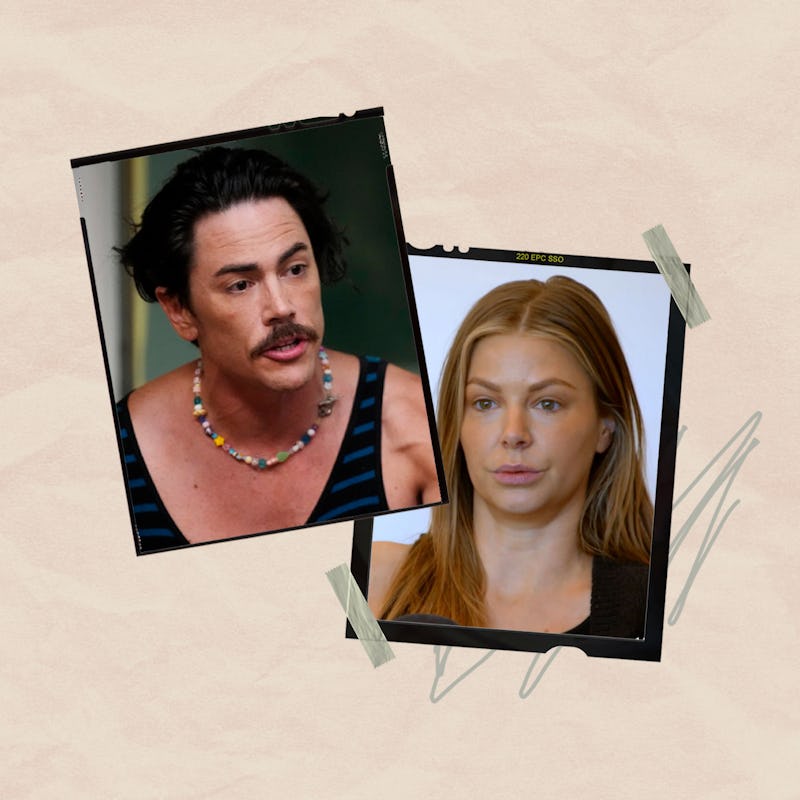 Bravo / Evolution Media
As we draw ever closer to the hotly-anticipated Vanderpump Rules Season 10 reunion, talk of all things "Scandoval" continues to dominate the sphere of reality TV and beyond. As fans of the Bravo hit will know, the drama began in March 2023 when it emerged that co-stars Tom Sandoval and Ariana Madix had split after nine years of dating after he reportedly cheated with their co-star, Raquel Leviss. Since then, many Pump Rules fans have been closely following the subsequent fallout, and have been expertly dissecting the lead-up to the alleged affair, which is currently playing out in the show's tenth season.
In recent weeks, some Bravo enthusiasts might have noticed that a particular fan theory has been gaining traction online, which alleges that the Vanderpump Rules "Scandoval" drama might be completely fake.
Writing on Twitter, one fan claimed that producers may have "found out about 'Scandoval' and quickly got the cast to film fake scenes to build up to it." Meanwhile, another viewer also claimed that fans "all got played this season," adding that the Pump Rules cheating scandal is "fake AF."
"Anyone else getting a totally scripted feel on Vanderpump Rules?" asked another viewer. "All of the 'Scandoval' drama seems so fake."
As the accusations of re-edited, re-filmed, and scripted scenes began to take off across social media, some of the show's producers and cast members commented publicly on the growing fan theories. Including Pump Rules producer, James Markham, who recently shut down any claims that the "Scandoval" drama has been manipulated in any way.
After being accused of knowing about Sandoval and Leviss' affair during the filming of Season 10, Markham commented on Instagram that the hit reality show is "not all fake," adding: "I swear on my life, we had zero idea! This was not a publicity thing for the show."
Markham then clarified that he did "question" some moments during production. "Were there things that made us go hmmm? And question? Yes! But the footage you've been watching is the reality we filmed. We were all shocked when we got the news about what was really going on," he added.
Meanwhile, longtime Vanderpump Rules cast member Lala Kent also addressed the online fan theories on her podcast Give Them Lala, during the aptly titled episode "The One Where It Wasn't Re-edited Until It Was." Speaking on the audio series, Kent made clear that "Scandoval" is "not a staged thing," adding: "Ariana didn't sit with a producer and go, 'Yeah, I'm OK with my life blowing up for ratings.' None of it is staged."
Kent did, however, hint that certain elements of Season 10 might have been re-edited in the wake of the cheating drama. "You also can't just drop at the very end this bomb, 'Oh, and by the way, Tom and Raquel were f******.' You have to fit it into the story somehow," she explained. "There were, like y'all say, Easter eggs the whole time that may have been insignificant at the time that are actually very pertinent to this case."
Speaking to Entertainment Tonight shortly after the "Scandoval" drama first broke earlier this year, the show's matriarch, Lisa Vanderpump, claimed the show's "authenticity" is what keeps viewers invested.
"There's a lot of people that have tried to mimic us and tried to create shows but without the authenticity of real friendship," Vanderpump explained. "That's why it hurts, that's why people bleed for Ariana. Because they were invested in real relationships, and that's what people are talking about."