The Gruesome Crime Miri Committed In Back To Life Isn't What It Seems
Here's what to know about the show's dark twist.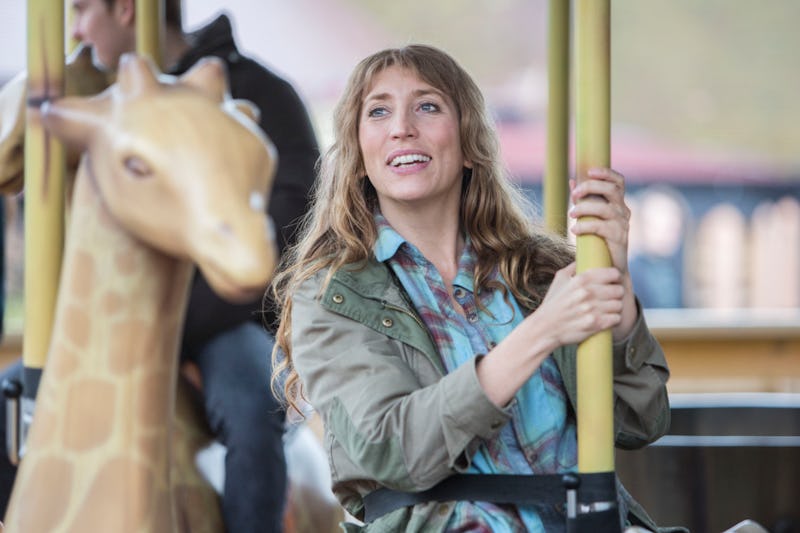 BBC/Two Brothers Pictures/Luke Varley
As fans of the dark comedy will recall, BBC's Back To Life follows the story of Miri, a woman who attempts to rebuild her life after completing a lengthy prison sentence. However, in the weeks following her release, Miri struggles to rekindle relationships and lead a "normal" life. To keep viewers on the edge of their seats, the writers didn't reveal the exact details of Miri's criminal history right off the bat in Season 1. So, in case you've forgotten what crime Miri committed in Back To Life, you can find a refresher of what went down, below.
During Season 1 of Back To Life, which is currently available to watch in its entirety on BBC iPlayer, it is revealed that Miri was convicted of murdering her best friend Lara by pushing her off a cliff. Throughout the season, Miri stands by her claim that the murder was accidental, stating that her friend attacked and bit her in a fit of unexplained rage. (The explanation eventually comes during the season's explosive finale and has everything to do with an affair). However, members of Miri's community aren't convinced by her story and believe she is a cold-blooded killer.
As mentioned, Back To Life follows the story of Miri who, after an 18-year prison sentence, returns to her tiny hometown of Hythe where she grew up. Miri is played by actor Daisy Haggard, who also penned the BBC series.
Back To Life returned for a second outing in Aug. 2021, and also starred Adeel Akhtar as Billy, Geraldine James as Caroline, Richard Durden as Oscar, Jo Martin as Janice, Jamie Michie as Dom, Juliet Cowan as Tina, and Christine Bottomley as Mandy, among others.
Commenting on the future of the series, show creator and lead star Haggard revealed that a third season of Back to Life is a possibility. "I knew how season two was going to end precisely, like I'd written season one. But there is always a possibility for more," she previously told Radio Times.
However, speaking in 2022, Haggard also revealed that she'd only be open to Season 3 if she felt she "could top it." The actor continued: "If it's going to happen, I need to have precisely the right story .... so we're still talking about that."
This article was originally published on