These Anya Taylor-Joy Shows & Movies Will Make You An Even Bigger Fan
Get ready for her upcoming movie, which showcases her vocal chops.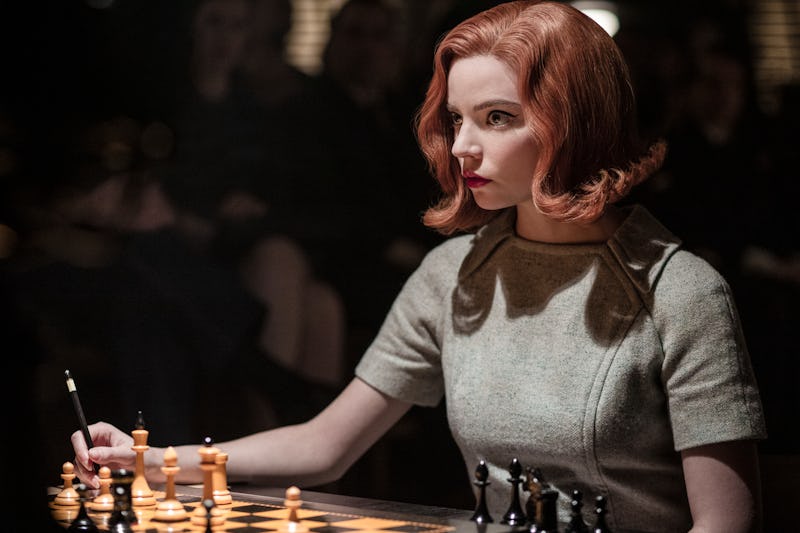 Phil Bray/Netflix
So you inhaled The Queen's Gambit starring Anya Taylor-Joy on Netflix last fall and immediately procured a chessboard thinking that playing could help fill the hole left by the series finale? Only it's months later now, and the feeling is still nagging you, and the chessboard, while an attractive piece of home decor, is currently collecting dust because what you craved, in the end, wasn't more chess. What you really needed was more Anya Taylor-Joy. Worry not: Here's where to find her.
Prior to her acting career, Taylor-Joy lived an enthralling, nomadic childhood, as noted in her Saturday Night Live monologue on May 22. Shortly after she was born in Miami, Florida, to a Scottish-Argentinian father and an English, Spanish, and Zambian mother, the actor's family moved to Buenos Aires to escape the political landscape and live closer to extended relatives, per a 2017 interview with Marie Claire. When she was six, they moved to London — though Taylor-Joy badly wished to return to Argentina and, in turn, stubbornly refused to learn English for nearly two years after arriving. Nowadays, she's grateful for her worldly past and considers herself a proud Latina: "I come from many different places, but I think my warmth and my outlook on life are from Argentina," she told Netflix España. Of her triple British, American, and Argentine citizenship status, "Legally my ethnicity is fashion week," she joked on SNL.
At just 25 years old, Taylor-Joy has already enjoyed a prolific career. Her breakout role came in 2015 when she starred in The Witch, and she's been busy ever since. In that time, the actor has started racking up awards show wins, including for the 2021 Golden Globe and Critics' Choice Awards. And not only do her fans have many ATJ works to choose from, a number of those projects have been period pieces, just like The Queen's Gambit. So, it's OK to let that chessboard gather a little more dust — you've got a lot to watch.
Emma.
Emma. is the other Big Thing that Taylor-Joy did in 2020. If you're a huge fan of Jane Austen but found that the Gwyneth Paltrow version lacked the sass and briskness of the novel, this is the Emma reimagination for you. Taylor-Joy is equally charming and condemnable as the gossipy, snobby heroine, a role that she told Bustle did not come as naturally as it looked. "Emma took a lot of psyching up," she said. "I really had to sit down, and sit with myself and go, 'What is it about this character that's making so freaked out?'"
Peaky Blinders
On the most recent season of Peaky Blinders, Anya Taylor-Joy plays Gina, a mischievous American who has married her way into Interwar Period Birmingham's most notorious crime family. The role was her most overtly sexual to date. "Gina terrified me," Taylor-Joy told Bustle. "I had a whole process of I had to get into my trailer in the morning and put on my playlist, and sensually dressed myself and literally put on Gina. That wasn't something that I could just do."
The Miniaturist
The Masterpiece Theatre drama stars ATJ as a young bride who receives a mysterious dollhouse that seems to predict the future. Set in 17th-century Calvinist Amsterdam, this might just be the most period-piecey of all the period pieces Taylor-Joy has appeared in. Her character, Petronella Oortman, is based on a real person whose actual dollhouse is on display at the Rijksmuseum.
Thoroughbreds
One of the rare performances Taylor-Joy has given in this century. In this 2017 dark comedy, she plays the coolly murderous Lily, a high school student who really hates her stepdad.
The Witch
Robert Eggers' The Witch is the film that launched Taylor-Joy into the popular culture. Before being cast, she'd only ever had one role in a teen movie, but Eggers found the young actor's audition more than convincing than the part he'd originally written. He told Indierevolver, "I realized I was looking for the wrong girl when Anya auditioned. I was actually like, 'No, that is Thomasin.'"
Once you've made it through this list, get ready for much more ATJ content to come. In a new interview with Vanity Fair, it was teased that Taylor-Joy has at least four projects set for release in 2021. She will show off her vocal chops as an aspiring singer in Edgar Wright's Last Night in Soho, which takes place in '60s London and features the actress in "an exaggerated hairdo" with an "understated British accent." She'll also reunite with The Queen's Gambit director Scott Frank for Laughter in the Dark, an adaptation of the Nabokov novel of the same name.
Additionally, she will take on the titular role of Furiosa in a prequel to the hit 2015 film Mad Max: Fury Road, playing a younger version of the character previously portrayed by Charlize Theron. Finally, she'll appear alongside Nicole Kidman and Ethan Hawke in Viking thriller The Northman, which will reunite Taylor-Joy with The Witch director Eggers, who spoke to Vanity Fair about her rise to international fame. "I'm surprised it took so long!" he told writer Hermione Hoby. "I think some people explode onto the screen. They photograph well but they're also able to somehow bare their soul — you can see through their skin and into their minds and hearts. Beyond that, she's a good actress." He continued, "You can be a great actor and not be a star, but Anya has both."
This article was originally published on