Shayne's Dating Life On Perfect Match Is Off To A Rough Start
The Love Is Blind star is part of a tricky love quadrangle.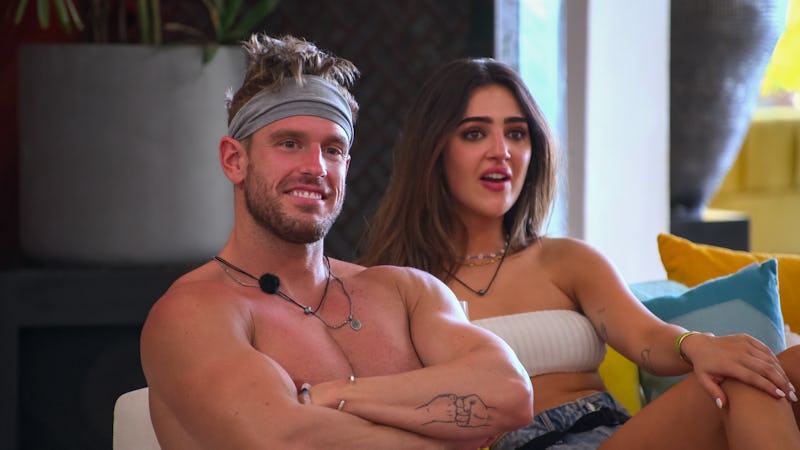 Netflix
A year after viewers first met Shayne Jansen on Love Is Blind Season 2, the real estate broker is looking for love on another Netflix reality show: Perfect Match. By bringing together single alums from Love Is Blind, Too Hot to Handle, and other series on the platform, the show leaves room for contestants to forge stronger connections in a new environment — or, at least, that's the idea. The first four episodes of the new show, which dropped on Valentine's Day, have seen several relationships start and fizzle out. In fact, Shayne (who describes himself as a "PR nightmare " and "marketing genius" in his Instagram bio) is already dealing with love quadrangle drama, and there are still several batches of episodes to go. So, who is Shayne dating today?
Viewers will have to wait a while to find out how Shayne's Perfect Match journey ends, of course. At the beginning of the show, he quickly matched with Ines Tazi from The Circle France. The pair had previously exchanged DMs on Instagram. "She's just so much more sophisticated than anyone I've ever met," Shayne said.
While Ines said Shayne was "not the person [she'd] go for," she seemed to be feeling the connection too. However, communication faltered between the pair — and eventually, they swapped places with another couple: Shayne with Izzy Fairthorne, and Ines with Nick Uhlenhuth. But by the end of Episode 4, Shayne was hurt that Izzy kissed Nick on a dare, and he didn't even want to spend the night in the same room as her.
Shayne and Izzy did attend a Netflix movie premiere together, but we can't put too much stock in that because they were accompanied by their fellow Perfect Match castmates. They are Instagram mutuals, however.
To further complicate matters, there's lingering drama between Shayne and Natalie Lee — who he dated after Love Is Blind despite not getting married at the altar. Natalie recently claimed that Shayne signed up for Perfect Match when they were still together, and said he even wanted to get back together over the course of filming. Shayne denied this version of events on his own Instagram story. "Obviously with the new show coming out I figured 'someone' would try to once again destroy my character for personal gain," he said back in January.
Aside from his love life, Shayne has recently shared updates on his Instagram. In November, he seemed to announce he was a new pet parent. "Daddy," he wrote, alongside a photo of him with a smiling dog.
More recently, he shared a video of him listening to Taylor Swift's "Anti-Hero."
Of course, only time will tell if Shayne was referencing his time on the show with the lyrics "It's me, hi, I'm the problem it's me."