Jackson Avery Probably Isn't Going Where Most Fans Think He Is On Grey's Anatomy
Hey Siri, what city is an 11-hour drive from Seattle?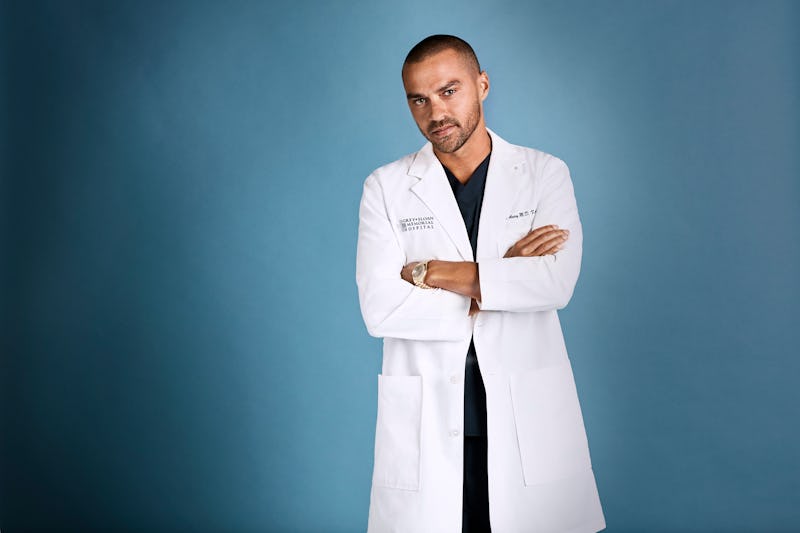 ABC/MIKE ROSENTHAL
Spoilers ahead for Grey's Anatomy Season 17, Episode 12. As Grey's Anatomy approached Black Lives Matter protests and the realities of systemic racism in its April 15 episode, Jackson Avery (Jesse Williams) was conflicted. His first response to injustice, he says, has always been to write a check — and he wonders if (or how) he could be doing more. After airing his concerns with Webber and his mom, Jackson is restless. Restless enough that he embarks on an 11-hour drive, as he programs into his car's GPS. His destination remains a mystery so far, but there's really one location of note (in the Grey's universe, anyway) that far from Seattle: Bozeman, Montana.
If that city doesn't ring a bell, you're not alone — we've been there before with Jackson, but he spent more time meeting a person there than exploring the Rockies. It's where Jackson's estranged father, Robert Avery, lives and works at a diner. Jackson visited him during Season 13's "Who Is He (And What Is He To You)?" episode, where he learned what Robert had been up to since leaving the family when Jackson was just a child. Jackson also conclusively told Robert that he's not his father anymore, nor a grandfather to Harriet. So why would Jackson be taking a long, late-night drive to see him?
For starters, Robert was mentioned for the first time in a while in the latest Grey's episode. During Jackson's conversation with Catherine, in which he wonders why their family isn't doing more to address racism in medicine, she tells him, "you sound like your father," to which Jackson responds, "would that be the worst thing in the world?"
Jackson's frustration with "red tape" and "trustees" in this conversation — referring to the reality of making a change within the Catherine Fox Foundation — is extremely reminiscent of Robert's criticism of "the galas, the handshaking," how it wasn't his "thing." Robert and Jackson are obviously different people, of course. While Robert's disillusionment with the foundation led to him leaving medicine (and his family) altogether, it seems that Jackson only grows more galvanized by the inaction he's seeing. Jackson may not consider Robert a father anymore, but he did tell him he seemed like a decent man during their last encounter. Perhaps he simply needs some perspective as he plots his next move, which some fans thought would involve a trip to Minneapolis, Minnesota, following George Floyd's death. That city is a 25-hour drive away, though, so it's pretty unlikely he'd travel there given the GPS detail.
Wherever he goes, a new kind of activism for Jackson seems like a natural next step. This isn't the first time he's come face to face with the implications of his well-intentioned financial approach — Alma (aka Mama Ortiz) once explained how his generous funding of hotel rooms for COVID patients was preventing local charities from doing the same for low-income communities. Learning from the past, Jackson is eager to find ways to meaningfully help people. This might also set up April's upcoming appearance, as she has been busy providing medical care to Seattle's unhoused population and may have a thing or two to teach Jackson as he strives to give back, too.