Everything I Know About Love Shares Filming Locations With Iconic Rom-Coms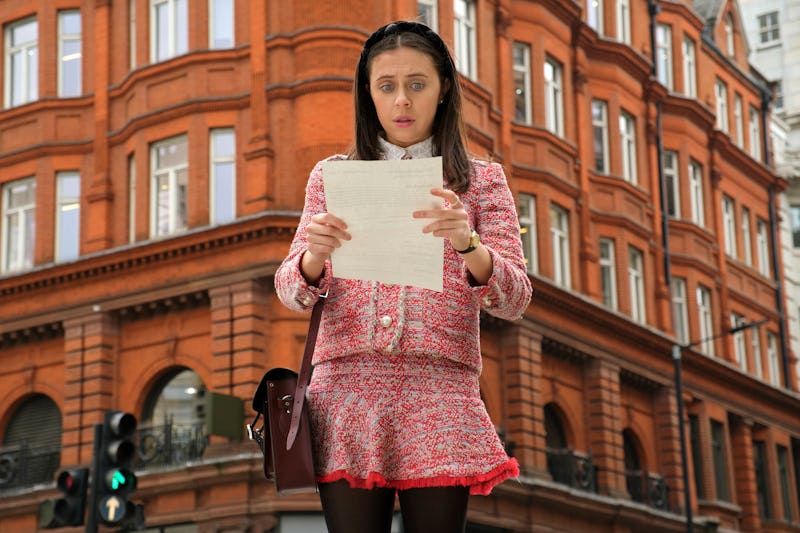 BBC / Working Title / Universal International Studios Limited
Author, writer, and respected Sex and the City critic (honestly, listen to Sentimental In The City podcast – you won't regret it) Dolly Alderton has giving her best-selling memoir Everything I Know About Love the telly treatment. And with the fictionalised version out now, there's a good chance you might recognise a fair few of the London landmarks – and mahogany-hued lad pads – that fill the brand new show. But where is BBC's Everything I Know About Love filmed?
Starring Pistol's Emma Appleton as Maggie – a role partly based on Alderton herself – the show follows a group of fresh-faced graduates as they move to London, and navigate the highs and lows of their twenties. Their chaotic but brilliant flat-share is set in Camden, and eagle-eyed viewers will recognise a number of London landmarks. There's Inverness Street and sections of Regents Canal, and the now-renamed music venue Dingwalls, which previously hosted Amy Winehouse gigs back in the day. (The Office's David Brent also plays here in mockumentary Life On The Road.)
Panoramic views of Primrose Hill also feature, which many will recognise from Bridget Jones: The Edge of Reason as the London park where Mark Darcy and Bridget Jones romantically embrace. Both of the Paddington films were also shot in and around the area. And that's not the only location Everything I Know About Love shares with the marmalade-scoffing bear. His namesake, Paddington Station, is also the setting for Maggie's first encounters with her softboi love-interest, Street.
The opening disclaimer at the beginning of each episode of Everything I Know About Love states that "this work is inspired by real life events and real people. But fictionalised when life didn't offer a good enough story." Accordingly, there's a great deal of creative licence in the filming locations too. London landmarks aside, much of the show was actually filmed in Manchester. A number of fictional venues have been created especially for the show, including the kebab shop disco from episode one. Which is a crying shame, if you ask me.