Antoni Porowski & His Fiancé Kevin Harrington's Relationship Is Delicious
The Queer Eye food expert and the advertising professional have been together for more than three years.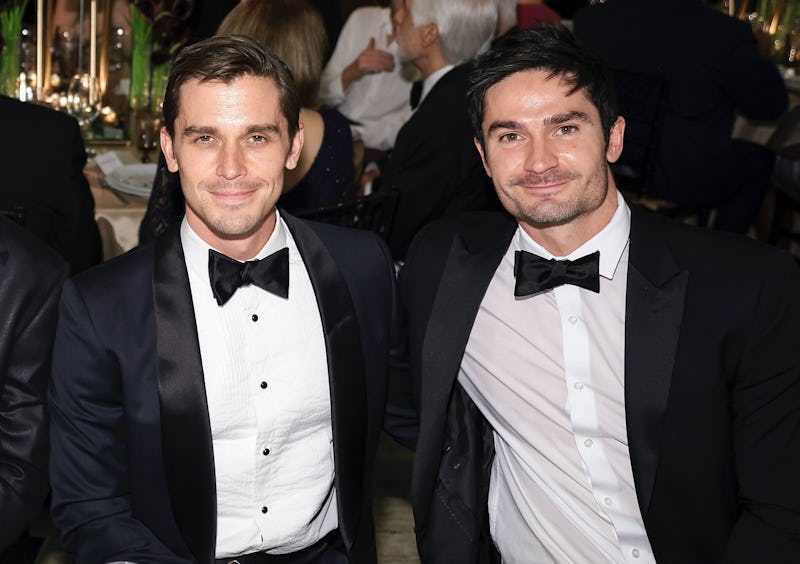 Dimitrios Kambouris/Getty Images for American Ballet Theatre
Since becoming a star as one of the members of the new Fab Five in Netflix's Queer Eye reboot, food and wine expert Antoni Porowski has experienced some ups and downs in love. Over seven seasons of Queer Eye, Porowski has been in and out of relationships, but now he's fully in love — and engaged. On Nov. 17, Porowski announced that he's engaged to Kevin Harrington after three years of dating. The 39-year-old reality star subtly revealed his engagement on Instagram by sharing a candid selfie captioned, "I really hope the wedding photos are less blurry."
Harrington also announced their engagement on his Instagram, this time posting photos of them, with the last image being them as zombies. "Officially together until we look like the last pic #engaged," he quipped in the caption. Naturally, Porowski's fellow Fab Five members were elated, including his once-rumored boyfriend Jonathan Van Ness, who wrote that he's "already sourcing my flower girl looks!!!" Karamo Brown wrote, "Yessssssssss!!!! So excited for you two!" on Porowski's post, while Tan France volunteered as "wedding selfie-photographer" to avoid more blurry selfies. Details regarding their impending nuptials have yet to be revealed.
Porowski reportedly began dating his New York City-based beau in October 2019. The two were linked to one another for the first time around Halloween of that year when they attended both Bette Midler's annual Hulaween event and then Heidi Klum's long-running Halloween party. The couple dressed up as Blockbuster employees back from the dead, an especially clever and well-executed costume.
Harrington works in the advertising industry as a freelance brand strategy director, the title he lists on his personal website. He has spent the last decade "helping a variety of different companies advertise, define and evolve their brands. From sneakers to snack food, animal shelters to alcoholic seltzers — I've worked on it all, and have loved every minute of it," Harrington wrote. Throughout his years in the business of ads, Harrington has worked on campaigns for dozens of well-known brands, including Adidas, Volkswagen, Amazon, Hershey's, and Cheerios.
For almost four years now, the couple has been very open about their love, sharing plenty of pictures of their time together. Porowski and Harrington have been snapped at fancy events like Lady Gaga's Born This Way Foundation and Thom Browne's runway show, as well as in more casual settings like on vacation in Italy, on a farm, hiking in Colorado, and skiing even in Switzerland.
Most recently, the couple attended the Elton John AIDS Foundation's 31st Annual Academy Awards Viewing Party.
Selfies of the couple in outfits ranging from shirtless beach pics to black tie events can be found across both of their profiles. Harrington accompanied Porowski to the 2022 Emmy Awards where he took home his sixth Emmy for his work on Queer Eye.
The couple started fostering a rescue dog named Neon in March 2020 and ultimately wound up adopting her.
The couple grew close during the lockdown, and the reality star credited his relationship with keeping him grounded. "I learned to get back in touch with a part of me that used to listen to music as much as I did, and my connection with nature," Porowski told PEOPLE in May 2022. "I know that sounds like a hippy-dippy thing to say, but it's being with my dog and my boyfriend, tossing a ball, going Upstate [New York] whenever I can; that kind of stuff. Life has gotten so big and complicated and a lot of really high ups and a lot of low lows that, that's one thing that kind of grounds me and just keeps me in check in the best next way."
The Emmy winner had been in relationships with both men and women before Harrington, and during his time in the spotlight, he's been connected to two boyfriends. When the show premiered, he was in a long-term relationship with Joey Krietemeyer. The two split after seven years, at which point the Queer Eye host began dating Trace Lenehoff, who is best known as the star of the reality program Flipping Out. The couple went their separate ways after less than a year.
Porowski has previously mentioned that he didn't have a "traditional coming out," telling Watch What Happens Live host Andy Cohen that he "dated a man and then I dated women for several years and then I was in a relationship with a man." In an interview with GQ, he also revealed that he only told his father about his sexuality after he and Krietemeyer had moved in together. "I wrote my father a very short email: 'You brought this up. I think it's time I tell you: I love. I am loved. His name is Joey, and we live together.' That was it."
This article was originally published on