Are Perfect Match's Dom & Francesca Still Together?
Their love hits the rocks with Damian Powers on the board.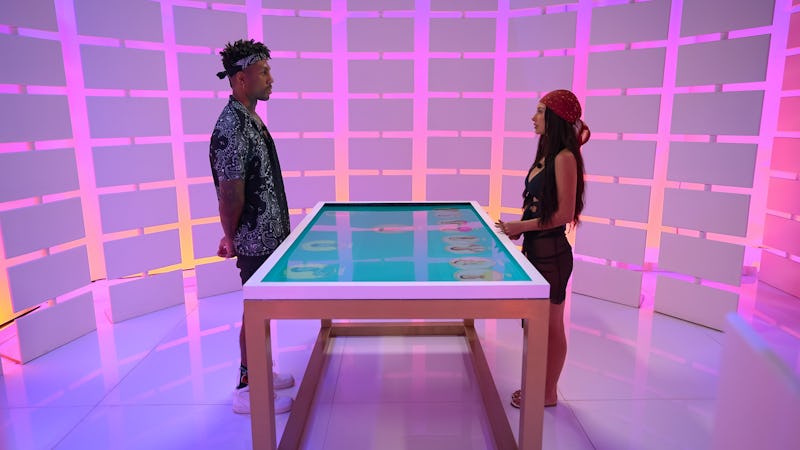 Spoilers ahead for Perfect Match Episodes 1 - 4. "I think of myself as a Cupid, and I hope I end up with the love of my life," The Mole's Dom Gabriel announces in the first episode of Perfect Match. Featuring singles from various Netflix reality series like Too Hot To Handle, Love Is Blind, and The Circle, the winners of each round have the advantage of playing matchmaker or breaking couples apart — all with the goal of being the last couple left standing.
Though Dom dubs himself "Rom Com Dom" on his Instagram, it's not clear from his social media whether the punk rocker is dating anyone from Perfect Match. The series was likely filmed in early 2022, and his Instagram doesn't feature any photos of a possible partner between then and now. There are plenty of gorgeous photoshoots, though, as well as clips from his band, DØNTCALL.
But it kind of sounds like he's still single. As he noted on Perfect Match, he tends to be a romantic and go all in. He does have a heart tattooed on his chest, after all. If he is with someone, it would stand to reason that he would probably be posting about them.
He has made some romantic posts since filming, though. In July 2022, he posted a photoshoot with the caption, "Well, are you mine?" which could possibly be a reference or just lyrics. In September 2022, he posted another photoshoot with the caption, "Looking like the male lead in a romantic drama series," and in October 2022 said, "Love's a game, wanna play?
What's noticeably missing on his Instagram are any photos of the first person to catch Dom's eye on Perfect Match: Francesca Farago, who Harry Jowsey proposed to with a ring pop at the end of Too Hot To Handle before they called it quits in 2020. "Everyone else disappeared," Dom said when he first saw Francesca, who he noted several men were likely interested in, on Perfect Match. "I was kind of intimidated. I thought to myself, 'She's absolutely gorgeous, but buddy, you don't stand a chance.'"
Still, Dom approached her early on and opened up to her a bit about his childhood, being competitive, and how he's a bad cook but willing to try for someone he likes. "I'm trying to make you smile as much as you're trying to make me smile," he told her. After their one-on-one, Francesca chose him, and they headed to their own bedroom to continue their date. They were one of the first early matches of the night, and Dom announced after that first meeting that Francesca already felt like his "ride or die."
Despite other cast members trying to break them apart, Dom and Francesca's bond stayed pretty strong throughout. They remained matched even when a second challenge revealed they weren't as compatible as they thought they were. But Dom made it clear he was dedicated only to Francesca, and they managed to win the third challenge.
Their romance hit the rocks though as soon as Francesca saw Love Is Blind's Damian Powers on the board. Instead of sending one of the other women on a date with a new single, Francesca sent herself to see her "friend," Damian. Everyone in the villa knew Damian and Francesca had history, but no one, Dom included, seemed prepared for her to choose him over Dom. We'll have to wait and see if Damian succeeds in breaking the pair up, but based on Dom's Instagram, it's not looking good for the romantic rocker — who closes out Episode 4 in tears.