Don Cheadle's Wife Bridgid Coulter Is A Hollywood Powerhouse
The playful couple has been together for nearly 30 years.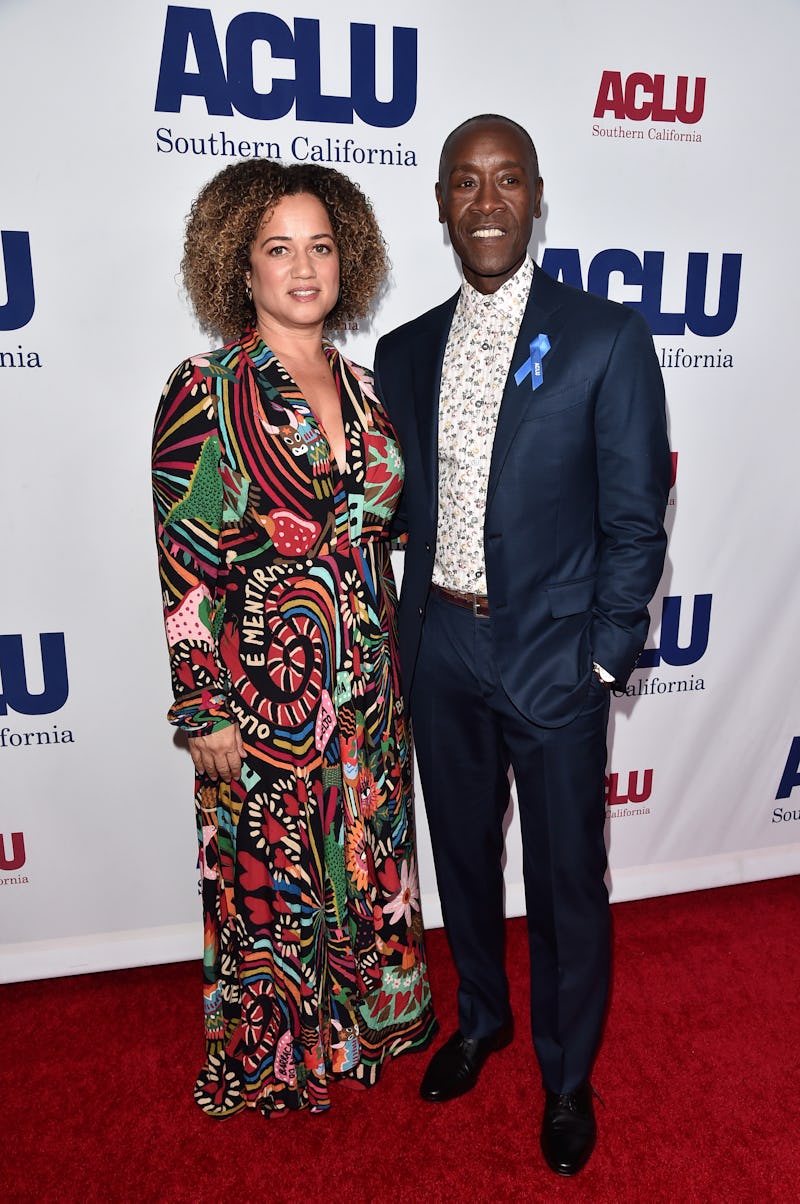 Alberto E. Rodriguez/Getty Images Entertainment/Getty Images
As Marvel and Hotel Rwanda star Don Cheadle prepares to present at the 2021 Academy Awards, his wife, Bridgid Coulter, will likely be by his side to support. (The couple has a slew of fashionable red carpet moments together already.) According to Bossip, Cheadle and Coulter married in 2016 but have been together since 1992 and share two children. While we don't know the story of how the couple met, their respective Instagram feeds are filled with adorable, loved-up posts of each other. Coulter, a fellow actor, has even appeared in several projects with Cheadle such as Rosewood and, more recently, Black Monday — but Hollywood is just one part of her long-running artistic career.
Coulter is the founder of Blackbird House, described as "a physical and digital life-work gathering space that supports and advances women of color and allies, so they can drive positive social change and economic impact." The innovative space, located in Culver City, was designed to be an inclusive, creative center for people from a wide range of industry backgrounds. That includes entertainment — according to The Hollywood Reporter, Cheadle's production company Radicle Act is housed here — as well as therapists, makeup artists, and more.
"It was really all about this grounding, sophisticated, but still feminine [aesthetic where] a man can work there and not feel 'girly,' but a woman can work there and feel powerful and embraced," Coulter told the magazine. "I wanted it to feel warm [and symbolize] this concept of home, this place you can come and you feel get work done, or you can get a meditation in, and you can get some community and some kombucha."
In addition to crafting Blackbird House, Coulter also works as an interior designer and has developed a vibrant portfolio of work, including stunning Southern California homes to the Upward Bound Homeless Shelter. Coulter's creative vision reflects the thoughtful approach she devotes to activism and to causes like racial justice, uplifting women of color in business, and the 2020 election. (She was a vocal supporter of Kamala Harris' presidential campaign, and Harris even spoke at Blackbird House in 2019.)
During the pandemic, Coulter has shared her pastimes online — cooking plant-based goodness at home, shopping Black-owned businesses, burning through her reading list. As school and work took to Zoom, she also brought Blackbird online and regularly provides virtual talks from herself and other influential women. The topics range from mood-boarding to literature, cooking, breathwork, tea, and more.
Coulter's experience speaks for itself, but you might also know her from the 2021 awards season. She got to be next to Cheadle for that hilarious moment at the very-online Golden Globes earlier this year, when the actor motioned for Jason Sudeikis to wrap up his Best Actor acceptance speech.
Cheadle may not be a nominee at the Oscars, but here's hoping for more playful moments from the fun-loving couple in the near future.