Gizelle Bryant Is Having "A Lot Of Fun" With Winter House's Jason Cameron
He's already met her daughters — and Robyn Dixon approves.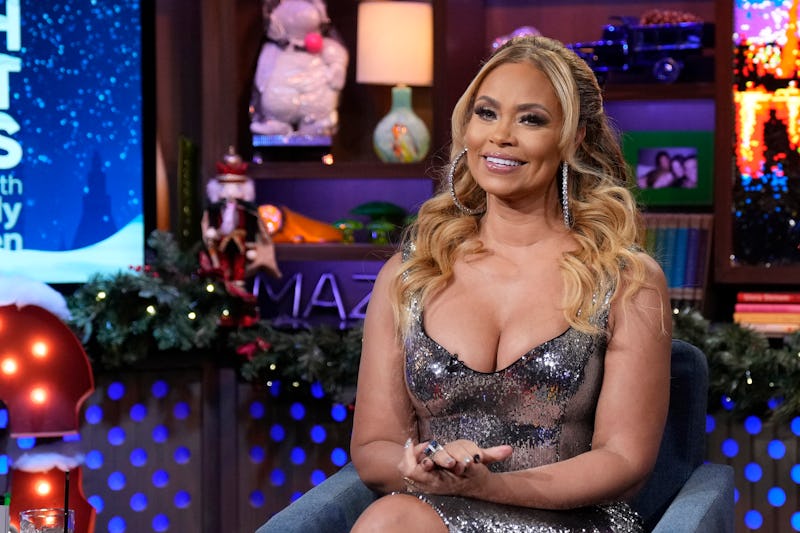 Bravo/NBCUniversal/Getty Images
The Real Housewives of Potomac star Gizelle Bryant's love life has really been heating up this winter. In a clip from the three-part RHOP Season 7 reunion, host Andy Cohen notes that the OG "start[ed] dating hot stuff from Winter House," whom fans have learned is Jason Cameron. After Robyn Dixon teased, "What's the age difference again?" her Reasonably Shady podcast co-host joked back, "I'm not a mathematician." For the record, Gizelle is 52 and Jason is 36 years old.
Rumors that Gizelle and Jason are dating surfaced on Jan. 7 when the Bravo and Cocktails fan account posted a sly video of them on a dinner date. Days later, Gizelle confirmed to Today that the outing was a date, also revealing that RHOP co-star Ashley Darby and Winter House's Luke Gulbranson set them up. (Ashley and Luke dated briefly, but split in early January; now things are "complicated" between them.) "He's a great guy, and we have a lot of fun," Gizelle added of Jason.
In that same interview, Gizelle shot down speculation that she went out with The Real Housewives of Atlanta alum Cynthia Bailey's ex-husband Peter Thomas, who appeared on RHOP Season 7. "I've never dated Peter," she insisted. "I'm friends with Cynthia, I would never do that. So I'm texting Cynthia like 'Girl, this is not true.'"
Gizelle also opened up a bit more about her budding romance during the Jan. 13 episode of Page Six's Reali-Tea podcast, revealing that Jason had already met her daughters, Grace, 18, and 16-year-old twins Angel and Adore (with ex-husband Jamal Bryant). The outlet brought up that she'd said on the show her requirements in a potential boyfriend are that he has to make her laugh — and "he's got to have a big D." Asking if Jason fits the bill, she responded, "I said that Jason makes me laugh." Gizelle added with a smile, "I will say this, and [then] we will get off of his D: He's met my kids and he's great."
She elaborated, "He's an awesome guy. I have nothing bad to say about him at all. Anytime we're together, we just have a ball. I'm all about the fun, and he brings the fun." The RHOP 'Wife does have some reservations about them sharing a zodiac sign, though. "It's kinda funny because Jason is a Virgo too. I told him, I was like, 'I probably am going to hate you tomorrow,' because two Virgos, it's just like 'ahh,'" Gizelle joked.
Though the pair had been relatively quiet since then, they (sort of) went Instagram official after attending the Summer House Season 7 premiere party in New York City on Feb. 13. Bravo shared the couple's photo, along with the caption, "Happy early Valentine's Day." In the comments section, Ashley wrote, "Yasssss!!!" while RHOA's Shereé Whitfield added, "Love this."
They're not the only Bravolebs who are supporting Gizelle and Jason's relationship either. Despite her playful shade about the age difference at the RHOP Season 7 reunion, Robyn gave her stamp of approval on the Feb. 3 episode of Us Weekly's Getting Real with the Housewives podcast. "I think Jason is kind of almost like the perfect guy for her to date because he is a lot younger and it's almost like a no-strings-attached relationship," she said. "People just don't want to believe her, but she's been telling us that she just wants to date and have fun and be free and not have to answer to people and not have to deal with the stringent rules of a relationship."
Added Robyn, "Look, if Jason wants to settle down and have kids, he knows it's not happening with Gizelle, right? And so right now, Jason's having fun, Gizelle's having fun, it's just, that's perfect for her."