Hannah Brown Feels Like A "Lucky Girl" Because Of Boyfriend Adam Woolard
"Thank you for everything you do for me. I'm one lucky girl."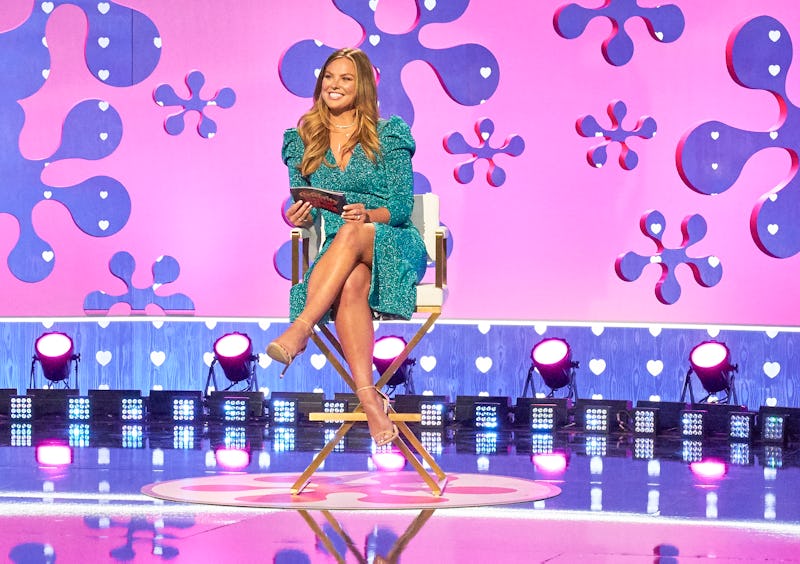 ABC/Craig Sjodin
If you stayed tuned into ABC after the June 14 episode of The Bachelorette, you probably saw Hannah Brown looking for love on the premiere of The Celebrity Dating Game. This marked the third time that the 26-year-old has "dated" on national television. And much like the previous times — first when she was a contestant on Colton Underwood's season of The Bachelor and later when she became the Bachelorette — her effort to find her match on TV fizzled out. At the end of that episode, Brown selected Bachelor No. 3, a Wall Street investor named Jack Magness who just wanted to "Netflix and chill." While it remains unclear whether they actually hit it off whenever that pre-taped episode was filmed, what we do know is that they're not currently together.
In February, Brown and her actual boyfriend, model Adam Woolard, made their relationship Instagram official, more than likely after she filmed her episode of The Celebrity Dating Game. Brown first confirmed that she was dating Woolard on Valentine's Day with a sweet Instagram stories photo of the pair kissing while riding horses. "Happy Valentine's Day @admandew," she wrote alongside a heart emoji. She also shared a photo of them holding hands. "Feeling all the love," she added. "Happy Valentine's Day y'all."
Most recently, on June 18, Brown posted a "Adam appreciation post" about him. "Just feeling especially blessed today to have you by my side," she captioned the Instagram photo of cuddling on a beach. "Thank you for everything you do for me. I'm one lucky girl."
When Did Hannah Brown & Adam Woolard Start Dating?
Dating rumors started swirling in January when the Dancing With the Stars champion and Woolard were spotted holding hands in downtown Los Angeles, per Us Weekly. A source told the magazine that the two are a "great match," and their respective Instagram accounts prove that they complement each other well. In May, Brown shared a reel of her and her beau dancing (and smooching) to a remix of King Harvest's "Dancing in the Moonlight." On June 3, she shared a photo of Woolard kissing her on the cheek.
What Is Adam Woolard's Instagram?
The 33-year-old model's Instagram feed is also full of love for Brown. "Many have seen you shine on TV, but few get to see how hard you work… how thoughtful you are… and how you care for others… every single day," Woolard wrote alongside a May 7 photo of him making a kissy face at his girlfriend. He has also shared pictures of them celebrating his birthday, spending time together on the beach, and hanging out at home.
What Is Hannah Brown's Dating History?
Bachelor and Bachelorette fans would likely agree that Brown's new relationship is going much better than the ones from her past. On her season of the hit reality show, she had a very messy and public breakup after getting engaged to contestant Jed Wyatt. As their love story aired, it was reported that Wyatt was seeing someone before coming on the show. Brown ended her engagement and started exploring a possible future with her runner-up, Tyler Cameron.
Ultimately, it just wasn't the right time for Brown and Cameron, and the 28-year-old started pursuing model Gigi Hadid instead. Simultaneously, fans started to wonder if Brown was dating her DWTS partner, Alan Bersten. In October 2019, however, she told Ellen DeGeneres that they were just "great friends" and that she was still getting over "trauma from dating," adding that "I spent a whole year of my life trying to date and it still didn't work out."
It should come as no surprise that Cameron and Hadid's relationship didn't work out, especially since she now shares a daughter with singer Zayn Malik. However, their split gave him and Brown an opportunity to reconnect. After his mother died in February 2020, Brown went down to Jupiter, Florida, and spent time in quarantine with Cameron, Matt James, and a group of their friends. After several weeks, she left the house and returned to Alabama with her family. Later, she and Cameron gave fans an update on their respective YouTube channels.
"We were kind of leaning on each other. We were both going through things and were kind of like each other's support system all of a sudden," Cameron explained. "You, of course, have your family there, but it's always nice to have someone to lean on as well." In addition to Cameron mourning the loss of his mother, Brown was reeling from her own brother's recent overdose. The sadness they were both experiencing allowed them to become "really close emotionally," Brown said. "I wanted to get away from my own trauma so I would say that I traded Tyler's trauma for mine. I also wanted to be there for you," she recalled.
Despite their emotional bond, the two maintained a platonic relationship in lockdown. "I didn't want to do something because I was in a bad place or vulnerable," Cameron said. But even though they knew that there was nothing going on between them, they could still feel the expectations from the outside world. "It was a pressure cooker situation," Cameron added. "We were just under pressure the whole time, and some of it is our fault because we played into it. We were having fun with it."
In a 2019 interview with Entertainment Tonight, Brown said she completely understands why fans care so much about her dating life. "I think everybody has had this journey with me, and it's been focused on finding a person that I'm going to spend my life with," she said. And although she didn't find it back then, she told Ryan Seacrest at the time that she knew exactly what she was looking for. "I really want somebody that is a professional that already has their crap together," she said. Could Woolard be the one?
This article was originally published on