Kendall Jenner & Bad Bunny Fuel Dating Rumors With PDA At Coachella
The pair spent Coachella together, with the model making an appearance on his Instagram Stories.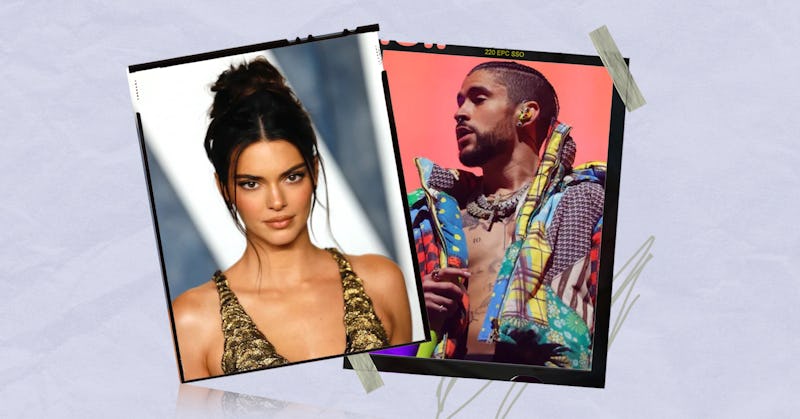 Robert Smith/Patrick McMullan/Getty Images; Frazer Harrison/Getty Images Entertainment
Is Kendall Jenner dating Bad Bunny? While the model and international pop star have yet to comment on their relationship status, they have been spotted together frequently, most recently at Coachella. On April 14, Jenner watched Bad Bunny's historic Coachella set as he became the first Latino headliner in the festival's history. A viral TikTok video showed Jenner dancing in the audience as the three-time Grammy winner played "Después de la Playa," the final song of his set.
Later during Coachella, Jenner and Bad Bunny were spotted showing PDA while walking around the festival, with Bunny donning a bandana and whispering in Jenner's ear, as seen in photos published by the Daily Mail. Jenner also made a brief appearance on the artist's Instagram Stories, when he posted a video of him driving in a golf cart around the festival grounds. Jenner's hair is seen blowing in the wind, and her voice can be heard saying something indecipherable.
Jenner and Bunny were first linked together in February, after it was reported that the duo went on a double date with her close friends Justin and Hailey Bieber. At the time, PEOPLE reported that they had just met and were simply having fun. "Kendall recently started hanging out with him," a source told the outlet. "They were introduced by friends. He moved to L.A. a few weeks ago and bought a house." However, the pair has been spotted together several times since, including at separate dinner date with her sister Kylie tagging along.
Previously, Jenner was in a relationship with Devin Booker, who she dated on-and-off for more than two years. The two typically kept quiet about their relationship, only speaking about each other in interviews occasionally and rarely posting photos of each other on Instagram. Their romance came to an end in October 2022, reportedly due to their busy schedules, with a source telling PEOPLE that they "have a lot of love and respect for each other and wish only the best."