Miley Cyrus' Boyfriend Maxx Morando Produced A Song On Her New Album
In her British Vogue cover story, the Grammy nominee revealed how she met the fellow musician.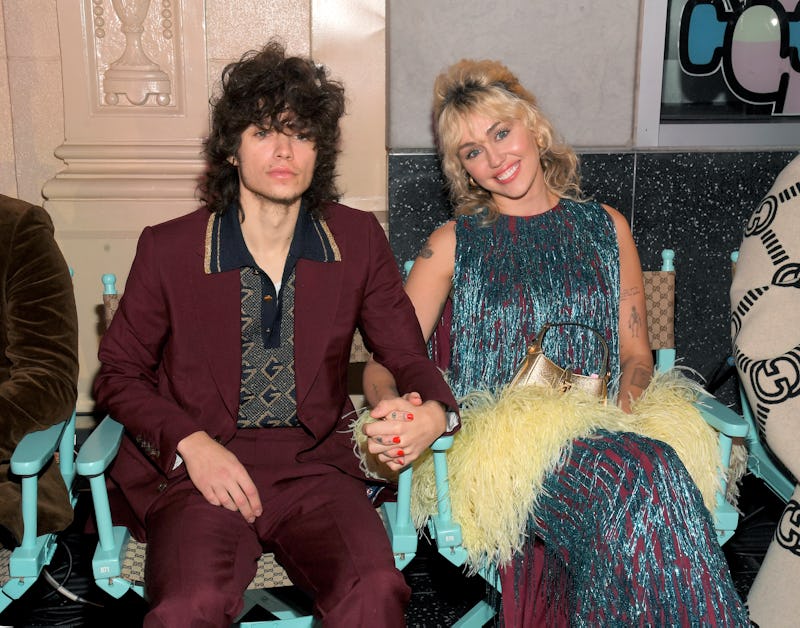 WWD/Penske Media/Getty Images
If you're wondering how Miley Cyrus' love life is going, don't look to "Flowers" for an answer. The 30-year-old singer proudly flaunts her freedom on the eight-week No. 1 hit, celebrating how she "can buy myself flowers" and "hold my own hand," making her seem single and satisfied. She even referenced her marriage to ex-husband Liam Hemsworth in the song, launching tons of conspiracy theories. However, Cyrus does have a new man in her life, and he's involved in her new album Endless Summer Vacation.
Cyrus is dating 24-year-old musician Maxx Morando, the drummer of rock hand Liily, who performed on her Miley's New Year's Eve Party special in December 2022. Previously, he was a member of The Regrettes from 2015 to 2018. In her British Vogue interview published on May 18, Cyrus told the story of how she met Morando. "We got put on a blind date," she said. "Well, it was blind for me and not really for him. I thought, 'The worst that can happen is I leave.'" Now, he has his own ringtone when he calls, "Tyrone" by Erykah Badu. "I call that 'boyfriend sexy ringtone'," she said.
The two were first linked in December 2021, when Cyrus attended Gucci's Love Parade fashion show in Los Angeles with Morando, even holding hands and putting her arm around him during the show. She soft-launched her new romance on Instagram that night by sneakily including a photo with him in a slideshow from the event.
However, neither one of them has posted about each other on social media since then, instead choosing to keep their relationship very quiet. In fact, Cyrus and Morando have only made one public appearance together since their red carpet debut, attending Versace's FW23 show in Los Angeles on March 9, the eve of Cyrus' album release. It seems that Morando only comes out for fashion shows.
E! confirmed that Cyrus "was happily dating Maxx" in January 2022, with a source telling the outlet, "They are both artistic and creative, so they bond over being musicians." As a result, their romantic relationship has turned collaborative as well. Morando worked on a new song on Cyrus' eighth studio album Endless Summer Vacation, producing "Handstand" and co-writing it with the Grammy nominee and Spring Breakers filmmaker Harmony Korine, whose painting "big twitchy" inspired the intro.
The hazy, psychedelic pop track takes Cyrus back to her experimental Dead Petz days, with Cyrus telling the story of "Twitchy" in her opening monologue before going into a catchy chorus all about impressing her beau. "You're questioning the science 'cause you don't understand, how I'm doing what I'm doing in a f*cking handstand," she sings. "You found it so impressive that I do it again."
After splitting from Hemsworth and prior to dating Morando, the singer had a brief summer fling with Brody Jenner's ex-wife, Kaitlynn Carter, and a months-long romance with Cody Simpson. In October 2019, Cyrus confirmed that she started dating Simpson when she shared photos on Instagram from the hospital where she was being treated for tonsillitis. Less than a year later, in August 2020, Cyrus revealed the two had split on Instagram Live, saying they were both working on themselves and figuring out their own paths.
Cyrus and Hemsworth — who met on the set of their movie The Last Song in 2008 — had a rep announce their split in a statement to PEOPLE. "Liam and Miley have agreed to separate at this time," the agent said, adding that it was time for them to prioritize themselves and their careers. In December 2019, roughly a year after their secret nuptials, TMZ reported that the exes reached a settlement in their divorce, which was reportedly finalized a month later.
Cyrus opened up about the divorce on Joe Rogan's podcast in September 2020. "I recently went through a very public divorce that f*cking sucked," she said. "What really sucked about it wasn't the fact that me and someone that I loved realized that we don't love each other the way that we used to anymore. That's OK, I can accept that. I can't accept the villainizing, and just all those stories."
This article was originally published on