Zawe Ashton & Tom Hiddleston Have Reportedly Welcomed Their First Child
The engaged couple are said to be "loving" their new roles as parents.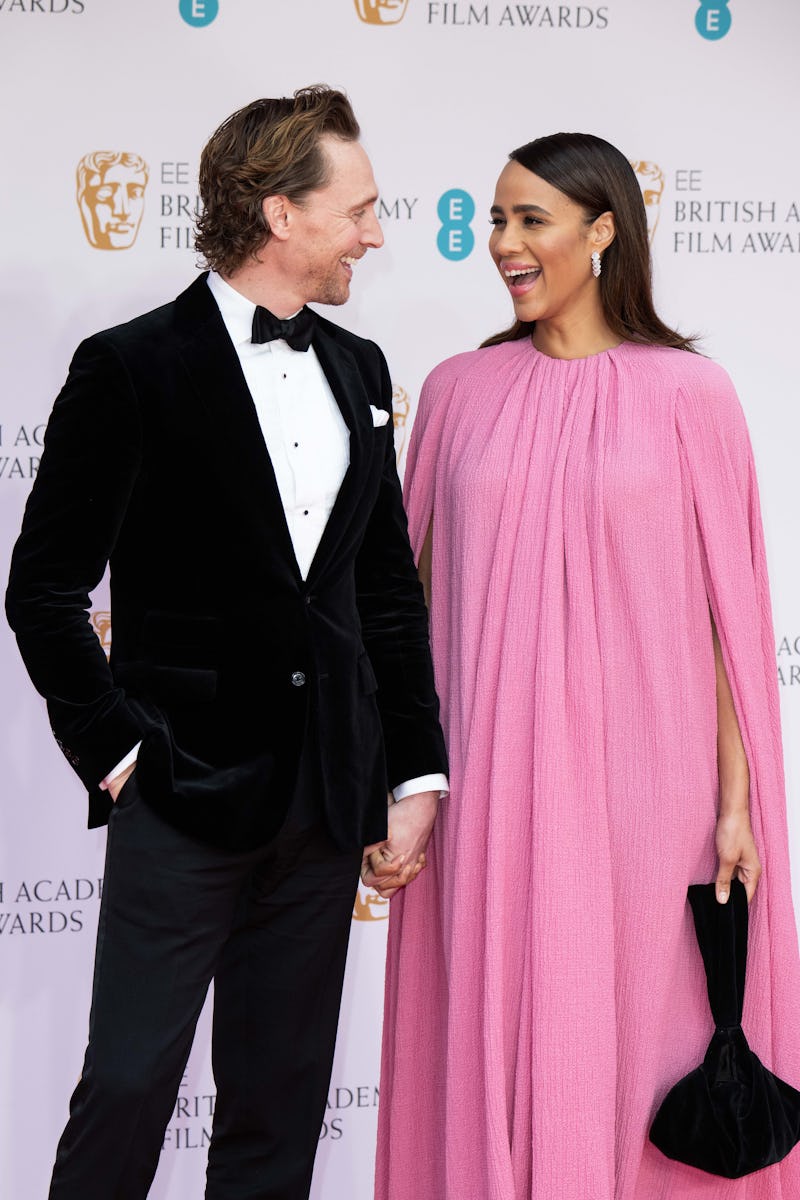 Getty Images/Jeff Spicer
Tom Hiddleston and his fiancée, fellow actor Zawe Ashton, have reportedly welcomed their first child together. According to Us Weekly, Ashton gave birth in late October and the couple "are loving being new parents." A source told the magazine: "They have been having the struggles of new parents and aren't sleeping much, but are thrilled." Bustle has reached out to the couple for further comment.
Ashton debuted her baby bump at a special screening of Mr. Malcolm's List in New York City in June, having confirmed her pregnancy during a photoshoot with Vogue prior to the event. After first appearing on the red carpet together at the 2021 Tony Awards, Hiddleston and Ashton made a grand entrance at the 2022 BAFTAs. From holding hands to continuously gazing at each other, it was clear to everyone that while neither were nominated for a BAFTA, they definitely won the Cutest Couple Award for their red carpet appearance.
Days after the ceremony, Entertainment Tonight reported that the couple were engaged. And it just so happened that Ashton's engagement ring was hiding in plain sight the whole time. Hiddleston confirmed the news in June, succinctly telling the Los Angeles Times that he's "very happy" about the situation. Ashton and Hiddleston attended the 2021 Tony Awards together following Hiddleston's nomination for Best Performance by an Actor in a Leading Role in a Play for Betrayal. It was this play that reportedly brought the couple together.
Betrayal arrived on the West End in September 2019 and The Sun writes that this is when romance rumours started to circulate. While they played their cards close to their chest, The Sun reported that they'd renovated his house and were enjoying time out of the limelight together.
From that point on they were also spotted on a lot of red carpets together. However, they were normally pictured in bigger groups. That's one way to keep fans off the scent. In September 2021, they were pictured on a beach getaway to Ibiza, where they shared a kiss in the sea.
You may well recognise Ashton as Vod in Fresh Meat, Claire from Wanderlust, or Katherine in Not Safe For Work. She'll be following in Hiddleston's footsteps shortly as Digital Spy reports that Ashton has landed a role in the Marvel Cinematic Universe. She'll play a villain in The Marvels, making her and Hiddleston a supervillain power couple.
Ashton isn't Hiddleston's first high-profile relationship. In fact, the Loki actor has been romantically linked to some very well-known people. In 2013 it was rumoured that he dated Jessica Chastain. However, these reports were dispelled pretty quickly. He was also linked to record exec Jane Arthy after they were spotted sitting together at Wimbledon.
It was reported that he dated his Thor co-star Kat Dennings and I Saw The Light co-star Elizabeth Olsen. However, Hiddleston never confirmed the rumours. Previously, Hiddleston has only gone public in one of his relationships with a fellow A-lister. He was first romantically linked with Taylor Swift when they were pictured dancing together at the 2016 Met Gala while she was still in a relationship with DJ Calvin Harris. A month and a half later, Swift and Harris had separated and Hiddleston and Swift were seen kissing in the sea. And so the #HiddleSwift fandom was born. However, three months later, the duo went their separate ways.
This article was originally published on