Yuh-Jung Youn's Acting Career Proves It's Never Too Late To Start Over
She says she first got into acting "by accident."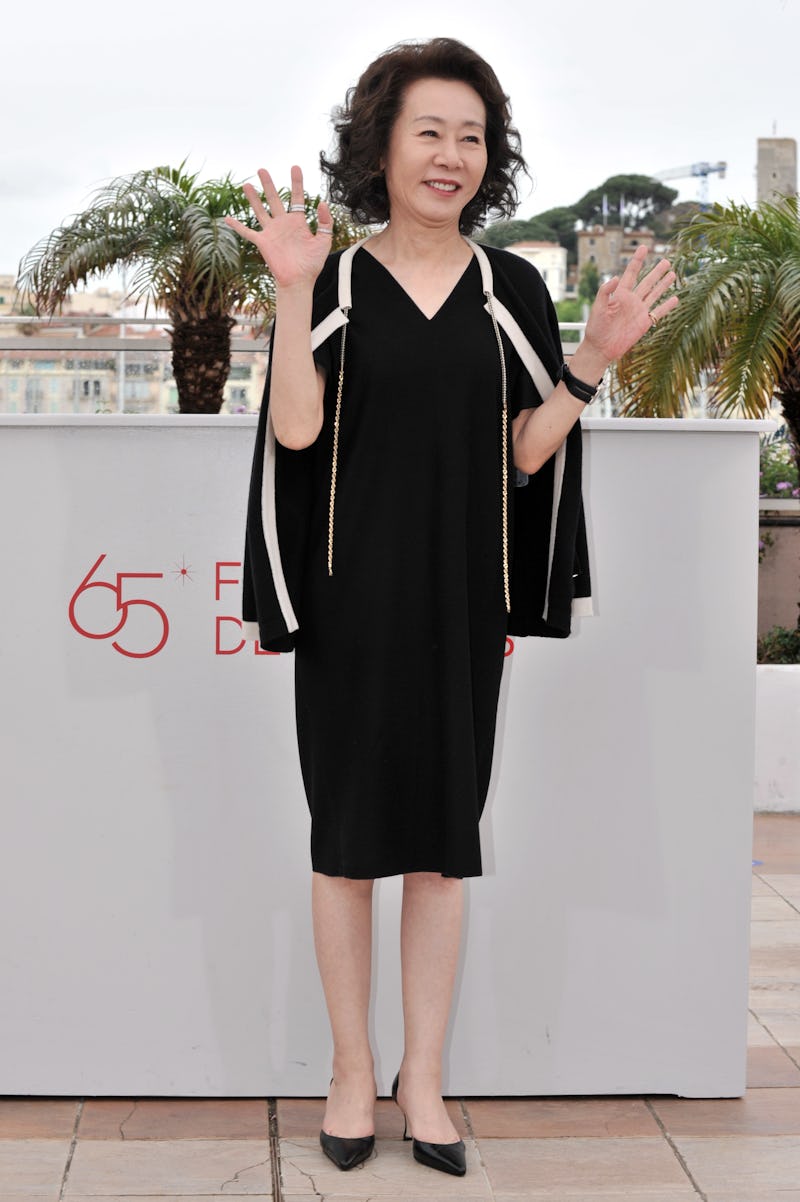 Stephane Cardinale - Corbis/Corbis Entertainment/Getty Images
Lee Isaac Chung's Minari is causing quite a buzz this award season, and is up for six awards at the 2021 Oscars this Sunday. Celebrated Korean actor Yuh-Jung Youn is among those nominated for the film, and stands a chance to win Best Supporting Actress. (Memorably, she already won in the same category at the BAFTAs, and — by described her win as especially meaningful, as it was given by the British "who are known as very snobbish people" — provided one of the best speeches of the night). But who is Yuh-Jung Youn, and what films might you have recognized her in before?
The 73-year-old actor has been in the film industry for over five decades, starring in a handful of masterpieces in Korean cinema including Woman of Fire, Insect Woman, The Bacchus Lady, and the 2010 remake of The Housemaid.
After landing a part-time job at a TV station in the late 1960s, Youn began her acting career when a director suggested she try auditioning for some roles. "It's embarrassing. Most people fell in love with the movies or fell in love with theatre. But in my case, it was just by accident," Youn told the Independent. "I didn't go to acting school and I didn't study film, so I had an inferiority complex. I practiced so hard when I got a script."
As Vulture notes, the actor "caught the eye" of legendary director Kim Ki-young, debuting in the Housemaid trilogy's Woman of Fire in 1971. The director spoke of Youn as an actor that's "presence is so distinctive she never gets buried", in an interview with Vulture. "You could say she bores through the screen," he added.
Youn initially retired "at the peak of her career," and moved to America to raise a family with her husband, singer Cho Young-nam. "I am a very realistic person, so I knew that when I came to the States that no one would know me," she told Bustle. "I usually don't look back or think about what a good time I had [previously]. I completely forgot about it and tried to learn how to cook and adjust with my new American friends. They were good friends, they were like my limbs, with their help I started to live in the States."
Youn and her husband later divorced, and she moved back to Korea with their two children. As she explained to Bustle, "I was thinking of what kind of jobs I could get as a single mother, and all I could really do was get a job as a cashier at a grocery store. Then one of my friends said, 'Don't be stupid, you are really talented, you are going to have a name [in acting] again.' And she was right."
It was there that she reignited her acting flame, and in the past decade has seen the actor star in a remake of The Housemaid and an Apple TV adaptation of Pachinko, as well as her starring role in Minari.
And it's Minari that's provided her with even more recognition in the West, so much so that she's the first Korean actress to be nominated for an Oscar. "This has never happened in Korea, and I feel like I'm an Olympian competing for my country. It's very stressful," she told NPR.
This article was originally published on